Wicked Strong, Named After Marathon Victims, Is A Kentucky Derby Contender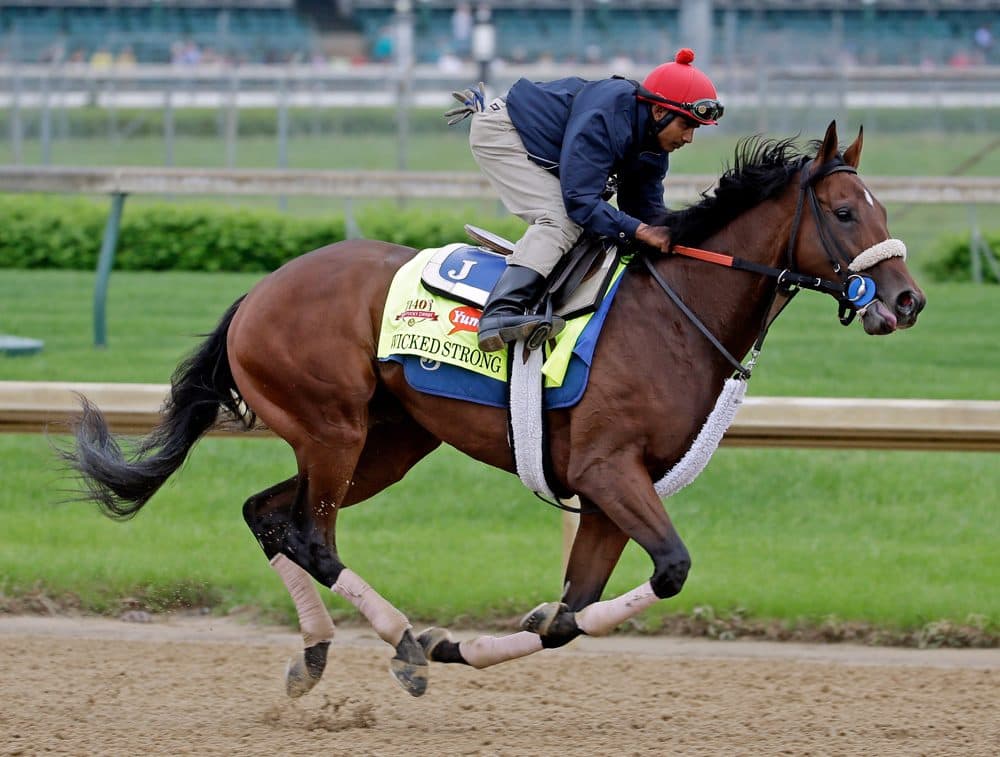 This article is more than 7 years old.
There'll be a "strong" Boston connection at Saturday's 140th Run for the Roses.
Wicked Strong is a three-year-old colt racing in honor of marathon bombing victims. Donald Little Jr., president of Centennial Farms in Beverly where Wicked Strong is stabled, renamed the horse for the victims of last year's Boston Marathon bombing. (Its old name: Moyne Spun.) Little said the horse's odds to finish first in the derby are 8-1.
"He's a symbol of Boston and New England," Little said. "He's overcome adversity such as the city has as a result of the tragedy a year ago April, and he ran three very bang-up races as a two-year-old last fall."
According to Little, Wicked Strong had a slow start as a three-year-old runner and didn't do well at his first race of the year in January. But by April, the horse had warmed up enough to win the Wood Memorial race in New York, which qualified him for the Derby.
American Hall of Fame jockey Jerry Bailey and racing analyst Randy Moss both pick Wicked Strong to win. Wicked Strong's biggest competition in the race will be Danza, a horse with 8-1 odds, and the favorite pick of the race, California Chrome, who has 3-1 odds.
Little said Saturday he expects a tough race.
"It's 19 horses, and we're on the outside post," he said. "You know, there's 160,000 people (there) today, and hopefully he can handle the crowd and the atmosphere."
Little said Centennial Farms will donate five percent of Wicked Strong's earnings to The One Fund Boston, the fund set up for bombing victims and their families.
The race's total purse is $2.2 million, with more than $1.4 million going to the winner. That means if Wicked Strong finishes first, $70,000 will be donated to aid those affected by the bombings.
Post time for the 140th Kentucky Derby is 6:32 p.m. EST.
This article was originally published on May 02, 2014.