Berklee Students Take Over Symphony Hall
06:13
Play
This article is more than 7 years old.
Sixty students from Berklee College of Music recently took over Symphony Hall.
OK, that's not entirely true. They had permission, and they even got to perform with conductor Keith Lockhart and members of the Boston Pops. Berklee grad Evan Chapman captured the gig on video, and that video just went up on YouTube. As I found out, this collaboration really got rolling after Chapman's last music video went viral.
Let's go back to the beginning.
Students at Berklee College of Music can see live performances all over campus, pretty much 24/7 — in the performance center, the cafeteria, even the hallways. But Chapman said it's tough for aspiring musicians to break through to the outside world. That's why he created an online video series called "The Loft Sessions" as a student in 2012.
"The idea just kind of came about because I realized there was sort of a void in Berklee artists being able to share their music," Chapman recalled, "or at least have a platform to share their music."
So Chapman turned to YouTube. And he asked fellow students to submit songs that he would rearrange and orchestrate. Then he'd pick one, and they'd perform it live on camera.
One of Chapman's videos went viral last December. It captured a choral flash mob singing "O Holy Night" at the Museum of Fine Arts. More than 450,000 people have checked it out.
"It's a Christmas video and they're still watching it, and commenting on the page, and still getting Facebook likes because of that video," Chapman said, smiling. "It's very cool."
This video's success sweetened prospects for a collaboration Chapman already had brewing with the Boston Symphony Orchestra. Now his new video features Berklee students performing in one of the world's greatest concert halls with top-tier, classically-trained musicians.
"They approached me, and they had seen the videos, and we're very lucky that they liked them," Chapman said.
"I'm kind of jealous," Lockhart admitted. "And we were just glad to jump aboard."
Lockhart marvels at "The Loft Sessions" slick results.
"I was just kind of amazed at the production quality. It really shows the entrepreneurial spirit. They're entirely grassroots efforts — the video production, the musicians — everything comes from Berklee," he said. "And the level is really, really high."
Lockhart calls their new Loft Session video a "teaser" for the first branded "Berklee Night at the Pops" concert in June. The BSO and the music school have a lot of connections, including horn player Gus Sebring and cellist Owen Young. Both teach at Berklee.
Lockhart said 23-year-old alum Sarah Walk, who sings in the new video, will do it in front of a live audience next month.
"Sarah Walk is one of quite a number of really talented young singer-songwriters at Berklee. And you know, when you think about the kind of people they have produced over the years — Aimee Mann is a Berklee grad, Melissa Etheridge who will be doing her first orchestral concert with us is also — these are really the next generation of singer-songwriters with something to say," Lockhart said.
In the video, Walk sings the orchestral arrangement of her pop/rock song, "Keep On Dreaming."
"For me it's so exciting because it's a really organic, natural performance," she told me on the phone from her parent's house in Minneapolis.
Walk started collaborating with Chapman last spring. She said the first video they made together for a song called "Still Frames" definitely helped get her noticed. Now she's recording in Los Angeles and London.
"I've never played with as many people as I have through the Loft Sessions," Walk said. "So it's just a really cool experience. And the fact that this whole Symphony Hall thing is kind of taking off through this has been an incredible opportunity. I mean, I don't think any of us really thought this whole thing would come about as it did, so it's been great."
Walk had been to Symphony Hall before, but says performing on that historic stage was intense.
"Just the energy that was in the room — in a hall like that — when there have been so many performances on that stage, and so many people that have played," she said. "You can feel it when you're in a room like that."
Chapman strives to capture that energy on video, in one live take. He thinks his generation is not used to experiencing pop music in an orchestral setting, and he wants to change that. But Chapman said even he felt intimidated by the idea of playing with the Pops.
"At least, for me — before working with the Pops — I kind of just always looked at the Boston Symphony and the Pops like untouchable elite," he said.
Conductor Keith Lockhart said he's heard that before.
"Well, that is a problematic sense that I think is shared by a lot of young musicians," he said. "It's something we're trying to break down and change. I mean, we exist for the purpose of breaking down that barrier between — whatever you'd like to call it – 'high-art music' and the general population."
Chapman is rolling out more Loft Sessions videos starting later this month. In one, he's pairing a backwoods bluegrass band with a full choir.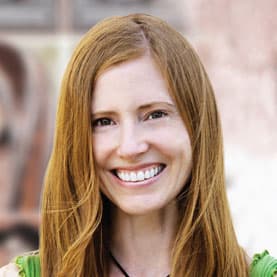 Andrea Shea Senior Arts Reporter
Andrea Shea is WBUR's arts reporter.