Who Has The Higher Body Count? 'Carrie' Or Mother Goose?
05:52
Play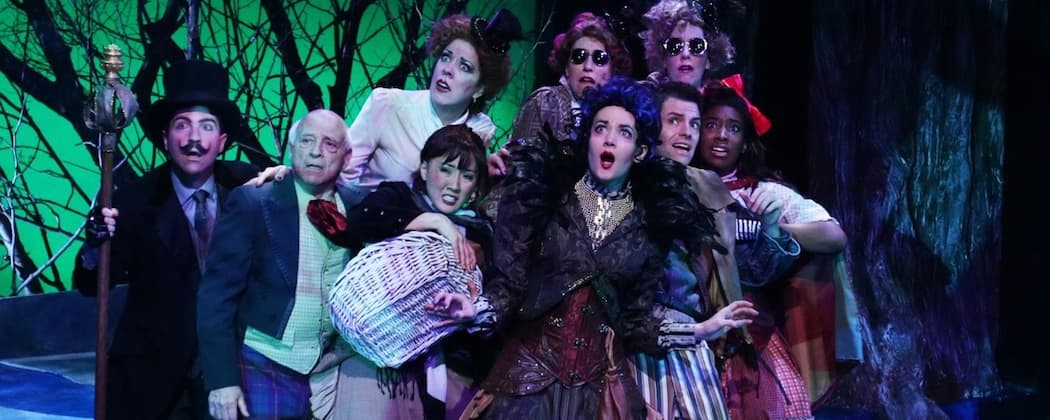 This article is more than 7 years old.
The Lyric Stage Company of Boston and SpeakEasy Stage Company both like to leave 'em humming, ending their seasons with a musical. That's usually the only similarity, though. The Lyric leans toward the classics, like last year's excellent "On the Town," while SpeakEasy goes for the contemporary, as with "In the Heights" last season.
This year, it's Stephen Sondheim vs. Michael Gore and Dean Pitchford. Or, to put it on more familiar terms, "Into the Woods" vs. "Carrie: The Musical," retooled for smaller stages since its Broadway disaster. And while it's nice to give points to work that's never been in Boston before, the only way that "Carrie" beats "Into the Woods" is in body count. Carrie, 13-7, by my count.
There is one other similarity. Both are really excellent productions, making excellent use of their respective spaces. Spiro Veloudos is a Sondheim maestro ("Assassins," "A Little Night Music," "Sunday in the Park with George," "Follies" and, next year, "Sweeney Todd"). For the most part he makes the chamber-sized space a virtue rather than a liability. ("Follies" needed a bigger stage.)
Paul Melone, who directed "Carrie," has just the right sensibility for 21st century work, including his sensational "Bloody Bloody Andrew Jackson" at SpeakEasy. And if Bloody Bloody Carrie White doesn't fare as well, it isn't his fault. The special effects alone are worth the price … well, let's not get carried away.
I wasn't as carried away by Act One of "Into the Woods" (through June 29) as I thought I'd be. The acting is first-rate up and down the cast, but the singing ranges all over the place, from the so-so to the sublime. "Into the Woods" is a problematic musical in the sense that the two acts are so different, the first a whimsical take on fairy tales, the second a deadly serious rumination on not living happily ever after.
"Into the Woods" often comes across, then, as a downer by musical's end. Not this time. Veloudos's version builds in intensity throughout the show and instead of that downer we get a finely wrought musical about love's limits as well as its glories, humanity's greed as well as its goodness.
Still sound like a downer? Not when you hear Aimee Doherty (the Witch) sing "Last Midnight" or Erica Spyres ("Cinderella") do "No One Is Alone." These are the moments that remind you that musical theater is one of America's great original art forms.
"Carrie," which closed on Broadway after three performances, has a different arc. It starts out well at SpeakEasy (through June 7), with Carrie's teen tormentors romping and stomping onto the stage like contemporary, libidinous, alienated versions of their "Spring Awakening" counterparts. Melone keeps everything moving along; the whole cast, crew and musicians are just right.
And as in "Into the Woods" there are two great performances — Kerry A. Dowling as Carrie's mother and Sarah Drake as Sue Snell, the classmate who tries to do right by Carrie. (Sue Snell belongs in the Good Girls Mucking It Up Hall of Fame along with Cordelia from "King Lear" and Maria from "West Side Story." They all tried to do the right thing and instead instigated a bloodbath.)
Elizabeth Erardi is less impressive as Carrie, lacking the charismatic naivete of Sissy Spacek. But Carrie is the least of "Carrie's" problems. Gore's music is nondescript and Pitchford needs a fellowship at the Stephen Sondheim Home for Wayward Rhymers. And as the depressing events mount up there's the growing realization that there's no saving this musical.
Stephen King's book and Brian De Palma's movie were deliciously executed examples of pulp artistry. I think "Carrie," which has been retooled for smaller stages, tries to be too respectable. The music is more "American Idol" middle of the road than "American Horror Story" edgy. So instead of a Gothic tale of bullying and revenge we're left with something blandly sadistic, if that's not a contradiction in terms. Imagine "Columbine: The Musical."
And without a Sondheim to lead us out of the woods, that is a downer.
More

Erica Spyres sings "On the Steps of the Palace."