Amherst College Makes Sacrifices To Enroll Low-Income Students
06:05
Play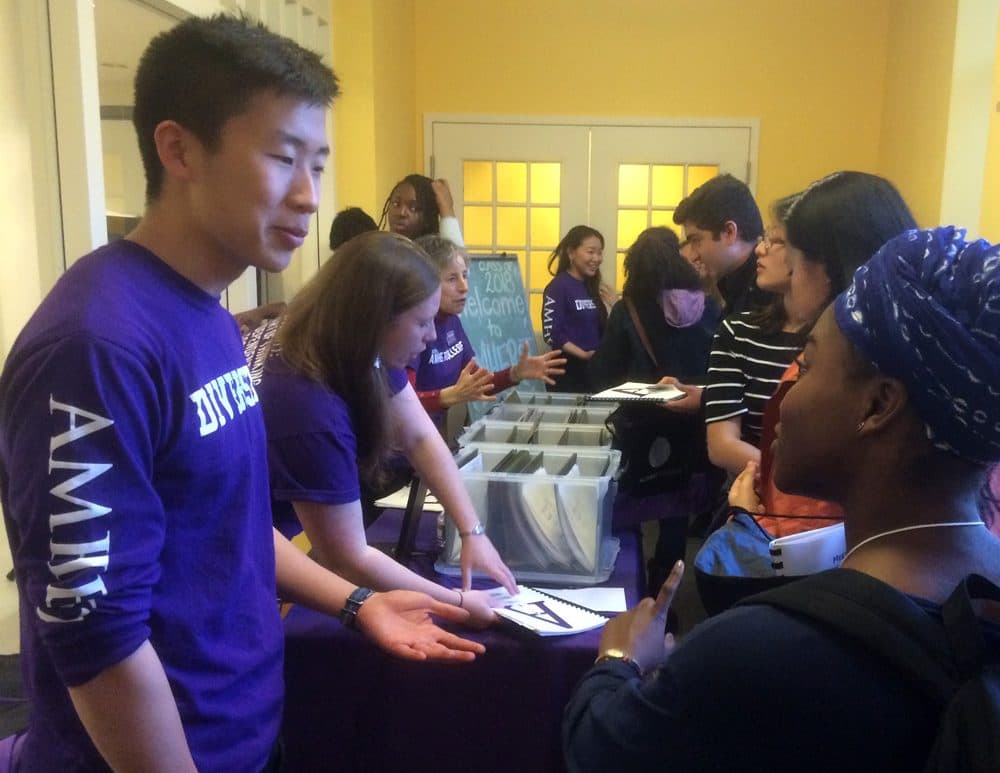 This article is more than 8 years old.
Many American colleges set aside space for low-income students who can't attend without significant financial aid. But Amherst College, in western Massachusetts, is going out of its way to recruit these students. One reason: the belief that all students benefit from an economically diverse student body.
But those magnanimous efforts come at a financial cost to Amherst.
Bringing Students To Amherst
"There are 30,000 smart low-income students a year who score over 1300 on the math and verbal part of the SAT and have an A to A- average in school," said Michael McCullough, who has made it his life's work to find high-achieving low-income students and connect them to 35 of the most selective colleges and universities in the country.
Thanks in part to QuestBridge, the program McCullough founded, colleges he works with are offering more first-generation and low-income students full financial aid. But it's one thing to identify these students. It's another to persuade them to move a world away from home.
Amherst College makes a strong final pitch to admitted students. Every spring, it pays to bring more than 100 first-generation or low-income students or students of color to campus. (This year it was 175.) They have already been accepted and offered financial aid. Amherst must persuade them to enroll.
"And as you can imagine, it's expensive," said Tom Parker, himself a first-generation college student and Amherst's longtime dean of admission and financial aid. "You're talking about flying kids in from all over the United States. This is, be on hand to drive to Hartford at 2 o'clock in the morning because the kid missed his connection in Chicago and, what do you next? Well, you get in the car to pick the kid up."
On a recent weekend, high school senior Denzel Wood was at Amherst after three flights from Fairbanks, Alaska. His father is a carpenter and his mother a stay-at-home mom.
The fact that the college had invited him to visit, Wood said, would weigh heavily in his decision whether to enroll.
"And that they paid for me to come visit," Wood said. "Otherwise I would not have been able to afford it. It was over $2,000 just to buy a ticket to come here."
Wood was also considering the University of Alaska and Lewis and Clark College, in Portland, Oregon. High-achieving low-income and first-generation college students don't usually consider leaving their home states for college.
"Many of them worry about leaving home for college even when all expenses are paid because they are accustomed to being contributors to their families' welfare back home, and if they don't have enough financial aid to cover their expenses, and also, potentially, to travel, that puts them in a very difficult position," said Biddy Martin, Amherst's president.
Adam Vest, from outside Louisville, Kentucky, is about to be a first-generation college student. His parents both work low-end manufacturing jobs.
"Even though we are the best high school in the state of Kentucky, the vast majority of our students go in-state, and the ones that do go out of state go right on the edge of the state to Cincinnati, or something like that," he said.
Vest said without the financial aid that Amherst is offering him, he could not go to college there. In fact, he never imagined he would find himself at the college.
"I didn't know if I would be able to go to a school like this even if I got in," he said. "I had a confidence that I might be able get in through my academics, but I didn't know if I could pay for it. Even if I did, I didn't know if it would be worth it. They've got a fantastic financial aid program, meet 100 percent of demonstrated need. No loans. It was really great. They made it possible."
Vest said the financial aid Amherst is offering him is more than any other college.
"Even though Amherst looked to be more expensive, it was actually cheaper," he said.
Vest said it would even be cheaper for him to attend Amherst than to go to a state school. He said he wanted to use the weekend on campus to figure out if he would fit in as a Southerner.
What Financial Aid Is Crowding Out
Amherst is going out of its way to woo Vest. But that effort comes at a price.
"Amherst has lovely facilities of many kinds, but it doesn't have the kinds of things that I'm used to seeing at other institutions," Martin, its president, said. "It has a library that is in serious need of replacement. It needs an additional dining hall, a whole set of things that could have been done but for the amount of funding that's being committed to financial aid."
Martin is well-placed to understand first-generation college students. She was one herself. She grew up in rural Virginia, between Lynchburg and Roanoke. Her father was a cookie salesman and sold real estate. Her mother was the secretary at an elementary school.
Martin said she finds herself talking quite a lot with other first-generation students about how educational opportunity also comes with loss.
"When you come from a background where education is not trusted, not relished, there is conflict involved in seeking and getting the advantages of an elite education," Martin said. "In my case, I think there was just a terror on the part of my parents of the influence, the impact that education would have, that it would change me, that it would mean I would never come back, that it separated me from them in everything from ideology to professional ambitions to the way I talked."
Vest, from Kentucky, decided in the end not to enroll at Amherst. Wood, from Alaska, did.
So far, about half the students Amherst paid to bring to campus this spring have enrolled.
Earlier:
This segment aired on May 20, 2014.