City Year Marks 25 Years Of Youth Idealism And Service
05:57
Play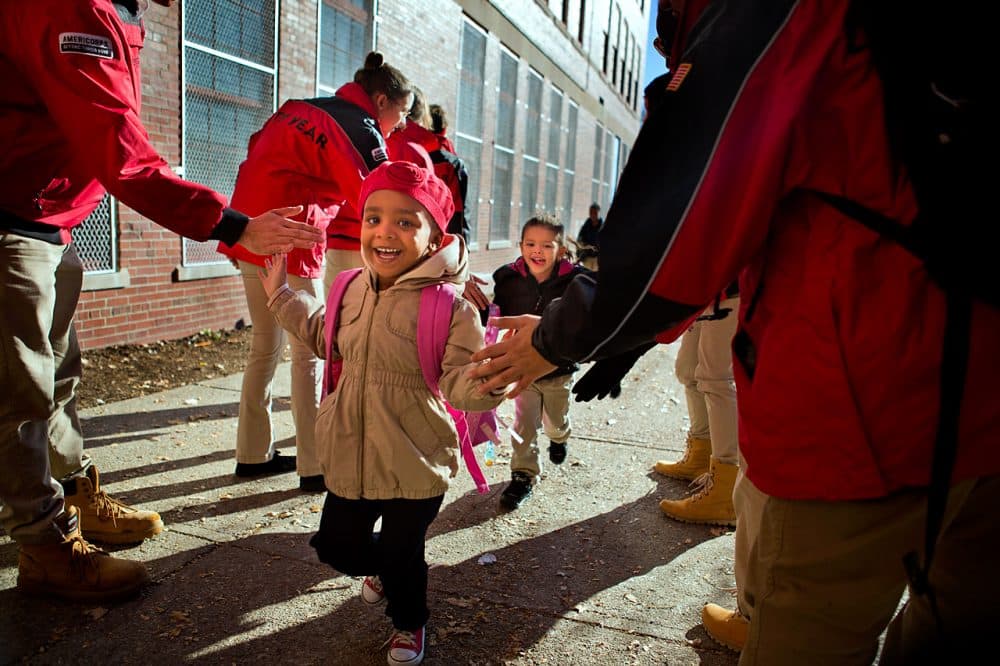 This article is more than 7 years old.
City Year, the education-focused nonprofit rooted right here in Boston, celebrates its 25th anniversary with a festive event at Symphony Hall Thursday night.
The service organization is now in more than two dozen cities across the United States, as well as in the United Kingdom and South Africa.
With The Red Jackets, School 'Seems Alive'
The interaction between City Year corps members, in their trademark red jackets and khakis, with the students at the Higginson/Lewis School in Roxbury is the first thing you notice at the start of the school day.
Every morning, rain or shine, City Year members line the walkway to the school's entrance and greet students in kindergarten through eighth grade as they arrive.
"When they walk through that playground and they see those students, they get excited about coming to school, they have this energy that they create when they walk into the building," says Lena Galloway Reddick, director of community partnerships at the school.
Reddick says the City Year volunteers continue to bring that energy and excitement and love for learning throughout the school day.
"I don't know if I can say enough," she says. "The school is alive now as a result. And sometimes you can walk into a building — this is a 103-year-old building, it can be dark, dank, but I don't know, the red jackets walking around, it seems alive. Students are outside in the hallway. You see them sitting on the floor, Indian-style with students, just engaging students. And kids are smiling and happy to be in a group to sit down with special help."
City Year is a relatively new partner at the Higginson/Lewis. More than a third of its students are Hispanic. Some are first-generation Americans whose parents arrived from as far away as West Africa.
Joyce Salesman Oliver, the school's principal, says she tried for four years to "to convince the [Boston] School Department that I needed to have City Year in my school."
She finally got City Year corps members last school year.
"What they bring to your school is just such a pure focus on academics, behavior," she says. "Just the thought of having young people here modeling and representing for our children what they can aspire to be is the biggest reason why I wanted to have City Year here."
She says City Year's one-on-one tutoring and help in the classroom has already had an impact on behavior, attendance and academics. MCAS scores are up.
"Just having that second person in the classroom so that those children who need that attention right away — and the teacher can't get to them — having that person there who knows them and who can help them answer that question or just be there for them in that moment has made all the difference to our school," the principal says.
A Seed Of Idealism — And City Year's Growth
The seed of idealism for the youth service organization germinated during the Harvard University undergrad days of City Year co-founders Alan Khazei and Michael Brown.
"Part of it was Alan and I being college roommates together and being tremendously idealistic about how we could help change the world, and having this conversation in our dorm room," Brown says.
Brown, who is currently CEO of City Year, says the conversation settled on a volunteer national service organization for young people.
"We just became enamored that this idea could really help move the country forward," he says. "Say yes to the idealism of young people that we ourselves felt. And if the country could just tap that energy of young people, then so many great things would happen."
They got early support from Mitt Romney and Bain Capital. There was also the high-profile endorsement by Bill Clinton even before Clinton was sworn in as U.S. president.
"Clinton gets elected," Khazei says. "He starts jogging in a City Year sweatshirt. Our phone starts ringing off the hook." That included a call saying that Clinton wanted to use City Year as a model for his national service program, AmeriCorps.
Brown says City Year started with a corps of 50 young people in Boston.
"Originally we were doing what I would call general service work, whatever a nonprofit wanted us to do, we would send these idealist young people in," he says.
Spencer Blasdale was in that first group of City Year corps members. He worked on a community service project clearing the way for a tot lot in Roxbury. Up until then, the Mattapoisett native had been studying at Princeton.
"When I came to City Year," Blasdale says, "I'd been around a lot of very smart people who were looking to learn and grow and enter a career."
But City Year, he says, provided focus on a clear purpose.
"'You're actually going to be here to help and here is a clear way to do it,' " he says. "And then you're surrounded by people with a similar shared purpose and City Year works hard to create that kind of team environment."
About a decade ago, City Year made a pivot to focus entirely on education. Here's Brown:
So that's what we do now. We focus entirely on the highest-need public schools here in Boston and in 25 cities across the country, as well as we're in South Africa and in London. And we help to keep students in school and on track.
Brown says City Year continues to get requests from schools here in Boston and from school districts across the nation.
"We've got just under 3,000 young people in service every single day in about 250 schools across the country," he says.
"For me personally, up until this year I had no idea what I wanted to do. I knew that I loved working with children," says Max Xu, a City Year corps member at the Higginson/Lewis who lives in Lexington. City Year is a gap year for him after attending Brandeis University.
"As much as I can help students learn 27 times 6 and things like that, I'm learning from them as well, so it's definitely a two-way street," he says.
There are currently plans to grow City Year dramatically, with a goal of reaching nearly a million students every day across the U.S.
Correction: An earlier version of this story incorrectly attributed a quote about Bill Clinton's endorsement of the City Year program to Michael Brown. Alan Khazei made the remark.
This article was originally published on May 22, 2014.
This segment aired on May 22, 2014.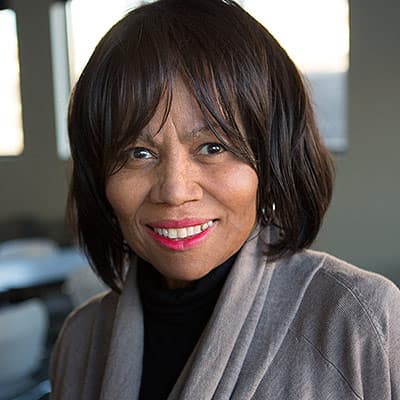 Delores Handy Reporter
Delores Handy was formerly a host and reporter at WBUR.