Leonard Nimoy Heads To Outer Space With The Boston Pops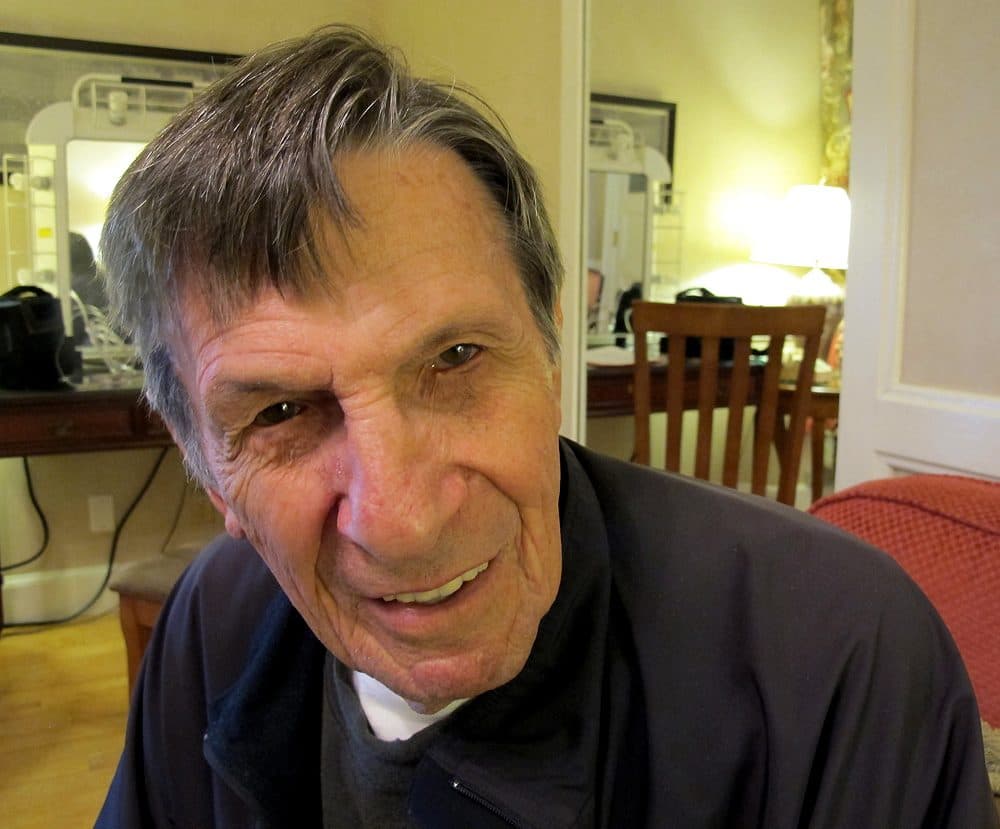 This article is more than 7 years old.
Iconic sci-fi actor Leonard Nimoy is heading for the cosmos Friday night at Symphony Hall with the Boston Pops. Together they're presenting a narrated, space-themed concert titled, "Out of this World."
It's logical that Nimoy would provide on-stage commentary for a spacey performance with the Pops. The 83-year-old Boston native, of course, played everyone's favorite Vulcan on the 1960s cult TV show, "Star Trek."
And it turns out Nimoy has had a thing for other-worldly music for years. In 1967 he released an album called, "Leonard Nimoy presents Mr. Spock's Music From Outer Space."
"That was a long time ago, too, " Nimoy said, laughing, in his dressing room at Symphony Hall. Then he reminded me, "Do you realize that we're coming up to the 50th anniversary of the debut of 'Star Trek'? This particular time right now — 50 years ago — we were preparing to shoot the first 'Star Trek' pilot," he recalled.
On stage this weekend Nimoy might toss out some "Star Trek" trivia. He'll definitely talk about Stanley Kubrick's "2001: A Space Odyssey." And the actor will definitely reflect on the Pops conductor laureate who's written so much music for sci-fi movies over the years.
"We're going to talk about John Williams," Nimoy said, "who introduced the 'Star Wars' theme here in Boston with the Pops the first time it was ever played publicly. And we're going to talk about 'Star Trek' theme — dah, daaah, dah dah dah dah dah — we're going to hear that."
During rehearsal the Pops musicians channeled the "Star Trek's" opening. I could almost hear the wooshing sound made by the Starship Enterprise in composer Alexander Courage's theme music, which — as the story goes — Courage made with his own mouth.
Nimoy recalled hearing the music for the first time when "Star Trek" debuted.
"I think it was Sept. 8, 1966. I watched the show on the air that night and I thought, 'that really works!' That's our voyage to the stars."
Nimoy's musical voyage has been interesting, too. He played clarinet as a kid. And guitar. He even came up with an original tune for the "Star Trek" episode titled, "Plato's Stepchildren."
"Over a weekend I wrote this song called "Maiden Wine," Nimoy said, then searched for the lyrics and sang them:
"Take care young ladies and value your wine.
Be watchful of young men in their velvet prime.
Deeply they'll swallow from your finest kegs.
Then swiftly be gone leaving bitter dregs."
Nimoy laughed after, calling it a very sad song. "But I thought it was wise at the time," he said.
Alas, the Pops will not be playing "Maiden Wine" at the concerts. But guest conductor Sarah Hicks of the Minnesota Orchestra might do the Vulcan salute from the podium.
She's been performing this program for seven years around the country. George Takei narrated the first one. For Nimoy's show Hicks says playing the "Star Trek" theme was an absolute given.
"Oh of course, how could we not?" she asked with a smile, adding, "It's Mr. Spock!"
The orchestra will also perform music from Gustav Holst's, "The Planets," accompanied by a montage of images from NASA projected on a screen above the stage.
Hicks mused about why symphonic music can play such a powerful role in science fiction films.
"I think because there's something infinite about space — I mean the music has to have the grandeur to suit that," she said. "And so composers generally fill that empty space to create those exciting emotions, and the drama, through the music for those films."
Nimoy concurs.
"I think the music really helps us to go on the adventure," he said, "that's why this program is called, 'Out of This World,' because the music will take us there."
For Nimoy, being back in Boston feels like coming full circle. He grew up in the West End, studied theater at Boston College and performed in musicals at the North Shore Music Theatre. Now he believes the Pops concerts might very well be his last live performances.
Laughing again, the actor and photographer said, "I'm 99.7 percent sure."
Nimoy wants to spend more time with his family. He also has COPD — or Chronic Obstructive Pulmonary Disease — from decades of heavy smoking. He periodically inhales oxygen through a machine.
But Nimoy says he feels great. And he promises to tell audiences this weekend to, "live long and prosper." For those wondering if he'll play his character Mr. Spock on stage he replied, "No it's going to be me, me, me. I'm going to step out on stage and say, 'Hi, I'm Leonard Nimoy. It's good to be home — and I don't mean Vulcan.' "