A Bittersweet Graduation For Patients At The Mass. Hospital School
Play
This article is more than 8 years old.
By Gabrielle Emanuel
CANTON, Mass. — It's lunch break and there's a wheelchair traffic jam in the school hallway.
Friendly shouts of "Beep! Beep!" and "You're blocking traffic" interrupt chatter about one kid's new backpack and another guy's birthday plans.
It's a typical school scene, except a bunch of the kids are using computers to talk and others breathe through ventilators.
Like students across the country, many of these kids are getting ready for graduation. It's a bittersweet time for graduates of all stripes, but perhaps nowhere is it more bittersweet than here.
All of the 91 students in these hallways are also patients. When they graduate - as about a dozen will this year - they're not only leaving their friends and teachers, they're leaving the hospital they've called home for years, and in some cases, a decade or more.
The campus' main entrance is on a rural road in Canton, where a flashing sign reads: The Massachusetts Hospital School.
Brian Devin, the CEO, says that when cars zip past drivers often "think it's a school where they teach people to work in hospitals."
Devin says it's a fair assumption, but completely wrong. This facility is part pediatric hospital, part elementary and secondary school. It serves children with severe disabilities — muscular dystrophy, cerebral palsy, brain injuries — and is run jointly by the state Department of Public Health and the Department of Education.
Children as young as 6 or 7 can be admitted to the hospital and they often stay at this lakefront campus until the kid's clock strikes 22 years old, when it's time to graduate and it's time to go, regardless of whether there is another alternative place to go.
A Non-Institutional Hospital
As the hallway traffic starts moving, the students wheel themselves out into the brisk spring air. They race down covered ramps toward horseback riding lessons, speech therapy sessions and wheelchair hockey practice.
Those white ramps create a web that connects all the brick buildings on this idyllic, 160-acre facility.
"The kids are all over the place. They are not always with staff — we don't want them to always be with staff," Devin says. "We want them to be with themselves and with other kids as much as possible. There is no real institutional flavor."
The Massachusetts Hospital School's ultimate goal is to cultivate as much independence as possible for these children.
A team of nurses, doctors, therapists and teachers partner with patients and parents to produce an individualized plan for skill development. A rehab engineering team builds customized wheelchairs. Physical therapists help kids gain muscle strength and motor skill in their Olympic-sized saltwater pool.
And all sorts of sports teams and clubs aim to facilitate growth through social interaction and confidence-building.
It was these recreational activities that convinced Danielle she wanted to move to the school.

With short blond hair and a slim build, Danielle has cerebral palsy. She's bright, but her mobility is limited and her speech can be hard to understand.
She had been a day student at the school for almost five years when, as her mother, Sonya Harrison, recalls, Danielle came back from school one day and declared: "Mum, I want to live there."
Her mother was cautious. "She was so young," Harrison says. "It's like sending your kid off to college at the age of 12; they still need so much mothering."
But Danielle was persistent. She fit the hospital's medical criteria and had heard about the activities and therapy sessions available for residents. She told her mom she wanted the skills and stimulation.
Once Danielle moved in, Harrison quickly became a staunch supporter of the decision.
"Our life got so much better at that point," Harrison sasys. "We appreciated our time together so much more because it wasn't all a burden. I don't begrudge any of it, but it is very difficult — especially as a single parent — raising a child with disability."
Danielle, like most of the other kids, returns home on the weekends for "therapeutic leave." But during the week, she says she's incredibly busy. She beams as she tells me about the consignment shop on campus where she works and how she helped the rehab engineering team develop a device that lets her feed herself.
School CEO Devin says Danielle's experience is not unique. Many of the patients' parents say they wish they'd learned about The Massachusetts Hospital School sooner. And Devin says it's not uncommon for a patient's depression to resolve soon after becoming a resident.
Devin says in addition to happy patients and parents, Massachusetts should also be happy. He says, "this is a bargain." With well over three professionals for every child and a full staff of nurses and doctors, the medical price tag for each kid is about $110,000 a year.
That's not cheap. But Devin is quick to point out that, compared to other rehabilitation facilities, The Massachusetts Hospital School is probably cheaper per student, per year.
Plus, Devin says that Medicaid allows the hospital school to bill for the program, so, he says, after Medicaid reimbursements, the state recoups about two-thirds of the costs.
And on top of that, The Massachusetts Hospital School supplements public funds with private donations. Those gifts go to things like the senior trip each year to Disney World. The trip isn't just a fun outing; it's a "final exam" and a massive undertaking.
While the kids are studying budgeting and figuring out which medications they will need to bring, engineers are reconfiguring plane seats to suit the kids' needs.
Once everything is ready, the kids go out and navigate the world. Devin explains that the Disney trip provides a protected environment without being tailored to the students' needs.
Many of the kids taking their Disney World "final exam" are counting; they're counting toward their 22nd birthdays, when funding is cut off and they have to find somewhere else to go.
Discharged From Home Away From Home
On the edge of The Massachusetts Hospital School's campus tall pine trees cast long shadows. The tips of those shadows reach a quiet cul-de-sac line with pre-fab houses.
Several hospital school alums live in those houses. Taylor Plante is one of them. He has muscular dystrophy and had lived at The Massachusetts Hospital School for 13 years. When he aged out three months ago, he had one criterion for his new place: He wanted to be close by.
Soft-spoken and poised, Taylor admits he was nervous about the transition. But now, he can speed down the hill and arrive at that flashing sign by the hospital school's main entrance in under five minutes.
Taylor is just a bit older than Danielle; she'll turn 22 in less than a month. She and her mother have been preparing for this moment for over a decade.
"Probably a month after we became a resident, I started to say, 'Oh I better get busy now, so that she never has to leave here.' " Harrison jokes about changing the age limit, but then she gets serious. "I didn't ever want her to leave here. And I still don't want her to leave here."
Now, as they stare down fraught birthday, Harrison says, it's daunting.
"As much as you've been preparing for it, it still slaps you in the face," she says. "It really does."
Katie Mick says it's hard but necessary. She is a firm believer that despite having severe disabilities these patients must go through the same steps other young adults go through.
Mick says, "if it's time to fly it's time to fly and that's developmentally a good thing for somebody who's in their early 20s."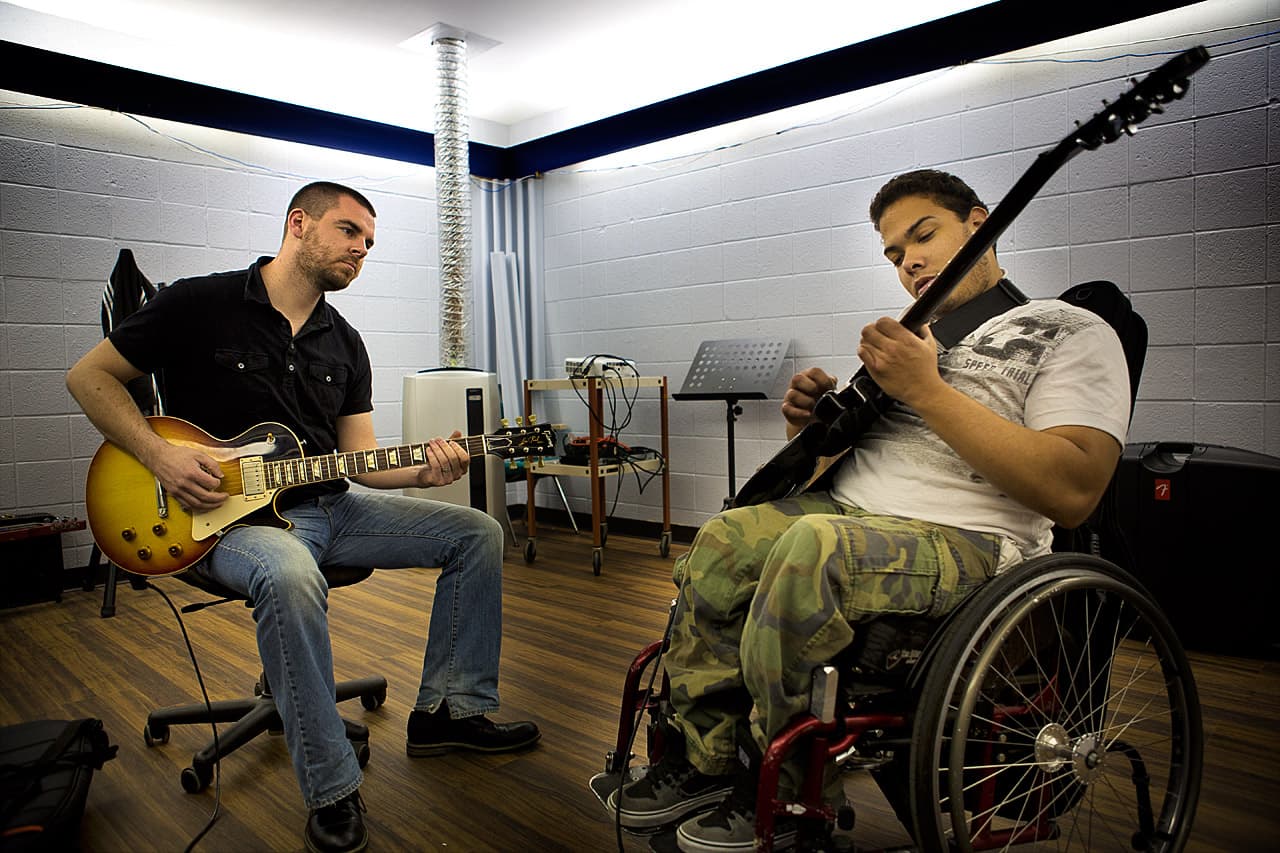 Devin admits that there is nothing comparable for the young adults to transition to. Thus, he says, The Massachusetts Hospital School has been looking for ways to make the transition easier. They've done this partly by making the deadline somewhat flexible.
"We've backed off a little on the absolute, 'It's 22 and it's time to go,' " Devin says. "So if a child needs to be here until they're 22 and a half, almost 23, that's fine as long as we know they're striving toward getting that proper placement."
This is possible because it's the school side of The Massachusetts Hospital School that cuts off funding, so the hospital can still charge Medicaid for the services they provide. And Devin says "it's the rare child who medically would not meet our criteria for staying here."
The goal is for kids to make only one transition and not get stuck in a temporary placement while they wait to find the right program or wait for a spot to open up.
While the school administrators tinker with the exact departure date, the staff members help the kids get ready. Mick says they have an "exit upon entry" approach, where planning for the transition "starts from the moment someone's walking in the door."
Danielle is now living in a special unit called Ross. It feels more like a dorm than a hospital. She cooks her own meals, does her own laundry, and helps in the cleaning rotation. From the drawer handles to the faucets, the space is not specially built to make things easy for the kids.
Harrison runs out of fingers as she ticks off the number of things Danielle has learned to do: cross the street in her wheelchair, administer her own medication program and handle it when she misses a dose. She can use an elevator without someone else pushing the buttons, find leisure activities outside the house, keep her checkbook in order and, Harrison says, most importantly, Danielle has learned to self-advocate.
"There are so many things they've prepared her for," Harrison says, "things that I could never have done — or even thought to do — all on my own."
As Danielle works on honing her life skills, Harrison works on finding a new placement for her daughter.
The costs will likely be covered by the Department of Developmental Services, but Harrison has to find the placement herself. So, she came up with a list of criteria for Danielle's new program: She wants a safe environment, with residents around Danielle's age and plenty of activities both inside and outside of the residence.
And after years of visiting countless programs, Harrison says they found one solution that might work: the Charles River Center, a facility for people with disabilities. But it's still unclear if the finances and logistics will work out.
Danielle doesn't know where she'll be going when she turns 22 next month but she hopes it offers her as much support and compassions as The Massachusetts Hospital School has for all these years.