With Cirque, Paulus Has Run Away With The Circus
06:49
Play
This article is more than 7 years old.
American Repertory Theater artistic director Diane Paulus is a rock star in the theater world, but now she's actually directing a circus — Cirque du Soleil's new show, "Amaluna," which just opened in Boston.
Stretching Mind — And Body
Cirque du Soleil is known for its almost-superhuman performers. The international touring company's acrobats hail from Japan, Russia, Colombia, Spain and China. And they're some of the best.
Paulus says the gender makeup of the company's cast is usually 70 percent male, 30 percent female.
"And we do the exact opposite ratio in 'Amaluna,' " she said. "So it's a real first for Cirque du Soleil to put women as the dominant ratio and also to make this priority of making a story that centers on women's strengths and values."
Cirque's headquarters are in Montreal. In 2010, its creative team invited Paulus to develop this homage to women. The director, who recently made Time Magazine's list of the world's 100 most influential people, has taken on everything from robot operas, to a staging of "Pippin," to Tony Award-winning reimaginings of "The Gershiwn's Porgy and Bess" and "The Glass Menagerie." In between all that, Paulus found the time to run away with this all-human circus.
"I had been a big admirer of Cirque du Soleil for years," she said, "and I knew that taking on this project would stretch my brain in ways it had not been stretched." Then she smiled. "I should say my body as well."
Paulus is stretching the acrobats, too, with new acts and a beefed-up narrative. The plotlines in most Cirque touring shows are loose and thematic. But for "Amaluna," Paulus developed a fuller story, even though there was no dialogue.
"I was very interested in how to create a structure to the acrobatics that was tracking actual character journey and arc," she explained.
For the story, Paulus looked to the Greek myths of Demeter and Persephone. Also, Shakespeare.
"I thought a lot about the character of Miranda from 'The Tempest' — of a young girl who has maybe been unexposed to the real world, who needs to come of age," she said.
And she conjured Miranda's father, Prospero, but instead made the character a queen called 'Prospera,' who plays a cello while flying through the air.
'A Sense Of Balance'
The story is set on a magical island governed by goddesses and the cycles of the moon. Now that could come off new-agey, which is exactly what Cirque's creative team hopes to avoid.
"We didn't want to have the 'women's agenda' show," Fernand Rainville said on the phone from Montreal. "You know, it's not about just trying to make a point. It was about trying to communicate a sense of balance."
Rainville is the director of creation for "Amaluna," and he says Paulus' fresh perspective and skills as a theatrical storyteller helped the acrobats forge deeper connections with their characters.
He hopes that translates to the audience, too.
"We usually get emotion through the wow factor, which is like, 'I can't believe I just saw what I saw.' But when you can actually push that and make it so you actually care for the performers … then that's a different way of doing it," Rainville said.
Casting took a year, which Paulus says is much longer than in theater. She auditioned the acrobats by watching hours of YouTube videos.
"I saw women shooting themselves out of cannons, women who would juggle machetes, twin sisters who could stand on each other's heads," Paulus remembered with a laugh.
Ukrainian contortionist Iuliia Mykhailova got the part of Miranda, the young girl in "Amaluna." She's been performing stunning balancing acts with Cirque du Soleil shows for five years, and says working with Paulus is indeed a big change.
"Because she always did theater, like Broadway in New York, so she tried to make for Cirque du Soleil something different, kind of like her style," Mykhailova said, adding being an actor is hard work. The 29-year-old said staying in the character of a teenager is not easy while simultaneously doing handstands for her act, which is new and partially underwater.
Another first for Paulus' show involves a sport we usually see in the Olympics.
"Uneven bars are such a great female gymnast sport," Paulus said, "and we had the idea of creating a group act of uneven bar athletes."
It's highly choreographed, with six to eight gymnasts swinging at once. They trained in Montreal for six months. Brittany Urbain says it's hard to share bars because they shake. Timing must be exact. But being part of a story is inspiring to this team of Amazon warriors who protect the island.
"It really helps because, for me, it was just you found this inner strength that was always there inside you," she said. "And it manifests in each girl in a different way."
Paulus also hired Cirque's first all-female band. Berklee College of Music alum Angela Swan plays the guitar.
"You know it's inspiring to other young female musicians to see that there are those opportunities out there, and not just because of your gender," she said. "But, I think it's a beautiful thing to show how they can be equal to their male counterparts."
The guitarist says it's cool to play on stage with acrobats flying over her head. She also admits her art school friends in New York were really impressed when they heard she'd be working on a circus with Paulus.
Cirque du Soleil's "Amaluna" runs through July 6 at the Marine Industrial Park in Boston.
More Photos: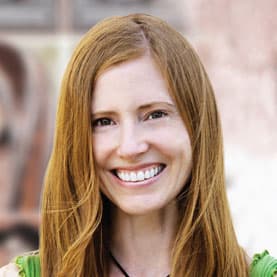 Andrea Shea Senior Arts Reporter
Andrea Shea is WBUR's arts reporter.