In 'Maleficent,' A New Kind Of Disney Princess—Dark, Sexy, Wicked Good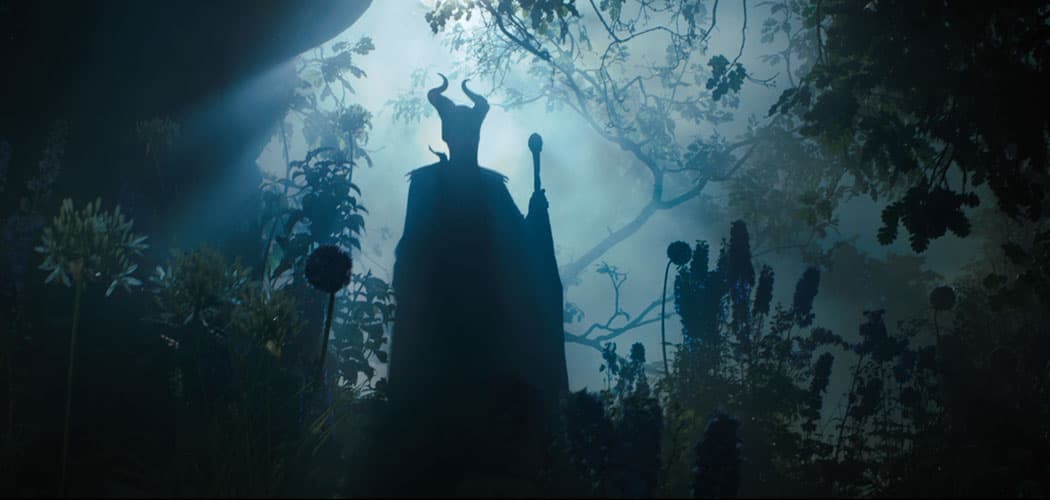 This article is more than 7 years old.
"You know sometimes I don't think she's very happy," one of the "good fairies" says of the villain Maleficent in Disney's 1959 film "Sleeping Beauty."
In that animated feature, it's never really explained why the iconic, wicked, horned, svelte, fairy witch is so darned mad at the king and queen that she curses their new baby girl Aurora. She just comes off as some random total jerk. But the new live-action Disney film "Maleficent," opening in Boston area theaters today (Friday) with Angelina Jolie starring as the namesake evildoer answers the question. In fact, it argues that she was justified.
So once upon a time, Maleficent is a happy demonic-looking, winged angel-fairy girl attired in peasant browns who soars around the fairy swamp and above the heavenly clouds. She meets a boy who's come thieving in her dazzling computer-generated Eden populated by glittery little Tinker Bells, jolly elf-frog men and intimidating "Lord of the Rings" Ent-like tree warriors. It seems boy and gal have a perfect love, as treacly as an old after-school television special, that might just unite the estranged fairy land, of which Maleficent is basically princess and protector, and the world of men. The film never makes it clear if all its world of men stuff—as opposed to using the ungendered term "humanity"—is just the usual retrograde fairy tale gender stereotypes or an actual feminist critique of the patriarchy.
But the romance goes sour when the dude (played by Sharlto Copley) tricks her into downing some sort of date-rape potion. He intends to knife her, but chickens out, so settles for sawing off her wings, and parlays the dirty deed to become ruler of the human kingdom.
Time passes and Maleficent crashes the big state party to celebrate the birth of the scumbag king's Aryan blonde daughter Aurora. Some good fairies have already blessed the baby with beauty and happiness. Maleficent dooms the girl to prick her finger on a spinning wheel on her 16th birthday and fall into a "sleep like death," a slumber from which she can be awakened only by "true love's kiss." The thing is Maleficent's betrayal by the king has convinced her that there's no such thing as true love.
It's a nice touch that the curse scene hews closely to the 1959 "Sleeping Beauty"—though in an odd story change, no good fairy follows up to lessen the harm of Maleficent's spell. (An aside: Is it asking too much to be disappointed that neither film makes any attempt to explain how anyone gets clothes after the king orders all spinning wheels in the kingdom destroyed?)
With the king's blessing, three bumbling comic-relief fairies hide the baby away to protect her from evil spinning equipment. But Maleficent immediately tracks down the girl (played by Elle Fanning)—and turns slowly but steadily sweet on her. The film doesn't address it, but Maleficent falls for the seductive charms bestowed on the girl by the "good" fairies, so in effect beautiful makeover magic trumps hater magic. Life lesson there.
Adult, revisionist fairy tales
"Maleficent" is a mirror image of the 1959 Disney film. Here it's the king who's wicked and Maleficent is so freakin' good that even though she's been so terribly wronged, she can't stay mad at the pretty blonde, bland Aurora. Maleficient is a new sort of Disney princess—the dark, sexy, wicked good villain.
The film is basically a rehabilitation of Maleficent's bad girl reputation, much as Massachusetts author Gregory Maguire's 1995 novel "Wicked: The Life and Times of the Wicked Witch of the West" sought to refurbish the reputation of Oz's mean witch or Jon Scieszka and Lane Smith's 1989 picture book "The True Story of the 3 Little Pigs" offered the Big Bad Wolf's quite reasonable defense of what went down: "I was framed."
Maguire's book ("Unlike the popular 1939 movie and Baum's writings, this novel is not directed at children, and contains adult language and content including violent imagery and sexual situations," explain the scholars at Wikipedia) and the hit Broadway musical it spawned might be the starting point for all the, um, sophisticated, adult, revisionist fairy tales of the past two decades—from the wisecracking ogre stomping through the celebrities of the fairy tale world in the 2001 computer-animated feature film "Shrek" to NBC television's fairy tale cop drama "Grimm" and ABC's "Once Upon a Time," both of which debuted in 2011, to the brutal 2012 film "Snow White and the Huntsman." A live-action version of Disney Studios' 1950 feature animation "Cinderella," starring Cate Blanchett and "Downton Abbey"'s Lily James and directed by Kenneth Branagh, is due out from Disney in March 2015.
In "Maleficent"'s sumptuous production design, you also sense the inspiration of the Disney theme park advertisements that photographer Annie Leibovitz elaborately staged, beginning in 2007, with Beyonce Knowles, Scarlett Johansson, Jennifer Lopez, Gisele Bundchen, Tina Fey and other celebrities playing scenes from Disney feature cartoons.
The Sleeping Beauty story, of course, goes back to European folk tales collected and retold by Italian poet and courtier Giambattista Basile as "Sun, Moon and Talia" in 1630s (in his version, a king rapes the unconscious teen and she's only awakened when her ensuing twin babies are born and suckle at her breasts) and the Frenchman Charles Perrault published as "The Beauty Sleeping in the Wood" in the 1690s. The magic in the tale now feels like pure imagination, but the story's canonical publications coincide with actual witch trials here in Salem.
Grrrl power
I arrived for "Maleficent" skeptical, and the film's beginning seemed to confirm my fears, but it grew entertaining. It's good, but not great. I mean, you can't go wrong with a femme fatale witch, a fire-breathing dragon, set-piece battles of knights versus forest monsters (in which our hearts are with the monsters), rainbow bright fairy swamps, a ruined castle, a great wall of thorny trees, and magic that Maleficent blows at her victims like malignant kisses.
But it seems a cheat when Sleeping Beauty here hardly sleeps at all. The whole thing feels artificially flavored, lacking the soul of a great Hollywood fairy tale like the 1987 comedy "The Princess Bride." Plus there's not much acting going on. Most of the performers are wooden, minor-league talent. Elle Fanning is just a schmaltzy ball of perkiness. But the production holds together because Jolie is magnetic through much of the picture. She accomplishes this by standing around like a fashion model and looking dazzlingly dark and thin and preternaturally poised. But it works. And in Maleficent's icy wisecracking asides after she turns evil, you might even sense flickers of a sort of Dorthy Parker-ish personality too smart, cynical and quick witted for these humdrum filmmakers to imagine letting roam loose through their movie.
Robert Stromberg—here directing his first picture after doing production design on James Cameron's "Avatar," Tim Burton's "Alice in Wonderland," and Sam Raimi's "Oz the Great and Powerful"—often overstuffs his scenes with distracting detail. But Jolie's costumes by Anna Sheppard are fabulous. She seems to be dressed for a Jay Gatsby shindig in Mordor. Her iconic horns are variously wrapped in snakeskin or flapper beads. When she arrives to curse baby Aurora, she sports a knockout shimmering raven-like gown. During the climatic battle, she runs around in a dark skintight Catwoman suit.
"Maleficient" is roughly the equal of Disney's 1959 "Sleeping Beauty," which is better remembered for its medieval-manuscript-inspired designs than its plodding story. Walt Disney seems to have lacked attention for that production, spending his time instead improving his 1955 surprise hit theme park Disneyland (with Sleeping Beauty Castle at its hub), and you can feel it.
The Disney company has been working hard in the past couple decades to codify its princesses brand—while struggling to reckon with how passive "classic" Disney princesses appear as we look back from the other side of feminism and grrrl power. The 1959 cartoon seemed to be about some sort of crazy spite and the awesome healing properties of boy-girl love. While Disney Pixar films continue to rely on the formula of the nerd guy hooking up with the perfect girl, in "Maleficent," forgiveness and a version of mother-ish love save the day. It harmonizes with Disney's 2013 animated feature "Frozen," in which a sister's love fixes everything. It's feminist derring-do, no Prince Charmings required.
The closing credits of Maleficent" scroll up punctuated by Lana Del Rey singing a breathy, eerie, narcoticized version of Disney's by-way-of-Tchaikovsky "Once Upon a Dream" "Sleeping Beauty" waltz. Wow.
I suppose we're intended to take "Maleficent" straight, and come out convinced that she's been horribly slandered all these years. But I walked out feeling suspicious of such righteous sentiments. I guess I'm just not ready for her to give up the dark side yet. I keep wanting Maleficent to still be so brilliantly, deliciously dastardly that she's just duped us into thinking she's really got a heart of gold by funding this self-serving propaganda flick.
Previously: "After Triumph Of 'Snow White,' How Did Disney's Artistic Reputation Collapse?"
Greg Cook is co-founder of WBUR's ARTery. Geek out with him about fairy tales, princesses and Disney on Twitter @AestheticResear and Facebook.
This article was originally published on May 30, 2014.