Investigators Recover Voice, Flight Data Recorders At Hanscom Crash
02:11
Play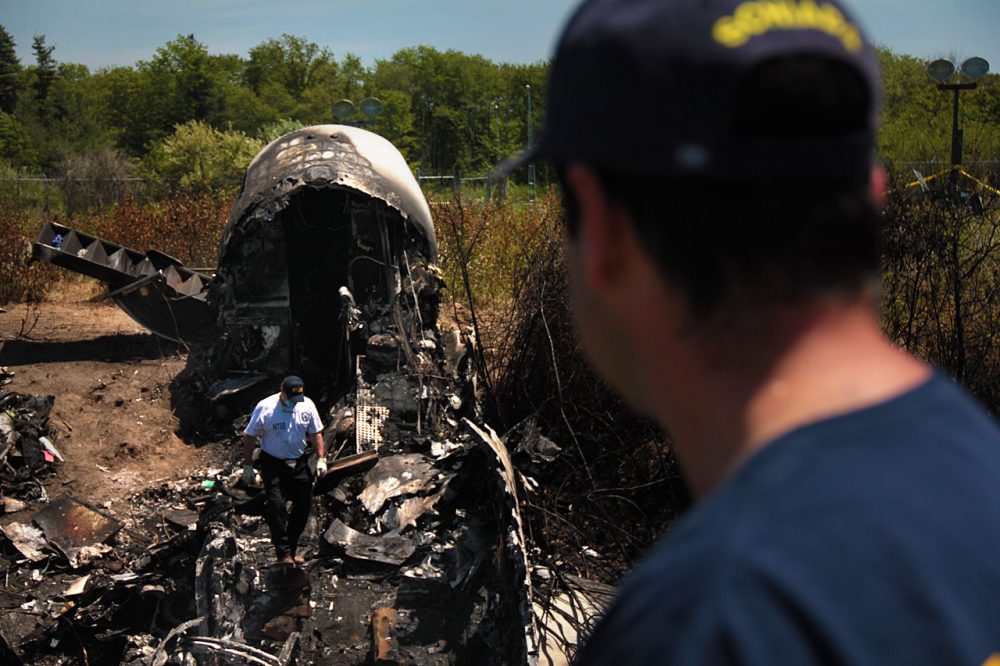 This article is more than 5 years old.
Investigators from the National Transportation Safety Board have recovered the voice and data flight recorders from the private jet that crashed at Hanscom Field this weekend, killing all seven people aboard.
Three days after the crash, only one runway is open at Hanscom. Beyond the end of the other runway still sit the remains of the Gulfstream IV.
Luke Schiada, who is leading the investigation for the NTSB, said on Monday that the crash site is a complicated one to work.
"The aircraft came to rest about 2,000 feet from the end of the runway in a gully," Schiada said. "There was a significant post-crash fire, and the airplane is located on both sides of the gully with water in the gully."
The NTSB says the only eyewitness to the crash did not see the jet take off at any point. Now that the flight recorders have been recovered, investigators will be able to determine the aircraft's top speed.
Schiada said they will also look at the crew's experience and whether they were well rested.
"As we continue, the investigation is still going to focus on gathering factual information about the flight crew, their background experience, type of experience, medical experience, things along those lines," Schiada said.
Schiada said the pilot had 18,500 hours of flight experience and the first officer had 11,200 hours.
The chief pilot was James McDowell, of Georgetown, Delaware, authorities said. Spouses identified two of the crew members as flight attendant Teresa Benhoff, 48, of Easton, Maryland, and co-pilot Bauke "Mike" de Vries, 45, of Marlton, New Jersey.
The plane traveled to the end of the runway and past another thousand feet of tarmac. There are tire marks on that part of the tarmac beyond the end of runway.
Poles mark the end of the tarmac, and it appears that the plane's wings did not shear those markers. Investigators will have to determine if the wings were so high they would have cleared the markers with the plane on the ground, or if at that point, the aircraft was airborne.
The plane traveled another 800 feet of grass beyond the tarmac, and there it lost first its nose gear, then its left main gear before coming to rest in the gully.
The crash's other victims were identified as Philadelphia Inquirer co-owner Lewis Katz; Katz's neighbor at the New Jersey shore, Anne Leeds, a 74-year-old retired preschool teacher; Marcella Dalsey, the director of Katz's son's foundation; and Susan Asbell, 67, the wife of a former New Jersey county prosecutor.
With additional reporting by The Associated Press
This segment aired on June 3, 2014.