Mass. GMO Labeling Supporters Announce Progress On Legislative Front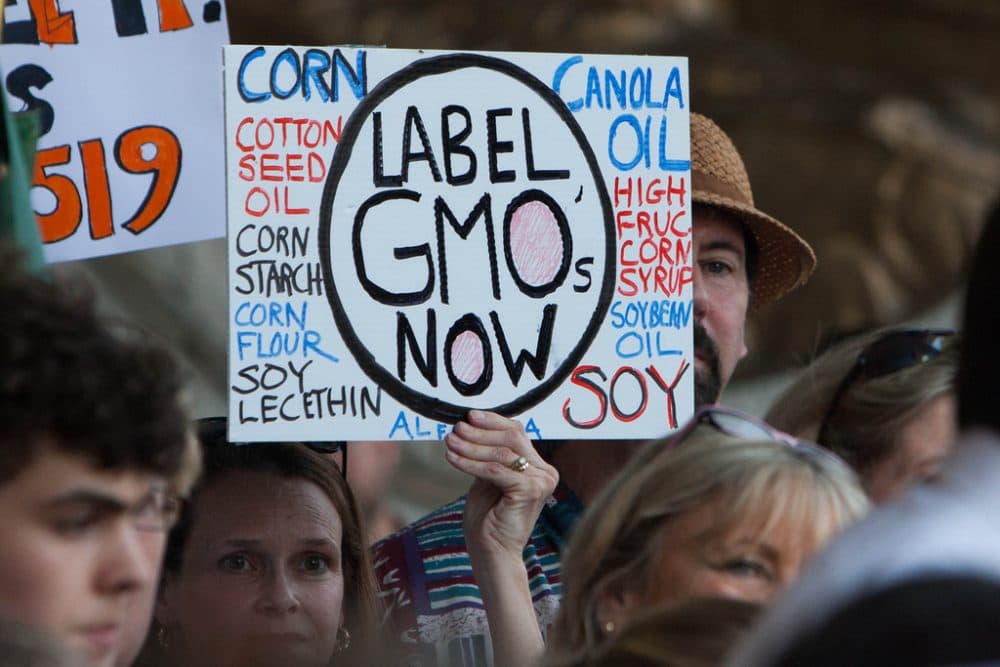 This article is more than 8 years old.
Supporters of GMO labeling legislation pending on Beacon Hill will gather at the State House Wednesday to announce they have the support of a majority of lawmakers in the House and Senate to pass the bill.
More than 100 members of the House and about two dozen senators have signed group letters to the leaders of their respective chambers urging positive action on the GMO labeling bill. The Joint Committee on Environment, Natural Resources and Agriculture voted favorably on the bill in March. The proposed law would require all packaged foods and seeds containing genetically modified ingredients to be labeled as such.
Three New England states have passed GMO labeling statutes. But the laws in Connecticut and Maine, and the proposed law in Massachusetts, can't go into effect until a total of five states enacts similar laws. Some of the states have to border each other, and they have to encompass a population of at least 20 million people in the northeast part of the country. Vermont recently passed a GMO labeling law that has no such "trigger clause" and therefore will be the first to take effect.
Rep. Ellen Story of Amherst has sponsored the legislation here for several years.
"But this is by far the most momentum," Story said. "The actions that have gone on in other states in New England have helped tremendously. We'd like to be part of a movement."
Martin Dagoberto, an organizer with MA Right To Know GMOs, stressed that the proposed labels would be a simple addition to a food package's nutrition information.
"It's not a warning label. It's not a neon skull and crossbones," Dagoberto said. "It's one line of text that's increasingly important to people across the country and across Massachusetts."
Opponents in the food industry say labeling should be handled at the federal level, by the Food and Drug Administration.
In a March 2014 interview on WBUR, Rich Bonanno of the Massachusetts Farm Bureau Federation said different labeling laws from state to state puts some food producers at a competitive disadvantage.
"Any time you try to deal with a national issue on a state-by-state basis, it usually comes back and ends up hurting local producers," Bonanno said.
Bonanno expressed concern that the proposed labels might cause unnecessary alarm for consumers.
"We certainly have an appreciation for the concern of the public in wanting to know about their food supply, but to me a lot of it's based on just a lot of hype and hysteria that you can't find in the scientific community," he said.