Suffolk Downs Hopes For 'Pot Of Gold': A Casino License
04:30
Play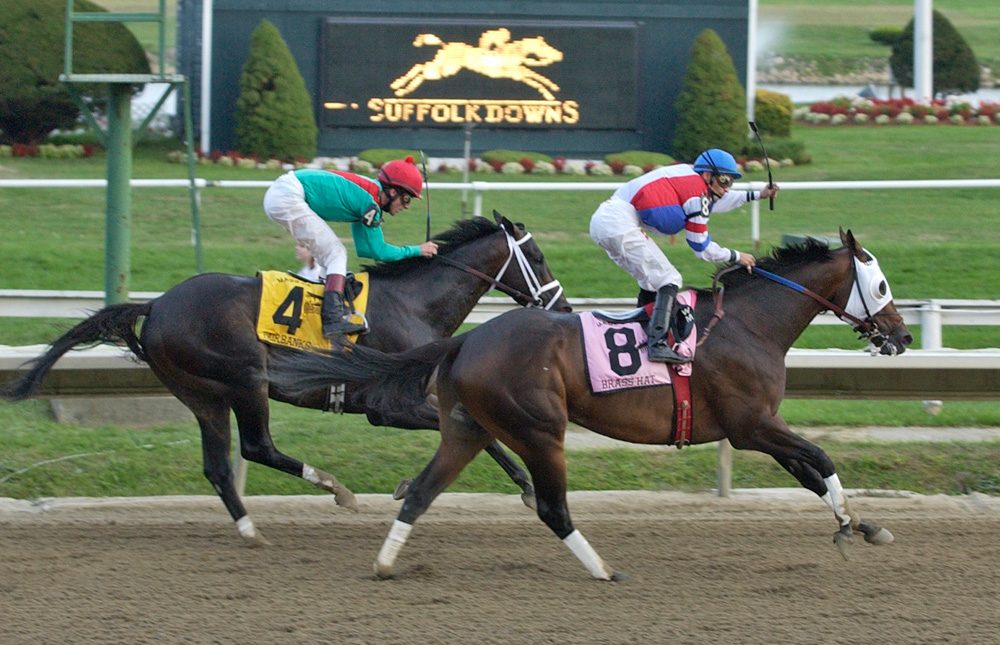 This article is more than 6 years old.
Big crowds are expected to turn out Saturday to watch California Chrome attempt to become the first horse in 36 years to win racing's Triple Crown.
Suffolk Downs racetrack in East Boston expects thousands of visitors to watch the race, but in recent years, attendance at New England's only thoroughbred track has plummeted.
"When I started back in '85, you could look out in the grandstand, you wouldn't see the pavement at all," said Tammi Piermarini, a jockey at Suffolk Downs, and the third-winningest female jockey in all of thoroughbred racing.
"Now, you look out there and a lot of these people are owners, or trainers, or grooms, or if you catch a Saturday or a holiday you'll have a few more people," she said.
Piermarini is not sure how much longer she'll be here.
The 79-year-old Suffolk Downs racetrack has been struggling for years. Chip Tuttle, the racetrack's chief operating officer, says its owners have lost $50 million since 2007.
"The ownership here has been extraordinarily patient," he said. "They've been willing to make that investment on the idea that there may be a pot of gold at the end of the rainbow."
That pot of gold? A potential casino.
Suffolk Downs' management has warned this will be its last year of racing unless the track and its partner, Mohegan Sun, win a license to build a casino in Revere.
The state gaming commission will award only one license in Greater Boston. Suffolk Downs and Mohegan are competing with Las Vegas casino mogul Steve Wynn and his proposal in Everett.
If Mohegan Sun loses its bid for a license, Tuttle says all 325 Suffolk Downs employees will lose their jobs.
Jockeys and horse trainers who are not employed by the track, but still make their living there, will also lose an important source of income.
"There are a lot of local people, farm people, breeders and local jobs that are just going to become nonexistent," said Jay Bernardini, a horse owner and trainer.
"Others of us, myself, someone like Tammi, that's a perennial leading rider, we're going to continue working. For me, it might mean selling my house, moving my son, and no longer being member of the community."
A study commissioned by Suffolk Downs says 1,486 jobs are tied to Massachusetts horse racing. With the casino license, the study says that number would more than double.
"Not everyone can work in the innovation economy," Tuttle said. "We're not talking about people with skillsets that are transferable. ... For many of them, it's a way of life."
Expanded gambling has helped revive tracks in other parts of the country. Charles Town Races in West Virginia opened a casino and saw daily purses — the payout to riders, trainers and owners — increase nearly eightfold.
Higher purses attract better horses. Better horses attract more people. More people at the track equals more betting and, Suffolk hopes, a return to profitability.
Without the casino, Tuttle says there's not much hope. Only a handful of American racetracks turn a profit without some kind of expanded gaming.
"We're not at the end of the road here, but we're close to the end of the road," he said. "For those of us who got into this because of racing, not gaming, and for the people who work here, you know, they're good hard-working people, we'd like to see this continue."
Suffolk Downs will find out whether it gets a casino license around Labor Day.
There's also a proposed ballot question to outlaw casino gambling. In the next month, the state supreme court is expected to rule whether that initiative can move forward.
New England's only thoroughbred racetrack, possibly in its last season, is hoping for the "pot of gold" casino gambling could bring.