Partners Showdown: Hospital Coalition Wants More Scrutiny Of AG Deal
A group of Massachusetts health care providers is asking Attorney General Martha Coakley (who also happens to be running for governor) to make public details of a deal which will allow Partners HealthCare to acquire three hospitals.
WBUR's Dan Guzman spoke with Tufts Medical Center CEO Michael Wagner, who says the deal would have a big impact on the state's health care marketplace. "The concern is that Partners is a system that has currently three times of the size of any system in Massachusetts," he said. "With the proposed AG deal, this would take it to four times the size of the next largest system."
The coalition also includes executives from Beth-Israel Deaconess Medical Center and Lahey Health. The deal, which would allow Partners to acquire three hospitals — South Shore, Melrose-Wakefield and Lawrence Memorial — in exchange for implementing certain cost-cutting measures, could go to a judge for approval as early as next week.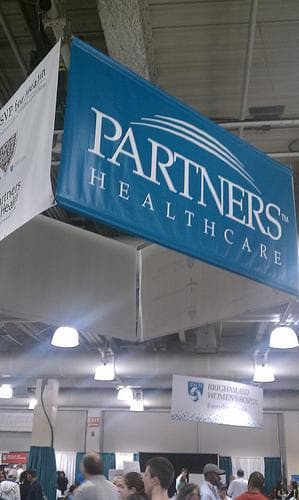 Guzman also talked to Richard Copp, a spokesman for Partners, who said that for more than two years, there has been a process which has been transparent in the media and followed state regulations for this deal. Copp added that Partners believes the deal will result in more coordinated care and rein in cost growth for health care and that the health care system has followed the state process — there have been hearings and meetings, and Partners has followed the law.
Here's the full press release from the coalition:
Healthcare providers across Massachusetts including Atrius Health, Beth Israel Deaconess Medical Center, Cambridge Health Alliance, Lahey Health Systems, Tufts Medical Center and other hospitals and physician groups have formed a coalition calling for a public process around the recently proposed settlement between Partners HealthCare and the Attorney General.

"Although we are competitors, we have joined together to draw attention to the threats posed to the Massachusetts healthcare system by the proposed deal between the Attorney General and Partners HealthCare," said Howard Grant, JD, MD, president and chief executive officer of Lahey Health. "Members of the public, as well as healthcare providers, have received little information about this deal, though it will permanently transform how we deliver and receive healthcare. The proposal was crafted without the input of, or review by, the patients, doctors, nurses, caregivers, policymakers, employers, and other stakeholders who have worked so hard to reform the healthcare system."

Coalition members yesterday delivered a letter to Attorney General Martha Coakley outlining concerns about the "significant and deleterious impacts" the proposed deal would have on the "entire Massachusetts marketplace" and raising questions about why the settlement proposal bypassed the Health Policy Commission's Market Impact and Cost Review process.

"The proposal approves unprecedented expansion of the market's largest health care system, which, according to the Attorney General herself, has used its market power to cement market-leading prices, resulting in some of the highest health care costs in the nation. In light of the magnitude of this deal, the HPC should be given time to hold public hearings and complete its review of all components of the proposed settlement before this deal is approved," said Michael Wagner, MD, president and chief executive officer, Tufts Medical Center and Floating Hospital for Children.

Members of the coalition include: Anna Jacques Hospital, Atrius Health, Beth Israel Deaconess Medical Center and its affiliates (Beth Israel Deaconess hospitals BID-Needham, BID-Milton, and BID-Plymouth), Beth Israel Deaconess Care Organization, Cambridge Health Alliance, Harvard Medical Faculty Physicians at BIDMC, Lahey Health System (including Lahey Hospital & Medical Center, Addison Gilbert Hospital, Beverly Hospital and Lahey Medical Center Peabody), Lowell General Hospital and Circle Health, Mount Auburn Hospital, New England Baptist Hospital, New England Quality Care Alliance, Signature Healthcare Brockton Hospital, Tufts Medical Center, Tufts Medical Center Physicians Organization and Winchester Hospital.

Together, the members claim that the proposed Partners HealthCare-Attorney General agreement will allow Partners to:

--Acquire up to four suburban hospitals and their physician-hospital associations, making the Partners HealthCare system four times larger than the next largest Massachusetts system. Partners' net patient service revenues and total operating revenue will increase by $1 billion and $10.4 billion respectively. These new additions will increase Partners total cash by $7.9 billion, most of it generated from 20 years of well documented market dominance and pricing advantage (all paid for by the Commonwealth and its citizens).

--Employ nearly 600 new physicians in a physician network that is already the largest in the state. The addition of these physicians (a number equal to the entirety of Harvard Vanguard Medical Associates, Lahey Hospital & Medical Center or Tufts Medical Center) will create a bidding war for physician talent and resources that could not be matched by community hospitals or academic medical centers with less capital.

--Continue to exponentially increase a market-leading price advantage, driving an overall increase in future health care costs. Though Partners agreed to a price cap at the rate of general inflation (currently 2-3 percent), the growth of most other providers is 0-1 percent, thereby giving Partners a competitive pricing advantage. Partners had already renegotiated its contracts with the three largest commercial payers at 2-3 percent in 2012. In addition, price increases are calculated on a base that is already significantly higher than their competitors based on reports from the Attorney General and Center for Health Information and Analysis (CHIA) designed to highlight significant price variation. It is also likely that the rate of inflation will increase as the economy continues to recover, making the limitation practically meaningless.

--Solidify Partners ring of suburban hospitals around Route 128. Community hospitals already struggle against the established market dominance of Partners, which has been moving outpatient services to the Boston suburbs. This agreement further creates an enormous risk for the community hospitals, other lower cost providers, and the patients who rely on their services.
Subvert the role of the Health Policy Commission and the legislature's intent to control health costs. Chapter 224 was created to assure a transparent and thorough review of major transactions by the Health Policy Commission. Currently any transaction with a value in excess of $10 million must be reviewed by the Commission, but the proposed agreement will approve a comprehensive expansion and growth plan for Partners that is likely to exceed $1 billion without prior review. The HPC recommended that Partners not be allowed to acquire South Shore Hospital because it would lead to higher healthcare costs; furthermore the HPC has not completed its review of Partners' request to acquire Hallmark Health. Both appear to be approved by the Attorney General in the proposed settlement.

"Increasing referrals and volume to higher-priced providers in Massachusetts runs counter to statewide efforts to promote access to affordable health care," said Patrick Wardell, chief executive officer, Cambridge Health Alliance. "Given the sweeping reach of this agreement for years to come, our communities and patients deserve a thoughtful public process in which they can participate and understand the details of this deal. Based on the little that has been publicly disclosed, access to community-based health care is at stake, as this will drive up health care costs and widen the significant commercial insurance rate disparities that pose a threat to local health care access, particularly for underserved populations."