'Anything Goes' Raises The Roof At North Shore Music Theatre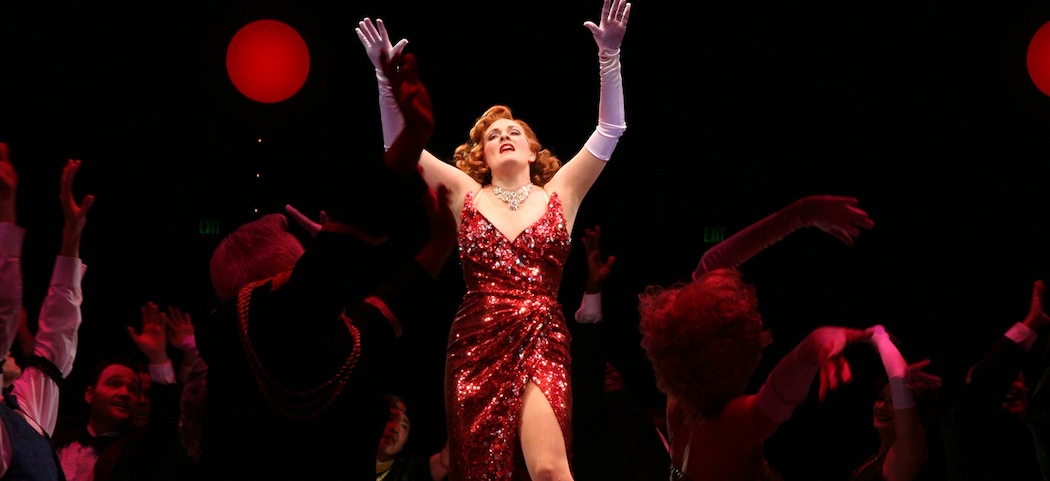 This article is more than 7 years old.
The story of musical theater in America is one of the outsider looking in. Most of the writing teams from the '30s through the '60s were Jews wrestling with assimilation. Cole Porter, on the other hand, was to the manor born, though it's been speculated that his homosexuality left him feeling like an outsider as well. You certainly get the feeling watching the fine production of "Anything Goes" at the North Shore Music Theatre (through Sunday) that Porter's sympathies were with the outsiders — it's the working and middle-class characters fighting the suffocating WASPishness of the establishment figures who are the life of his party.
It doesn't hurt that Eric Ulloa gives such magnificent voice to Billy Crocker, the 99-percentile aide to Elisha Whitney, a Yale one-percenter, who stows away on the S.S. American to be near his love, Hope Harcourt, a member of the same top tier as his boss. Ulloa looks like a young Liev Schreiber and sings like nobody's business. He can croon or belt it out, as smoothly or as roughly as the song calls for. Pretty fair material he has, too. "You're The Top," "It's De-Lovely" and "All Through the Night." Joining him on the duets are Danette Holden as Reno Sweeney, a tough-talking night club singer/evangelist, and Alessa Neeck as Hope. Neither singer has Ulloa's pipes, but each possesses just the right presence. Add "Blow, Gabriel, Blow," "I Get a Kick Out of You," and the title song and you've got quite a score.
The real co-star, though, is Michael Lichtefeld, whose choreography makes this one of the swinginest ships you'd ever want to be on. Charles Repole's direction and Milton Granger's nine-piece band keep everything festive as well.
And for all the talk of Porter's outsider-ness, "Anything Goes" doesn't travel too far down a sociological road. The story is pretty silly as are all the characters save for Billy and the femmes. There are even gangsters and stereotypical Chinese characters who have supposedly converted to Christianity and given up gambling. (Don't tell the PC police at Newton North High School.) Unlike Porter's more developed "Kiss Me, Kate" (now at Barrington Stage Company in Pittsfield) the book is really an excuse to get to Porter's great songs. And when the singers and dancers get to those songs, it's a pleasure to be on board this cruise.
Here's a preview:
More Photos