The Roxbury Youth Orchestra Brings Its Revolution Of Hope To The MFA
They practice five days a week. Their teachers are dedicated volunteers, their instruments generous donations that their founding board wrangled with an indomitable door-to-door spirit. Since June 2013, when violinist David France founded Revolution of Hope, the Roxbury Youth Orchestra has met religiously after class to play everything from Bach and Brahms to Jay-Z and Pharrell Williams.
Their dedication is obvious. So is their skill. "David had a dream and three teachers supporting him," recalls Malia Lazu, one of those board members invested in the orchestra's success from the get-go. She was present (and teary-eyed) at their first concert seven weeks into their inaugural season. "Mothers were crying … my child is playing the violin!" Parents, of course, knew that their middle schoolers had been partaking in after-school music lessons, but the pace of their progress was staggering. Their curriculum revolves around the joy of music and community, but it is serious instruction.
Revolution of Hope is Boston's own chapter of the growing international network of world-renowned orchestras El Sistema. Begun in Venezuela in the 1970s by musician and economist Jose Antonio Abreu, El Sistema — which today has over 400,000 participants — is a pedagogy, curriculum and social change movement. Each year, it follows through on its promise to create leading orchestras (including the Simón Bolívar Youth Orchestra) that perform in the most prestigious concert halls around the world.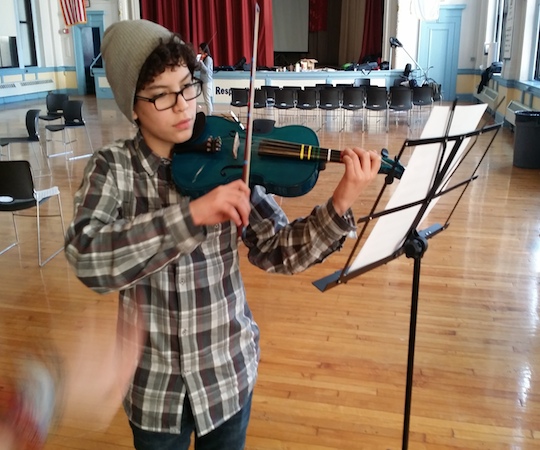 Over 70 percent of participating musicians live in poverty. They are children who, without El Sistema, would not have had the opportunity to hone their musical talents or pursue their ambitions. Revolution of Hope has the same DIY spirit to it. Its achievements thus far augur its evolution as a world-class orchestra, which is, after all, the aim.
Executive director David France is recipient of the New England Conservatory's El Sistema Fellowship. Like Abreu, he believes that there are virtuosos in economically disadvantaged communities, budding musicians who deserve better than second best. This is not about "quotas," or a nice, feel-good but ultimately ineffective gesture on his part. As their teacher, France is dedicated to his students' development, to giving them a step up over the economic-and race-based disparities that hamper their aspirations.
To hear Lazu tell it, it is more than France had as a young black man growing up in a working-class family from the Bahamas. "David's passion is the violin. He always has it with him. I think he probably showers with it," jokes Lazu, "but his teachers later told him, when he was so successful, 'I didn't really think you were going to stick with it, so I didn't give you my best. I'm sorry.' They couldn't see that about him. They couldn't see beyond race." France is determined not to let that happen to his own students, who hail from every background imaginable.
In January of this year, Revolution of Hope was selected as one of the six hottest new nonprofits in New England by TUGG, Technology Underwriting Greater Good. The Roxbury Youth Orchestra has already played at Harvard University, and they're only getting started. This coming Wednesday, June 18, they will perform at the Museum of Fine Arts as part of the Future Boston Alliance's MFA Takeover in Honor of Juneteenth, the oldest national commemoration of the ending of slavery in the United States.
Lazu, who is co-founder of Future Boston, sees the arts as a catalyzing force and a place of intersection "that brings people and cultures together." The MFA Takeover, now in its second year, will feature arts activities, pop-up exhibitions and live performances. Revolution of Hope is set to open the evening's festivities at 6 p.m. at the concrete lectern "Now, Speak!", an outdoor installation by Argentinean artist Amalia Pica encouraging impromptu performances. The orchestra also plays between 7:30 and 7:45.
It is the perfect mashup, she explains, part of Lazu's plan to do arts better in Boston — "children from the hood playing classical music at the MFA." It's an artistic collaboration that gives a world-class orchestra in the making the stage it deserves.
Robyn Day is a Boston-based photographer and arts writer at Big Red & Shiny, Art New England, and The ARTery. She is represented by Hannah Bacol Busch Gallery.