Dr. Arnold Relman, Prominent Medical Editor And Critic, Dies at 91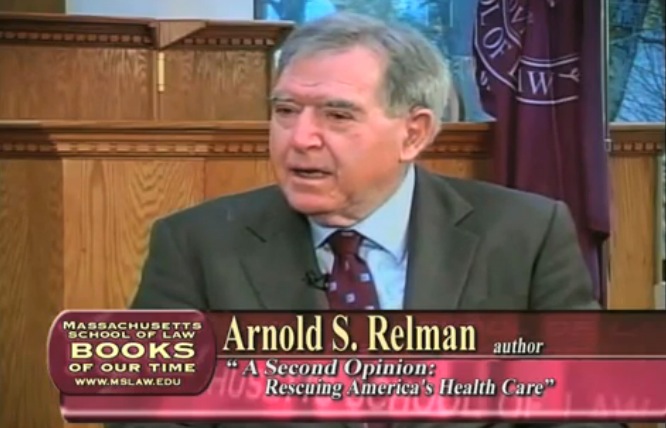 Sad news in The Boston Globe: Dr. Arnold "Bud" Relman, a longtime editor of the New England Journal of Medicine and prominent critic of the influence of money in medicine, has died at 91 of cancer.
We wrote about Dr. Relman just this January:
Dr. Arnold Relman, former editor of the New England Journal of Medicine, has long played a rare role in the health care sphere: He's an exceedingly senior and authoritative Harvard figure willing to speak out about what's wrong in American medicine, from financial conflicts to the need for health care reform.
The occasion was his must-read article about the lessons he had recently learned about health care from breaking his neck and nearly dying. It's in the New York Review of Books here, titled "On Breaking One's Neck."
For what it's worth, at least it sounds like he had a good death. His wife, Dr. Marcia Angell, tells the Globe, "When he found he had a fatal illness, he said, 'I just want to die the way I lived, sitting at my desk writing,' " Angell said. "He was dignified and brave the whole time. He said, 'Look, I got 90, maybe 91 years. Not many people get that. I've had a wonderful life and I have no regrets.'"
Don't miss the Globe's beautifully done obituary here.