You Lend What? Seed Lending Libraries Crop Up Around Massachusetts
Play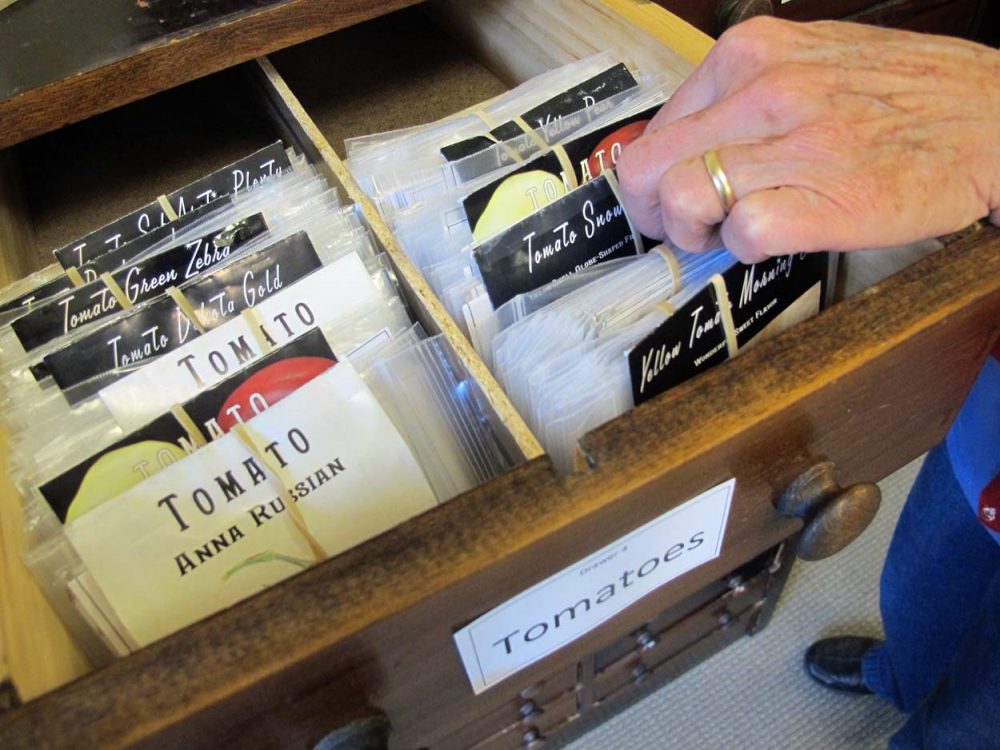 This article is more than 8 years old.
There are lending libraries for tools, fishing poles, telescopes, even baking pans. Now gardeners are increasingly finding places to "borrow" too, as seed lending libraries crop up across the country. I visited one in Concord to find out more about this growing movement.

"You lend what?"
That's a question Concord Seed Lending Library's Enid Boasberg fields a lot.
"It's just a cabinet," she explains, pulling open a little drawer to show me a stash of seed.
The cabinet is essentially a card catalog (remember those?) but it's filled with labeled packets. Boasberg began collecting the seeds you find inside them more than a year ago. They stay dry and cool in the basement of the Concord Free Public Library.
"There are all kinds of different tomatoes," Boasberg explains as she peers into a drawer. Then she lists some off: "Dr. Carolyn, Dakota Gold, Golden King of Siberia, Green Zebra…"
The library has been handing out seeds since last spring. About 70 people have taken some home this year.
"We call it a loan," Boasberg muses, "although we don't really expect to get the seed back. We don't charge overdue fines and we understand crop failure."
In return, the library asks "borrowers" to save and return the next generation of self-pollinating seeds from the pea, bean or lettuce plants they've grown.
"Back in the day everybody saved seed," Boasberg says. "Gardeners saved seed. Certainly farmers saved seed."
Preserving Heirloom Seeds
One of the goals of the seed lending library movement is to preserve antique fruits, vegetables and flowers, otherwise known as heirlooms.
"You look at seed catalogs from 100 years ago and you see things that just don't exist anymore," Boasberg says.

Heirloom seeds are the kind your grandmother or great-grandmother might have used. Some people believe the seeds must be at least 50 years old to be considered heirloom; others say 100.
Heirloom plants bear seed that can be harvested and saved year after year. They're different from newer products sold by large seed companies that cannot be grown again.
Another goal of the seed library is to promote biodiversity by offering an array of plant varieties that thrive in New England. Boasberg notes how monocultural farming — where only few varieties of each crop are grown — contributed to the Irish Potato Famine.
"They only grew one or two kinds of potatoes," she explains, "so when the potato blight came around, it wiped them out.
"Whereas in Peru," Boasberg adds, "where they have hundreds of varieties of potatoes in all different shapes and sizes and colors, and the potato blight went around the world and it got to Peru and it did kill some of their potatoes, but they still had potatoes. And they didn't starve and they still had breeding stock. So yup, we got to keep them all going."
Boasberg keeps them going with donations from heirloom seed companies and farmers.
Sifting through the drawers of the seed cabinet, she starts pulling out packets and baggies.
"What is this?" Boasberg asks, then answers, "Ancient Anasazi beans. And here's the farmer donated seed, which was mostly from Leslie Thomas."
Lending Seeds: Insurance For Farmers
Seed contributor Leslie Thomas owns Sweet Autumn Farms in Carlisle. She and her partner grow one diverse acre of organic heirloom veggies, fruit and edible flowers. They supply area restaurants such as Bondir and the specialty grocer Formaggio Kitchen, both in Cambridge.
Thomas donates one particular black bean to the library because she says they grow extremely well in New England. She got them from a farmer in Vermont who's been saving the bean for 30 years.
"This is the bean I eat every year," Thomas says. "I grow enough to keep me over the winter, and I also save enough to give to the library and to friends who are interested."
Thomas also grows a German tomato called the Blondkopfchen. "It was grown in Germany and then it was saved in a German seed bank during World War II," she explains. "It's a great little cherry tomato, and who knows what would've happened to this plant if it wasn't preserved."
Donating the black bean seed will protect its future, too, she says. Giving seeds to libraries is something of an insurance policy for farmers like Thomas, but also for avid gardeners like Debbie Bier.
"When you have family seeds from your farm that you've been keeping going for a long time, it's a good idea to put them in more than one set of hands," Bier explains. "Because sometimes you can absolutely see your seed fail, and you may not have enough seed to continue the lineage."
Bier shares a cautionary tale about a popular oblong squash known as the delicata.
"There was one company, one farm that produced that seed commercially, and some cross-pollination happened, and this wonderfully sweet seed became bitter. It yielded a bitter plant," she recalls. "And [the company] had to go back to home gardeners who knew how to correctly save the seed and recover this crop."

If they hadn't done so, Bier says, "It would've been the end of the line for this."
Bier is on the steering committee for the seed library, and tends the historically accurate "kitchen garden" at the Henry David Thoreau Farm in Concord. She invited me out see the plot next to the house where the writer and naturalist was born.
"All of the varieties we grow in this kitchen garden have to be 1878 or earlier," she says. "We have our beans that are just emerging. We have some leeks. We have beets and lettuce."
Bier says without the efforts of seed savers, these 19th-century plants wouldn't be here. "They would've been lost. And thousands of varieties have been lost," she says, "but at least we have these varieties still."
A Seed With A Story
Thoreau farm seeds are also in the Concord library's collection. Bier says all of them have stories. Many of them are immigrant stories that paint very human pictures of our past.
"People who came to this country brought their treasures," she says, filled with emotion. "They brought their jewels, which were their seeds."
Tears well and Bier chokes up a bit when she shares a story about the Cherokee Trail of Tears bean. The Native American tribe's people carried the seeds with them during their brutal, forced relocation from North Carolina's Great Smoky Mountains to a reservation in Oklahoma in 1838. Thousands of Cherokees died. But the bean?
"It survived," Bier says, "and we plant it to this day in solidarity."
And then there's the story behind the Sasha tomato, which seed preservationists discovered in Siberia in 1989.
"They met Sasha, and Sasha said 'I have a tomato for you. I will go home and I'll bring it back,'" Beir recounts. "[Sasha] had to walk eight hours to his home. He rested the next day, and then he walked all the way back. This seed was brought back to this country, and it became an instant hit."
A few years later a new story spread that Sasha had been robbed and beaten. "Gardeners around the world started donating money," Beir says. "And they gave his family a year's support."
Concord seed librarian Boasberg says seed donations sometimes come with personal stories attached — like a bean that came from Italy in the early 20th century, and years later was nearly lost in a flood.
In addition to the one in Concord, seed libraries have also sprouted in Groton, Littleton and at Hampshire College in Amherst. Boasberg says they're all working to preserve our vast edible cultural heritage. And she has her own seed story about the Polish Lady Tomato. That plant comes from an elderly woman who brought seeds with her when she came to the U.S. She shared those "old country" seeds with her neighbors. Now Boasberg is passing them along to hers. 
Have your own seed story? Share it in the comments section below.
This segment aired on June 18, 2014.