New Rep Unveils Drone Strikes' 'Pattern Of Life' — And Death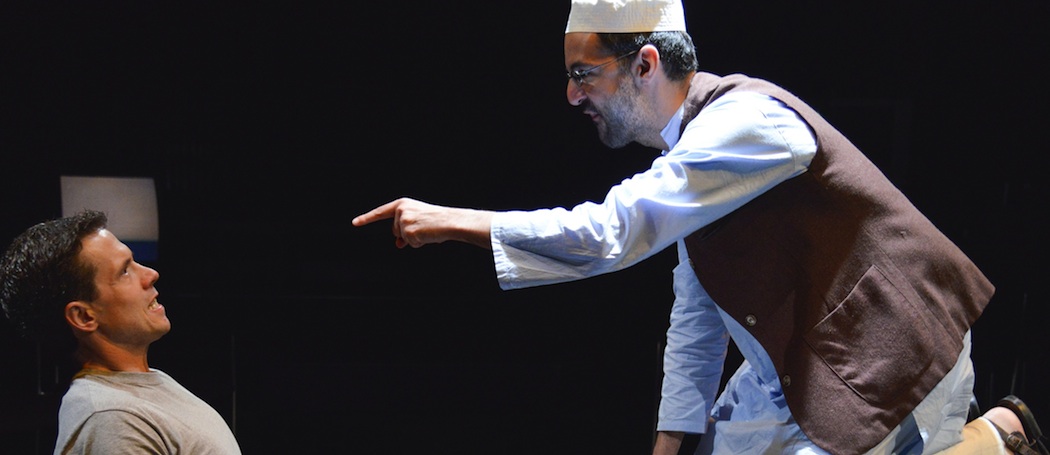 This article is more than 7 years old.
BOSTON — As the 24-hour news cycle becomes ever sillier, television news has more of an alienating effect than an educational one. CNN's coverage of the missing Malaysian plane began as tragedy and devolved into absurdist comedy.
And it's not just television. When's the last time you read a story of a drone strike that made you think of the victims? We tell ourselves, and it's often true, that the corpses are Taliban extremists who would do far worse things to the United States if they had a chance.
That's hardly the whole story, though, so there is a vital place for the kind of political theater that local playwright Walt McGough practices in "Pattern of Life," which the New Repertory Theatre is producing as part of its Next Rep Black Box Festival. (Don't' go to Watertown. It's at Studio 210, next door to the Huntington Theatre Company mainstage, through June 29.)
On the face of it, "Pattern of Life" mines predictable territory, going back and forth between an American drone operator and a Pakistani villager, skillfully portrayed by Lewis Wheeler and Nael Nacer. Wheeler's Carlo starts off as a callow macho man, but becomes more and more wary of what he's doing.
Nacer has the more soulful part of Rahmat, a Pashtun teacher whose brother is killed in a drone strike and who's then recruited/bullied by Taliban figures to strike back against America. From his perspective, it would be hard to fault him if he did, particularly since Nacer makes Rahmat's sadness increasingly profound over 90 minutes.
At the heart of the world premiere, though, is the striving of both men to break away from the cycle of violence, against astronomical odds. Carlo would risk his life by disobeying American authorities, Rahmat would risk his head saying no to the Taliban. Can they just say no?
While the shifting perspectives of the two men can be tiresome, particularly in the first third of the play, McGough has the two men confront each other in a series of imaginative tableaus. McGough could cut to the chase even faster than he does and could go deeper into Carlo's psyche, but he does a fine job of establishing the parameters of what is and isn't possible in their lives. Both he and the actors bring out the tragic implications of their characters. Director Bridget Kathleen O'Leary underlines the dramatic possibilities of the script rather than letting its talkiness get the better of the production.
McGough doesn't make the story any larger than it is — it isn't an antiwar manifesto even if the implications of the play might lead you in that direction. But while it's easy to say that drones are a soulless way of conducting war, "Pattern of Life" seems more haunted by the difficulties of coming to any solid perspective on America and the Middle East. It doesn't give in to the hopelessness of what's happening there, but it acknowledges that there aren't many towns called hope in that area of the world.