Gloucester Stage Reanimates Jacques Brel — Less Magic, But Still Fine Music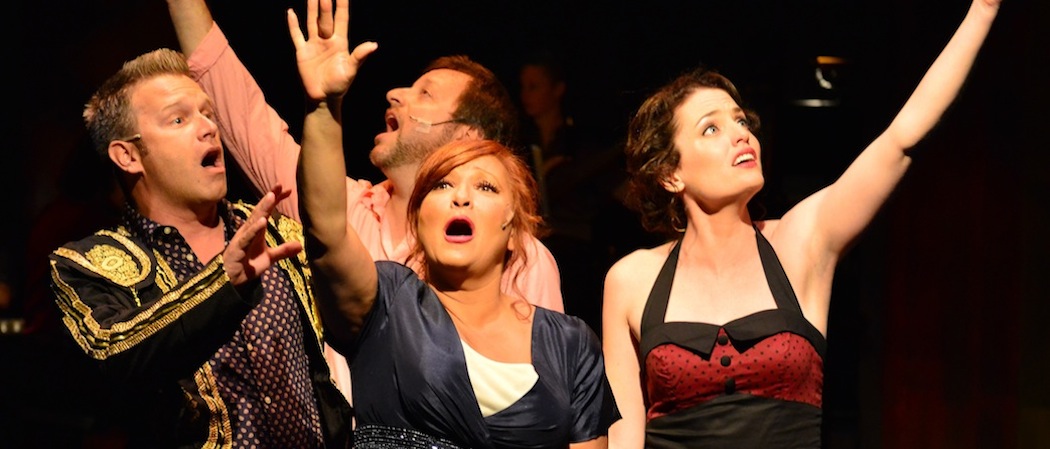 This article is more than 7 years old.
We used up all the wordplay about Jacques Brel being alive and well and living in Gloucester in 2003, when the Gloucester Stage Company revived the beloved revue, "Jacques Brel Is Alive and Well and Living in Paris." It was the reverse of Gloucester's "The Perfect Storm" — everything came together impeccably.

Four singers inhabited a collection of French and Belgian characters — two middle-aged and two younger folk — all somewhat related to each other. Two of Boston's great singers, Leigh Barrett and Drew Poling, played the older couple — phenomenally. As the younger couple, Eric Rubbe and Caroline deLima got so swept up in the romance of the piece that they ended up getting married. (One of their children has the middle name, "Brel.")
And director Scott Edmiston turned the revue into a real story. As Barrett said at the time, "Scott turned it into a play with four distinct characters who were always searching for themselves, for each other, and not always completely finding them. Each song is connected one to the other, with no one taking a star turn."
The past is prologue to another fine revival in Gloucester, this time by artistic director Eric Engel (through July 6). It isn't as magical as the previous one, but it doesn't really try to be. Engel has returned the show to its roots as a revue and the songs, and singers, are of high enough quality that it's a thoroughly recommendable show on its own more limited terms.
The set is almost completely bare, with just the odd prop or two. The four singers make it known very quickly that they're up to the challenges of chanson, a European musical style that owes something to Broadway, standards and even rock, but really inhabits its own world. Think Yves Montand or Charles Aznavour.
Better yet, think Jacques Brel, who died in 1978. Here he is singing "Amsterdam."
Gloucester Stage is literally a cooler place than it was in 2003 so Doug Jabara doesn't have to quite work up the sweat that Brel did, but he does capture all the passion and poetry of the song. Those are two of the key ingredients in Brel's music, along with a fierce anti-war streak. He wouldn't come to the US to see the off-Broadway revue for years, as a protest against the Vietnam war.
Each of the singers sells each of the songs even if Shana Dirik and Daniel Robert Sullivan do it with a bit of over-acting on occasion, and the miking can be distracting, even when it's done for effect. The excellent four-piece band, though, is never intrusive. David McGrory gets the balance just right.
The stand-out star, though, is Jennifer Ellis. Have a hanky ready when she relives "My Childhood," contemplates "My Death" or casts a beatific eye on "Old Folks." She has a first-class stage presence and a voice as gorgeous as the Rocky Neck vistas outside the theater.
The quartet also makes very nice music together in the ensemble numbers, particularly the finale, "If We Only Have Love." Here's the original. En français, s'il vous plait, Mr. Brel.
Brel's songs are haunted by the specter of death, which makes his quest for peace, love and understanding all the more poignant.
The lack of a more developed narrative was more bothersome in the second half and some of the songs are too "cute, cute, cute in a stupid-ass way." But the cast still ends on a glorious note in Brel's signature "Love" song. And oh what the hell, how can you avoid it. Jacques Brel is still alive and well and living in Gloucester.
More Photos