Colorful Yarn Links Boston To Cambridge Over Mass. Ave. Bridge
04:27
Play
This article is more than 7 years old.
If you cross the Massachusetts Avenue bridge heading out of Boston, be sure to look to your right. You'll notice sections of the railing covered in colorful yarn. At this point they're hard to miss. That's because each weekend in June a local artist and runner has been inviting people to knit or crochet soft swaths of fabric. To find out why I headed down to meet the artist behind this "knit bridge."
The morning clouds were just starting to burn off when Silvi Naci pulled up on her bicycle. She lives in Boston's South End, but was born and raised in Albania, where she says public art can be too risky.
In the weeks after the Boston Marathon bombing, this multi-disciplinary artist was compelled to respond to the tragedy with a project that would connect the cities of Cambridge and Boston.
She says she envisioned something where everybody was involved. "It didn't matter how good you were at art or crocheting or knitting," she told me. "The point was to bring people together to make art."
Naci recalls how she would run over this bridge a few times a week, and she'd find herself thinking about the crossway as something of a passage between the marathon city and MIT, where officer Sean Collier was killed. It took months to get permits from the state Department of Transportation, but now Naci says more than 100 artists from around the world have been knitting and crocheting colorful pieces that can be made of any soft, cozy material.
"Because that's the idea, that this utilitarian bridge will be covered with warmth and joy," she said with a smile.
Naci calls it The Joining Project. Stretches of knitted yarn are wrapped around the hand rail that traverses the Charles River. Some are just few inches long. Others nearly 10 feet. One looks like a wide-knit shawl with small tassels that touche the sidewalk. The maker behind a bright green piece spelled out their name in red.
Local knitting stores donated a lot of the yarn, but the artist says she funded everything else herself. Each weekend this month she's been inviting anyone and everyone to help make the communal tapestry of fabric that's spreading over the chunky, metal structure.
Naci points to a few contributions as cars, bikes, buses and runners zoom past. We stop to look at a grouping of willow branches that resembles antlers. A local artist named Audrey Goldstein wound them with yarn.
"She's a sculptor in the city," Naci said, "and every shape you look at you can see the city from a different perspective — which is what the project itself is. It's to think about warmth, and the connections as humans that we have, and to pull the city closer together."
Naci's mother knit the name of her daughter's project into her contribution. And the artist's former professor re-purposed pieces of a blanket she cuddled as a child. Naci says her own bridge knitting has taken a beaten by the weather.
"Some pieces have been washed out from the rain. But as you continue down closer to MIT there are newer pieces that people are putting up every day," she said. "So you really see the life of the bridge as you're walking or running through it."
The artist hopes marathon runners who knit will take part too. On the simplest level, Naci says, The Joining Project is an effort to brighten people's days. But she also wants us to walk away hungry for more participatory public art around Boston.
"I'm just fighting really hard to make awesome stuff happen in the city," she explained. "Hopefully people will see the heart of it, and then they will be part of it."
Nantucket resident Forest Bell was happy to share his thoughts about the knit bridge. I stopped him as he was doing the walk he always does when he visits his mother-in-law in the Back Bay.
"I think it adds a lot to the bridge," he said, but then found it even more meaningful after learning all this yarn is a response to the marathon bombing.
"Ooooh," Bell intoned, nodding his head. "I think it's great. I mean it transforms this kind of personality-less metal hunk into something that's wonderful."
Bell isn't a knitter, and admitted he probably won't join in. But he could learn. Naci has been organizing lessons, too. She's also attaching tags along the expanse and wants passersby to write down their wishes for the two cities on either end. The artist says plenty of people stop to tell her what they think when they see her working on the bridge.
"One thing somebody asked was, 'Is this what's holding the bridge together?'' Naci recalled. "And I said yes. Then he said, 'Keep going!' And it was really exciting to just get encouragement."
But there are also the people who just don't get what's happening on the bridge. "They think that it's yarn-bombing, and a bunch of hipsters getting together," Naci mused. "Which is really funny because it's mainly grandmas and grandpas from around the world doing the knitting. There's really very rarely any hipsters."
Which isn't to say hipsters aren't welcome. Everyone is, according to Naci, as long as they contribute something that's fuzzy, happy and warm.
---
Silvi Naci will be on the Mass. Ave. Bridge each day this weekend and next. You can visit her website to find out about the upcoming dance party and organized runs. "The Joining Project" will be up until September.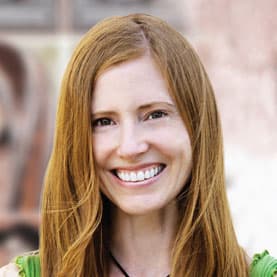 Andrea Shea Senior Arts Reporter
Andrea Shea is WBUR's arts reporter.