Greta Gerwig And 'The Village Bike' — More Than A Sex Comedy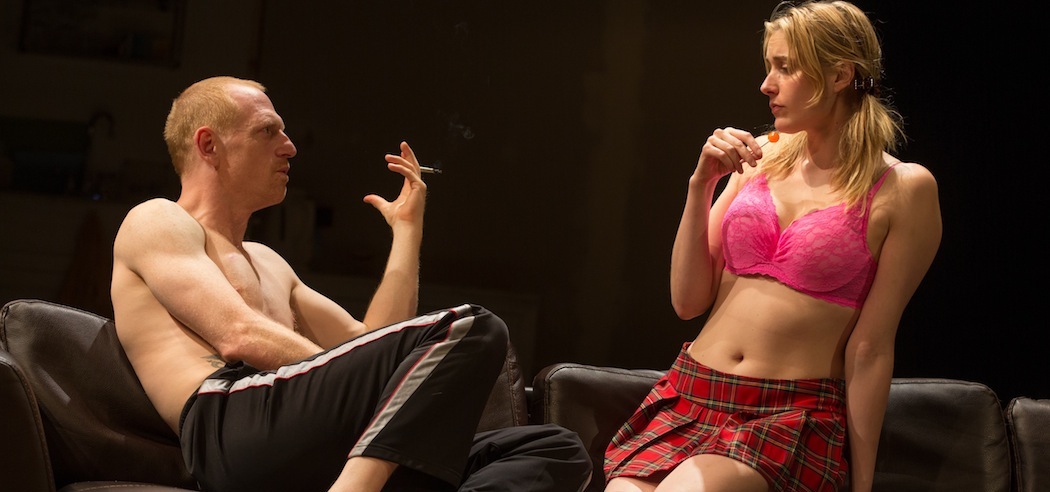 This article is more than 7 years old.
NEW YORK – If you happen to be in the Big Apple between now and July 13 there's an intriguing play starring the redoubtable Greta Gerwig as a sex-starved pregnant married woman in a British village.
A lot of loaded words in the above graph, eh, beginning with Greta Gerwig?
The star of "Frances Ha" and costar of "Greenberg" is quickly becoming the It girl of indie cinema and she brings the same charming tics and talking points to "The Village Bike" in an MCC Theater production at the Lucille Lortel Theatre that she does to her films.
But while she makes Becky a solid anchor for British playwright Penelope Skinner's  concerns, Skinner's abilities to shape those concerns prevent the play from really gelling.
Becky finds, now that she's pregnant, she's lustier than ever. But Hubby John (a wonderfully nouveau-stuffy Jason Butler Harner) wants none of it. At one point he admits he's afraid of killing the baby by having sex with her. He also gives off the sense that he's just that not turned on by her, which given her attire of nighties is a bit of a stretch. Though we are in an English village, not Greenwich Village.
Much of the first act, then, has a "No Sex, we're British" sensibility, with double entendres piling up on each other, many of them quite funny. Sam Gold , champion of Annie Baker and something of New York's It director, is at the helm, and he knows his way around a pause, pregnant or otherwise.
When Scott Shepherd's Oliver, the village bikesmith, enters the picture, we pretty much know what's going to happen. Shepherd, American Repertory Theater fans will remember fondly, was the amazing narrator of "Gatz," which re-created every word of "The Great Gatsby." This is a different kettle of character altogether:
The kicks keep coming as they hook up and the chemistry between them is terrific. He tells her that he's in it only for the sex — he's happily married — and she agrees. Women can divorce sex from love as well as men can, she tells him. She's more into Internet porn than her husband is.
Buti is this news? After "Sex and the City"? "The Vibrator Play"? Heck, "Lady Chatterley's Lover"? At times, "The Village Bike" seems like an updated, darkly-comic version of the Lawrence novel.
The second half does get increasingly dark as Becky gets more and more obsessive about the sex games. But I never got the sense that Skinner brings any more clarity to the situation than Becky has. In fact, Skinner seems more desperate than Becky as the situations become more outlandish.
That said, I wasn't bored for a minute. Not everyone loves Gerwig, particularly in this play, but the way she softens Becky's edges and sharpens her softness, makes Becky a character you root for; you want her to find her way out of her muddle.
The play leaves you wanting more, but Gerwig, even with an iffy accent, delivers all that's asked for.