The No BS! Brass Band's Big Brash 'Richmond Sound'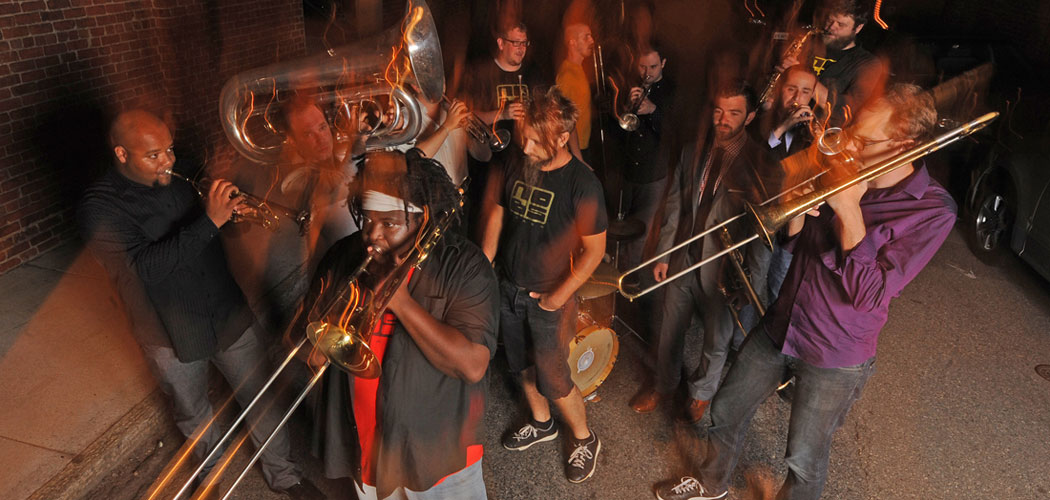 This article is more than 7 years old.
It's not every day you see an 11-man brass band play Lincoln Center, support Feist on tour, or disrupt the august offices of Forbes magazine with a boisterous rendition of Michael Jackson's "Thriller." Yet there is something familiar about the No BS! Brass Band—which has indeed performed the aforementioned feats and will be playing at Church of Boston on July 10—that allows the group to be at once accessible and startlingly novel.
"We have some old fans, that older generation of people that love that big band sound. And we have a younger generation of high school students that like how aggressive we are," says trombonist Reggie Pace, who co-founded the Richmond, Virginia, group with drummer Lance Koehler in 2006. "To a lot of those kids that play instruments, we are something they can see and be like, oh, playing trombone can be relevant, it can be part of a real musical lexicon and not just something that's tied into this museum music or tied into this school."
"Just think about high school and middle school and how they're set up," he adds. "Every single high school in America has some sort of marching band, and all those kids at some point leave school, and when we play gigs, so much of the time people will come up to me and be like, 'Oh my god man, I used to play trombone for a year. I played saxophone for a year in middle school.' So we connect to people in a very close-to-home way. It's a sound that people are used to hearing, because in high school, that's what you heard."
Brass bands are one of the primary roots of American music. At the turn of the 20th century, New Orleans was the locus of a loud, raucous affair between European military marching band horns and the syncopated rhythms and pentatonic harmonies of West Africa by way of slavery. The grandchild of that union was jazz. Since the '70s, the New Orleans style has served as a touchstone for a widespread brass band resurgence, with groups springing up across the U.S. and in Europe that incorporate everything from hip-hop and funk to rock n' roll and Balkan music. Somerville is home to the original Honk! Festival, a huge, annual outdoor gathering of marching bands with an activist bent and loose ties to the Occupy movement, which has inspired imitation events as far afield as Seattle and Austin, Texas.
The No BS! Brass Band stands out among its brethren thanks to a heady combination of precision and power, virtuosity and subtlety, roughness and finesse. Many of its members have a conservatory background, though Pace points out that they come from a variety of musical contexts, the strongest of which are rock and jazz.
"I think what sets us apart is our original content and the vibe that we create with our music," he says. "We don't use all the same traditional grooves, or the same traditional subject matter for our music. We use big chords and some harmonic devices of things that we've learned in music school and throughout the years, playing in different types of jazz bands, rock bands, instrumental things of that nature. I think the music is very different. That's what sets us apart. Even though the instrumentation is grounded in such deep tradition, I think we can touch a wide range of people with what we do."
Koehler's drumming is central to the group's appeal. He is sharp and relentlessly groovy, a tautly coiled spring that moves with vicious accuracy and rakish style. The horn players, ten in all, have mastered the art of crescendo that, particular to large brass sections, swells with bracing alacrity, like a sharp blast of cold wind.
The members of The No BS! Brass Band! write most of their own material and have released five full-length studio albums. They display a penchant for group-hollered hooks and the occasional rap, delivered through the metallic filter of a bullhorn. Some numbers hinge on aggressive, funk-infused pithiness, while others unfurl with the casual coolness of a jazz tune. When the players take solos, they keep it brief and dazzling. Covers include "Thriller" and "Take On Me" by the Norwegian synthpop band A-ha.
The No BS! Brass Band's signature song, "RVA All Day," is a tribute to the city they call home and which is central to their sense of identity. In Pace's telling, Richmond is a creative Mecca where a brass band is able to regularly sell out nightclubs. He extols the "ground-level independence" of the city, where independently-owned brewpubs, radio stations and music venues proliferate. He describes Richmond as a progressive city in a red state where the community benefits from diversity among its inhabitants.
"There are different types of people there, and you have to live together, and because of that, creativity is born," he explains. "The things that can come out of there are different than if you're in a part of the country where there is only one type of person."
With the No BS! Brass Band, Pace hopes to originate a unique "Richmond sound," akin to Detroit Motown or the Memphis blues.
"Whenever anyone asks us what we're about," says Pace, "I tell 'em we're about Richmond, Virginia."
Amelia Mason is a writer, musician, and bartender living in Somerville. She is a regular contributor to The ARTery. You can follow her on Twitter @shmabelia and Tumblr.