Who Eats Rats, Hates The Cold And Likes To Be Alone? The Stone Zoo's New Alligators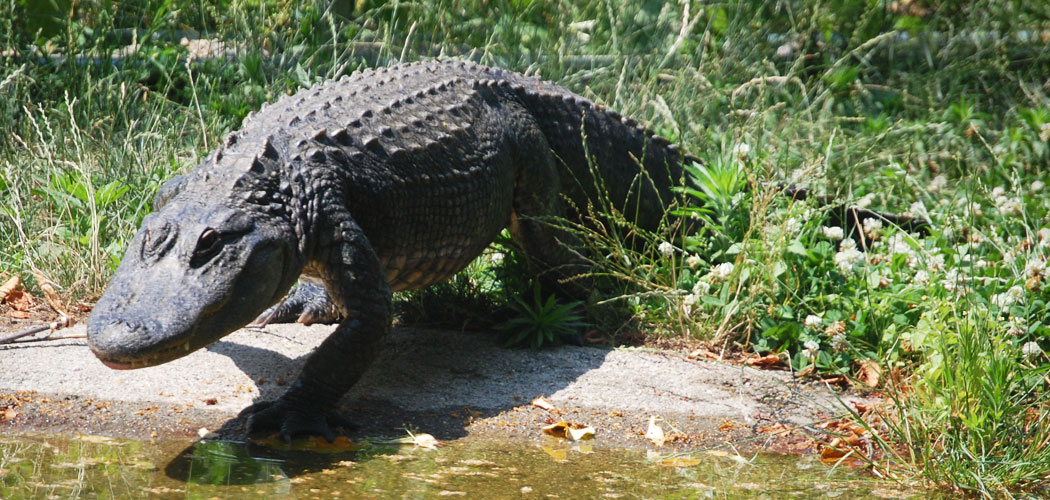 This article is more than 7 years old.
"I just think they're the closest thing to dinosaurs that we have," says Pete Costello, assistant curator at the Stone Zoo. "Especially when you see them moving on land. They're slow and deliberate."
We were talking about the new alligators—three adults plus some feisty youngsters—that arrived at the Stoneham attraction in May. They're housed in a glass-fronted pen between the new landscapes for sand hill cranes and whooping cranes. "They are kind of found in the same region," Costello observes.
Some other fascinating things we learned about the zoo's new gators:
• "Alligators have been around for 200 million years," Costello says. "Basically alligators and dinosaurs have a common ancestor. Which they think is a bird. And they have a four-chambered heart, which is like a bird. Most reptiles have three. They are very dinosaur looking. But there aren't many animals that have been around 200 million years so it's pretty impressive."
• "They don't usually need that much space because they're ambush predators. They're just going to wait for something to walk by and grab it," Costello says. "Really powerful jaws. You don't want to mess with them."
• In the wild, American alligators tend to eat fish, turtles and snails, plus some birds, frogs and mammals that venture close to the water. "In captivity, basically they're going to get rats and chicken. Mostly it's rats," Costello says. "We get rats, they're frozen and they thaw out. Each one gets three rats a week."
• American alligators, like these, Costello says, "are not normally colonial. Sometimes you'll have a male with multiple females. … Usually they are solitary."
"She has chased around the males," Costello says. "We have multiple people feeding them so they don't fight over the food."
• The three adult gators—a female (the largest of this group) and two males—as well as a handful of 9-month-olds (or thereabouts) are here on long-term loan from Alligator Adventure in South Carolina, Costello says. The plan, he adds, is for the adults to spend the warm months here—roughly May to September—and then winter back own south.
• "They need shallow water to hang out in. It's heated," Costello says. Usually it's around 70 to 74 degrees, but he cranked the thermostat up to 78 when nighttime temperatures fell into the 40s right after the cold-blooded critters arrived in May. "The whole concrete front is actually a big heat rock. A heating coil wraps through there."
• The zoo plans to keep the young ones here year round for educational programming. For example, visitors can occasionally pet them. Their backs feel leathery and dry and hard. "Real easy to handle," he says. "But they will grow fast."
• The female is about 6-feet-long and the males are, say, 6 inches shorter, Costello says. "You'll see reports of 15 feet. Usually 10 to 12 feet is the average," he says. They're believed to live up to 30 years, the zoo reports.
• "Back in the '70s, alligators were critically endangered. Mainly from hunting for the leather," Costello says. The federal government listed them as endangered in 1967. Prohibitions on hunting of the reptiles as well as protection of their habitats helped the species to bounce back. The U.S. Fish and Wildlife Service declared American alligators, which range from the freshwater wetlands of Texas to the Carolinas, fully recovered in 1987. The species is believed to now number more than a million.
Previously:
• Cute Alert: 3 Lynx Kittens Born At Stone Zoo
• How Do You Breed Snow Leopards At the Stone Zoo? Very Carefully
Greg Cook is co-founder of the ARTery. Follow him on Twitter @AestheticResearch. Or ask him on Facebook how he fretted that the baby alligator was going to bite him while he petted the little wriggly thing.