Services Held For 5 Family Members Killed In Lowell Fire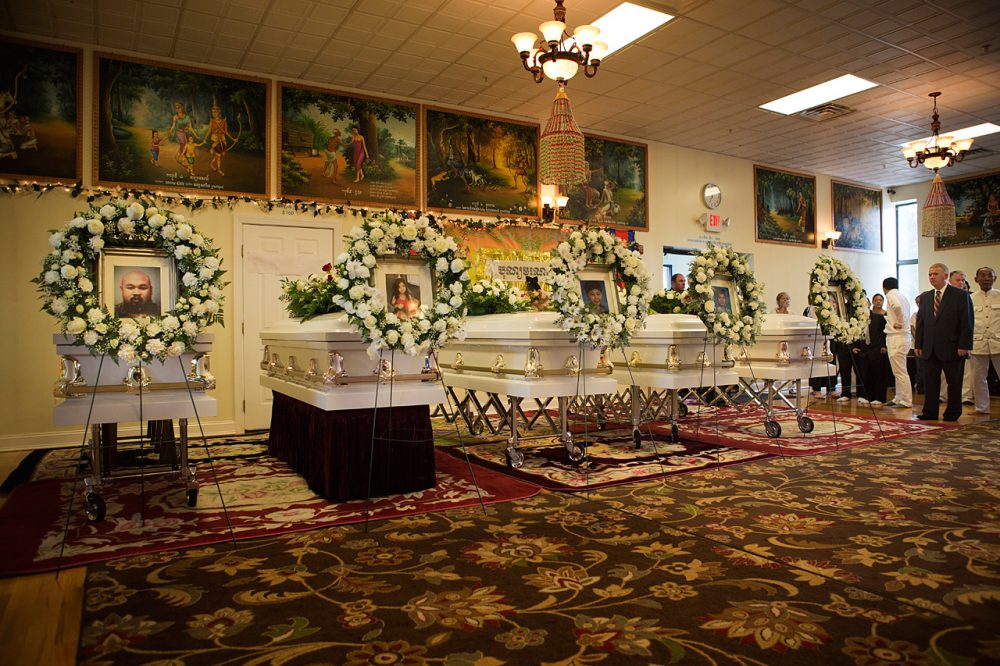 This article is more than 6 years old.
Friends and relatives gathered Friday to remember five family members who died in a fast-moving apartment fire in Lowell last week.
Torn Sak, his longtime girlfriend, Ellen Vuong, and three of their five children — Anthony Sak, 12, Ryan Sak, 9, and Sayuri Sak, 7 — were among the seven killed in the blaze.
Over a hundred people attended calling hours before a mile-long procession — led by five black hearses, inside each a white coffin draped by white flowers — to the Glory Buddhist Temple, where a service was held.
Members of the area's tight knit Cambodian-American community, including residents of the building who survived the fire and many who did not know the family, showed up to pay their respects.
Julie Tang, of Pelham, New Hampshire, says she wanted to show support for the community.
"We are Cambodian, we are part of the community together," she said. "I feel like when somebody is sick or somebody is in a horrible disaster like this, we should be supportive and help each other."
Two of Sak and Vuong's sons survived the fire, and many are focusing their efforts on fundraising to help support them.
"There's been an outpouring of sincere love and care and concern about what will happen now with the two older boys," said Susan Uvanni, a teacher at the school all five children attended. "And pretty confidently can tell you that the entire Lowell school system, as well as probably many organizations in the city of Lowell, are going to make sure that those boys have everything they need."
Another ceremony will be held Saturday morning, before the five victims are laid to rest.
Two others — 38-year-old Tina Christakos and 72-year-old Robert Downs — were also killed in the fire, which has been ruled an accident. Officials say it was caused by an electrical failure that began in a concealed space between two floors.
More Coverage: