Andris Nelsons Brings A More Contemporary Look To Tanglewood
LENOX, Mass. — Andris Nelsons took to the podium at Tanglewood Saturday night as if he had been on a walk in a beautiful wood and just stumbled across this great band making extraordinary music. Beginning with Brahms' Third Symphony he leaned back against the back rail and listened to the opening notes as if he had nothing to do with the gorgeous opening notes.
It was affect, of course, though a winning one. Nelsons, clad in white jacket and T-shirt, is the one who shaped this Boston Symphony Orchestra performance and who smartly cast it first on the Tanglewood program, not last as is the case with most orchestral concerts. Here, the languid pace of the performance seemed just right for the summer night and for the fireworks that were to come, both in the final movement and in the second half of the program. His performance of the same symphony last season was completely different.
But Nelsons knows his Brahms — it's not for nothing Hélène Grimaud chose him to accompany her on anything but languid performances of the two Brahms piano concertos. The 19th century classics are obviously dear to his heart.
Maybe too dear? The question mark for Nelsons coming into his tenure as music director of the BSO is what, if anything, is dear to his heart when he conducts late 20th and early 21st century music, which is what made this past weekend's concerts of more than passing interest. The previous weekend, his only other Tanglewood appearances this summer, didn't feature any contemporary music, though they received good notices.
After the gracefulness of the Brahms and attendant intermission came Rolf Martinsson's "Bridge," Trumpet Concerto No. 1. This is a 1999 work so Nelsons knew what he was getting himself, and the BSO crowd, into. In fact, Nelsons has conducted it before with Saturday night's soloist, Håkan Hardenberger.

And if Martinsson's work — along with that of the Sunday afternoon living composer, Christopher Rouse — are any indication of his taste in contemporary music, Nelsons might be the anti-Levine. The two composers are certainly the anti-Elliot Carter – accessible, tonal, rock-and-jazz-inspired.
The cerebral Carter was Levine's favorite, if not the BSO audience's. Nor mine, though I don't dislike his work. Listening to these two pieces and looking at what's in store for the fall, Nelsons seems to be after much more of an emotional connection to contemporary work.
The Swedish Martinsson's piece starts out like Scandinavian noir — you can almost feel Inspector Wallander investigating a murder in Skåne before it turns into a Hollywood car chase, albeit a very thrilling one. Hardenberger's red face said all you needed to know about the speed that was needed on the convoy while Nelsons and the BSO kept up smartly. I prefer the work of Martinsson's Finnish compatriots – Lindberg, Salonen, Saariaho – but it was an exciting ride, as was Tchaikovsky's "Cappricio Italien" to finish things up Saturday night.
Here's a bit of the Martinsson, though a different version:
He kept up the pace Sunday. Rouse's "Rapture" lived up to its name, starting like a hymnal and building to something more triumphant. Rouse's wall of sound is every bit as formidable as Martinnson's; he's one of the most dynamic American composers around and it's great to see that he's on Nelsons' iPod. The performance was superb.
There's an indebtedness to Scandinavia here, too, as Rouse has acknowledged Sibelius's influence, but he goes to more interesting places musically and spiritually than Martinsson did in the trumpet piece.
Here he is talking about it:
We shouldn't infer too much from these crescendo-heavy works as far as Nelsons is concerned, though they do say good things about the breadth of his interest in contemporary music, something that has been in question. I like the fact that he's giving second lives to contemporary pieces, which not all conductors are willing to do. The fall season, his first as the official music director, includes the return of Sofia Gubaidulina's "Offertorium" for violin and orchestra. Hardenberger, by the way, will be back for Aussie Brett Dean's "Dramatis personae."
Nelsons and Joshua Bell finished the first half of Sunday's concert with Lalo's "Symphonie Espagnole," kind of the "Rocky Mountain High" of classical music. As with John Denver's music, you either love it or your teeth hurt. I'm still flossing, though it was fun to see the interplay between Nelsons and Bell. The audience certainly loved it.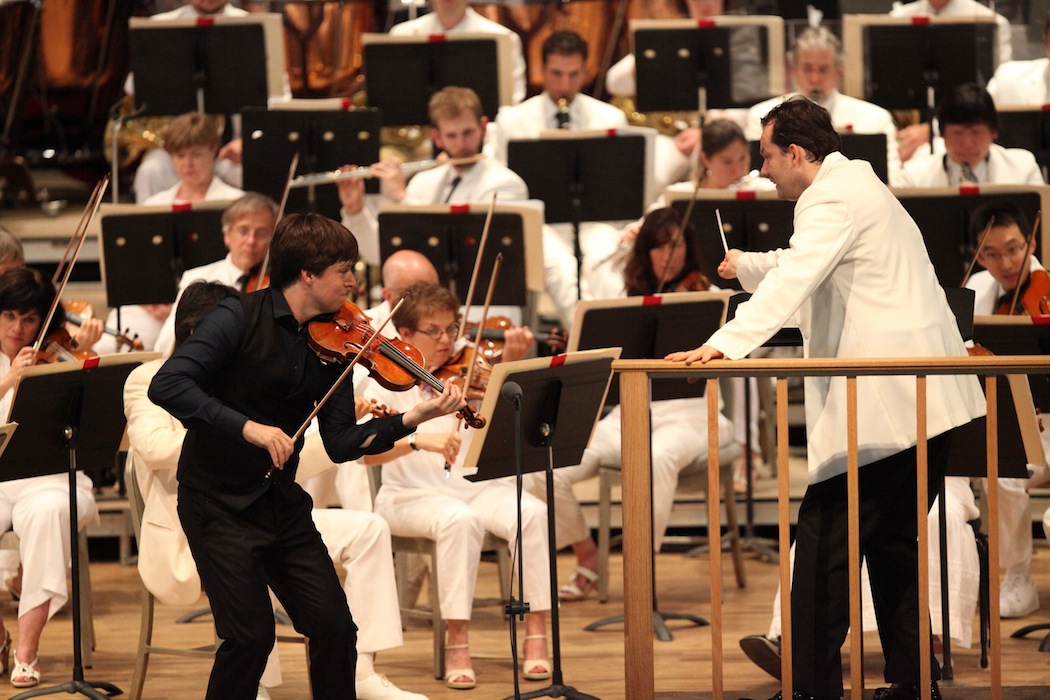 I couldn't stick around for Beethoven's Fifth, but to judge from the broadcast, it was a suitably heroic end to the weekend. The true test comes in the fall, but this summer weekend preview was enthralling.
This isn't the BSO's performance of "Rapture"; I believe it's the Ondine recording by the Helsinki Philharmonic: