Food Stamps For Heirloom Tomatoes? Diet Effects Of Farmers Market Vouchers Studied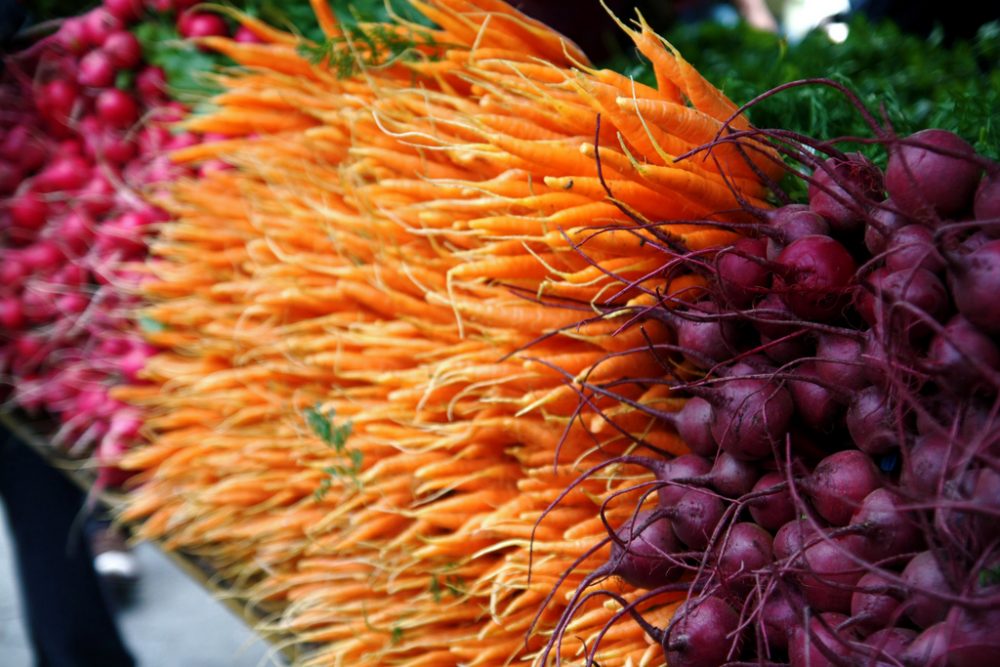 This article is more than 7 years old.
Veronica Thomas
CommonHealth Intern
Heirloom tomatoes for three dollars a pound. A four-dollar bunch of purple and yellow carrots. Well-heeled women stopping for local produce on their way to Whole Foods and the neighborhood juice bar.
That's what comes to mind when I think of a farmers market. Bargain buys for low-income families? Not so much. But according to a new study, published in the journal Food Policy, vouchers for farmers market produce might improve the diets of low-income families—well, at least for those who go there anyway.
"Farmers market vouchers are a way to place all consumers on the same playing field," says Carolyn Dimitri, an associate professor of food studies at NYU and the study's lead author.
Low-income families often receive federal food assistance from two government programs: Women, Infants, and Children (WIC) and Supplemental Nutrition Assistance Program (SNAP), formerly known as food stamps. While these programs help ensure access to food, they do not guarantee its nutritional quality. In fact, most food assistance funds can be spent on anything, from potato chips to ice cream.
In general, low-income families don't eat a lot of fruits and vegetables, often because they live in "food deserts" where options are limited. Some local governments and non-profits are aiming to increase these families' access to fresh produce by offering vouchers—which are basically coupons—to use at farmers markets.
This year's landmark Farm Bill created the first federal program to provide nutritional incentives in farmers markets and maybe even grocery stores. Before the program is implemented, this study's investigators were interested in seeing if the incentives actually work.
The New York University researchers recruited 281 women from five farmers markets in New York, San Diego and Boston—one market in Lynn and the other at Copley. The women, who were already receiving federal food assistance, were offered up to $10 in produce vouchers every time they shopped at the market.
Of the women who completed the study, more than half reported eating vegetables more often. But—think of a kid feeding his peas to the dog under the table—access to fruits and veggies isn't everything. In fact, half of the participants dropped out of the study. While vouchers help reduce the cost burden, they can't address all of the other issues that explain our food choices, including preferences and convenience.
"The research has shown that if you go to a farmers market, you're more inclined to want to eat fruits and vegetables anyway," Dimitri explains. In fact, about 71 percent of the women were already consuming five or more servings of fruits and vegetables per day when they joined the study.
Vouchers may work for these health-conscious shoppers, but what about families who can't make it to the market because they have work during the market's four hours of operation? Or how about winter time, when most farmers markets are closed? And what about all the other things families need, like trash bags and toilet paper? I'm pretty sure you can't buy those from a farmer—at least not at the markets near me.
"Our food choices are very complicated," Dimitri says. "Farmers market vouchers are a promising option that can help some economically disadvantaged families eat healthier diets. While making vouchers more available is really important, I don't think we can delude ourselves by thinking that food security and obesity problems are going to disappear with a single program."
Here's what it boils down to: Farmers market vouchers are a simple, easy-to-implement incentive that will support local farmers and improve the diets of some people. But for families who don't consistently shop at farmers markets, a more complex solution is needed.
According to Dimitri, future research should examine different amounts of incentives combined with some type of nutritional counseling—like someone to help you shop. "I would like to be able to isolate and identify the contribution of these different pieces so we can get a better sense of how we can best spend limited resources on improving people's diets," she says.
Readers, thoughts? Rants about prices? Praise for local produce?