Reeling With A Real Skyline: Fishing On The Charles
Play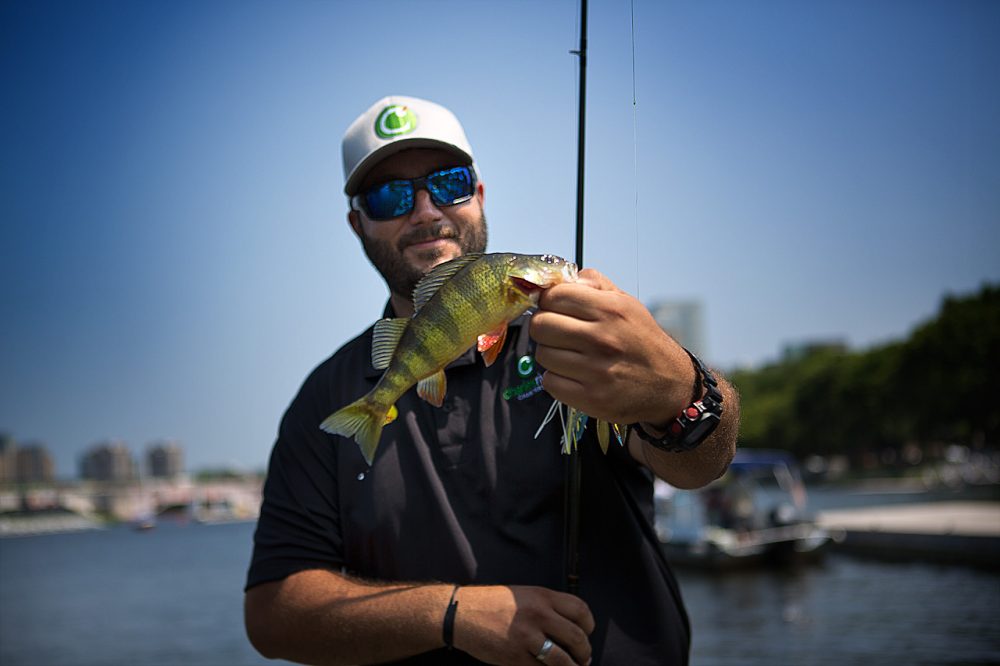 This article is more than 8 years old.
Snaking 80 miles from Echo Lake in Hopkinton before meeting the Atlantic Ocean in Boston, the Charles is the city's river of life — especially in the summer.
On its banks are strollers, runners, readers, bikers and sunbathers. And on the water, thanks to years of stewardship and a massive environmental cleanup effort, the river is a playground for sailors, rowers, kayakers, canoeists and duck boaters.
But it's also increasingly a setting for urban fishing. And if you ask longtime fishing enthusiast Greg Miner — who in 2010 founded Charles River Charters, a one-boat charter fishing company — the river is home to some of the region's best fishing.
So we decided to try it out ourselves. We launched Miner's 19-foot bass boat from Community Rowing in Brighton and headed for downtown, to fish from the Storrow Lagoon along the Esplanade.

Interview Highlights:
On the great views:
Greg Miner: I mean, the views are wonderful — the experience of being out on the water in one of the most beautiful cities in the country is one thing — but to be able to stand down here and fish from the boat with the backdrop of the Prudential building or the Hatch Shell or you name it, it's kind of a surreal experience.
On giving city dwellers a new perspective:
You've got folks that live all up and down the river, from you know Brighton into downtown, and you see it every day and you sort of take it for granted.
But once you get out on the water, and you sort of experience the feeling of being surrounded by the city on the level with the water, it really truly is something that you can't quite describe until you're out here.

On what you can lure in:
Mostly we're catching largemouth bass and smallmouth bass. But the river — believe it or not, even out here in Boston — is home to calico bass, which is also known as black crappie, and yellow perch, pickerel, there's big carp in here.
I can't recommend to eat anything, just by virtue of where we live. Even though the river has come a very long way from what it used to be, it's still a bit dicey.
(The latest fish consumption advisory from the State Public Health Department agrees.)

On fishing "under the radar":
The Charles is one of our most underutilized fishing resources in the area. In a place where bodies of water get so much fishing pressure, the Charles has somehow slipped under the radar. Granted it had a bit of a bad stigma and for some people, they still haven't been able to get over that, so they don't even think about it. But there are opportunities here to catch world-class largemouth and striped bass.
Before you try your luck tossing a line in the Charles, be sure to buy your state fishing license.
This segment aired on August 7, 2014.