The Search For A Musical 'Neverland' Finds A Home At The A.R.T.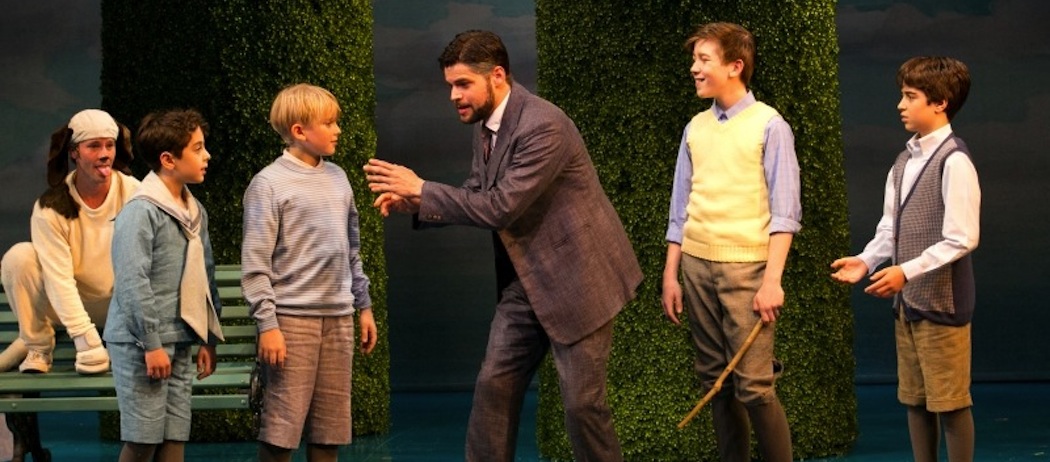 This article is more than 7 years old.
Producer Harvey Weinstein certainly got what he was looking for from Diane Paulus — a successful replanting of his movie "Finding Neverland" as a Broadway-bound musical. And the American Repertory Theater artistic director got something in return — a chance to show, as she did with "Hair" and "Pippin," that she brings a remarkable sense of brio and creativity to material that would be trite without such treatment.
That doesn't make "Finding Neverland" a fully fledged artistic success, if art is what you're looking for at the A.R.T. Am I sounding like one of those snooty actors whom J.M. Barrie — or more precisely book writer James Graham — makes fun of in the musical, actors who want to play Richard III rather than Nana, the dog?
I don't mean to be. "Finding Neverland" (through Sept. 28 at the Loeb Drama Center) is an enjoyable musical, from start to finish. It's well-cast, even better sung and marvelously choreographed by Mia Michaels. Scott Pask's set design is an elegant mixture of realism and fantasy. There's very little not to like, despite the feeling, somewhere in the midpoint of the 2 ½ hours, that you might want to shout, "OK, I get the point. We should be more like children and play more."
If you didn't see the movie, "Finding Neverland" traces how Barrie found himself at a dead end in both his playwriting and his marriage but was saved by his relationship with the Davies family, a mother and her four children. (By the way, it is family friendly despite the issue of death in the story.)
Jeremy Jordan's singing as Barrie is everything you'd want from a leading man, even though his acting falls far short of Johnny Depp's wry charisma in the film. For all his supposed playfulness he can seem like the most repressed person on stage at times. Not so Laura Michelle Kelly, who is the complete package as the woman who's even more of a love interest than in the film. She sings, dances and acts up a storm as Sylvia Llewelyn Davies. And Michael McGrath as the West End producer will have audience members checking their program to make sure he's not Nathan Lane.
Even more to the good is the partnership between Paulus and choreographer Michaels, who has choreographed Fox's "So You Think You Can Dance" and Madonna and Cirque du Soleil tours, along with being artistic director of her own company, RAW.
Paulus's mantra has been to open the theater up and Michaels' choreography brings a spiky, nervous energy to the stage that feels wonderfully fresh and contemporary while never detracting from the action. If anything, it can sometimes be too literal in underlining the song lyrics.
But what to make of the music? After the Eurotrash excrescence of Andrew Lloyd Webber and the self-indulgence of post-Sondheim auteurs, it's easy to like the middle of the road poppy tunefulness of Gary Barlow's and Eliot Kennedy's songs, particularly the uptempo numbers that fuel Paulus' and Michaels' stagecraft. Even the ballads don't ring the treacle alarm the way they do in so many musicals, including "Witness Uganda." They're tasteful and advance the action or themes, particularly the ballad, "When Your Feet Don't Touch the Ground," a duet between Barrie and Peter (Aidan Gemme), the inspiration for guess whom.
Still, middle of the road is middle of the road, a place that founder Robert Brustein never wanted the A.R.T. to be. This obviously isn't Brustein's A.R.T. anymore, but Paulus has had an amazing run of productions, including several pieces that transferred to New York, without compromising on artistic excellence. "Finding Neverland" feels compromised in that its whole raison d'etre seems to be a transfer to Broadway. None of the music, tuneful though it is, is really iPod worthy. I liked listening to it and couldn't care less whether I ever hear any of the songs again.
Perhaps it's unfair to begrudge the A.R.T. a flight into finding Broadwayland. No one accused the Huntington Theatre Company of selling out for putting on the much less satisfying "Jungle Book," which was not as artistically ambitious as "Finding Neverland." And the rest of the A.R.T. season looks as solid as in the past so a little Barrie-like escapism is hardly the end of the world.
But when you think of the artistically great musical productions in recent times, from revivals like "The Gershwins' Porgy and Bess" (directed by Paulus) to "Caroline, or Change," "Fun Home" and "Here Lies Love" — works that haunt you years after you've seen them — I can't help but wish "Finding Neverland" aimed a little higher.
More
Screen-To-Stage: 'Finding Neverland' Transforms Into A Musical At The A.R.T.