Deal Reached To End Market Basket Standoff, Bring Back Arthur T.
After a 40-day standoff, Market Basket is going back to business.
The long-feuding Demoulas family has agreed to sell the majority stake of the regional supermarket chain to Arthur T. Demoulas for $1.5 billion. The ousted CEO returns immediately to "operational authority," along with his management team.
Under the deal finalized late Wednesday and approved by the Market Basket board of directors, the controlling shareholders, Arthur S. Demoulas and his side of the family, will sell their 50.5 percent stake in the company to Arthur T. and his sisters. The deal is expected to close in several months, and would separate the rival cousins for good. Arthur T. will have to work alongside the current co-CEOs, Felicia Thornton and Jim Gooch, until the deal closes.
Employees rallied at the grocer's Tewksbury headquarters late Wednesday, and Arthur T. — depicted throughout the dispute on posters — appeared in front of throngs of people Thursday morning for a victory speech.
"It's great to be back together again," he said to cheers. "Words cannot express how much I appreciate each and every one of you."
Arthur T. lauded the employees' spirit and loyalty, and he spoke of the company culture. "You have told the educators, analysts and the CEOs that the workplace here at Market Basket is more than just a job," he said.
He also told the crowd that he feels "a renewed vigor and sense of purpose."
Market Basket has 71 full-service supermarkets across Massachusetts, New Hampshire and Maine, and about 25,000 employees.
In a statement late Wednesday, the chairman of Market Basket's board of directors, Keith Cowan, praised the governors of Massachusetts and New Hampshire for their part in brokering the deal.
"Governor [Deval] Patrick and Governor [Maggie] Hassan worked tirelessly and creatively to help shareholders find solutions that brought them together to reach agreement," Cowan said in the statement.
The governors wrote in a statement that they are "delighted" for customers and workers.
Market Basket employees celebrated the deal.
"Without [the protesters who walked off the job] we couldn't have done this. And all the people that just kinda gave up their jobs and sacrificed their families for us," said Ron Lambert, director of a Hudson Market Basket. "It's really exhilarating to hear this. And I can't wait to get back and start ripping it up."
Tom Trainor, a store manager who was fired during the protests, said he plans to go back to work Thursday and hopes to have the store up and fully functional in less than two weeks.
He expressed confidence about Market Basket's ability to bounce back.
"I think it's going to make us better," said Trainor, who works at the Tewksbury HQ. "The people are stronger. The customers were as loyal as they could be. I think we are going to be a much better and stronger company than we were before, if that's possible."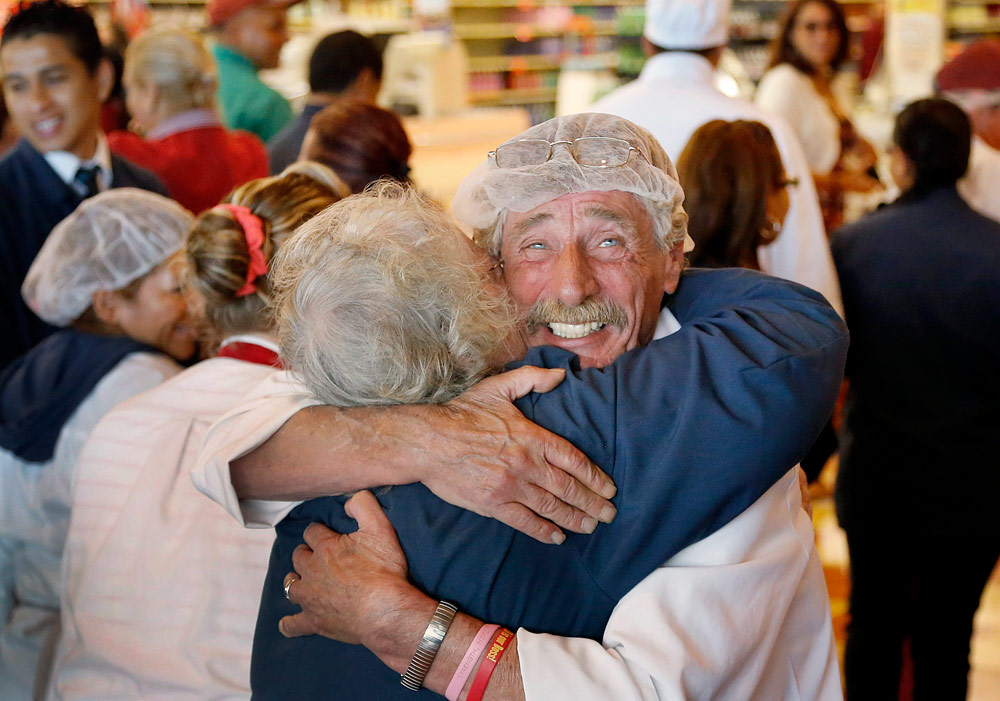 -- Full Arthur T. statement:
Market Basket and its shareholders are pleased to announce today that the Market Basket shareholders have entered into a binding agreement pursuant to which the Class B shareholders will acquire the 50.5% ownership interest of Market Basket currently owned by the Class A shareholders.

Effective immediately, Arthur T. Demoulas is returning to Market Basket with day-to-day operational authority of the company. He and his management team will return to Market Basket during the interim period while the transaction to purchase the Company is completed. The current Co-CEO's will remain in place pending the closing, which is expected to occur in the next several months.

All Associates are welcome back to work with the former management team to restore the Company back to normal operations.

The shareholders and the Company would like to thank Market Basket customers and partners for their strong support through the years. Our shared goal is to return Market Basket to the supermarket that its customers have come to rely on for service, quality and best prices. We look forward to seeing you at your local Market Basket.
-- Full Board Chair Cowan statement:
Governor Patrick and Governor Hassan worked tirelessly and creatively to help shareholders find solutions that brought them together to reach agreement. The entire Board appreciates their time and level of attention. The Commonwealth of Massachusetts and the State of New Hampshire should understand that the Governors' commitment and engagement made a significant difference. The beneficiaries of their efforts are the 25,000 associates of Market Basket, its two million customers and all of the communities it serves.
-- Full governors' statement:
Market Basket is a major employer in Massachusetts and New Hampshire, and an important local resource for the communities the company serves. We are delighted that the parties have reached agreement on terms of sale and resolution of operating authority, so that employees can return to work and customers will once again be able to rely on these stores to meet their needs.
This article was originally published on August 28, 2014.