UMass Football Begins High-Stakes Season
07:11
Play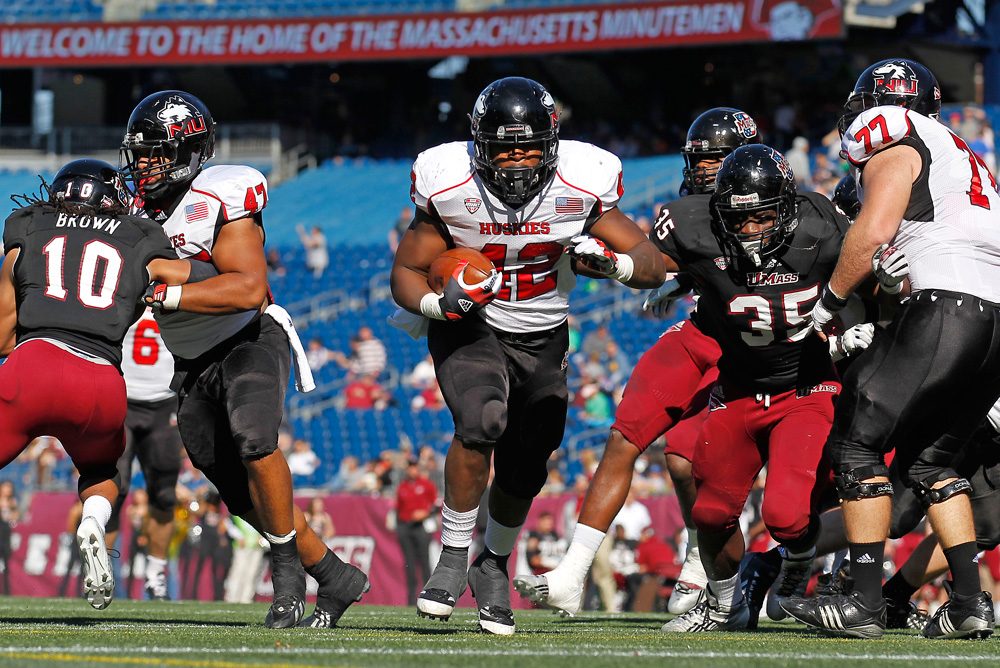 This article is more than 6 years old.
Much is riding on UMass Amherst football, which opens its season Saturday against Boston College at Gillette Stadium in Foxborough.
Since moving up from college football's second-highest level to its highest two years ago, the Minutemen have won only two games. The team's losing record has focused attention on the wisdom of investing millions of dollars in a higher-level football program.
This spring, UMass Amherst brought back a beloved former head coach, Mark Whipple, to try to turn the team's fortunes around. Whipple has big ambitions for his team.
"We'd like to compete for the MAC championship this year, and then obviously try to get to a bowl game," Whipple said.
Big ambitions, because since UMass joined the Mid-American Conference, its record is 2-22.
The university's move up to Division 1A, also known as the Football Bowl Subdivision (FBS), caused such concern among professors that the Faculty Senate created a committee on FBS football to monitor the costs of the move.
Psychology professor Richard Bogartz, who serves on the committee, doesn't see how the team can ever be successful in the MAC.
"It's obviously now, in retrospect, a mistake to have done what we did, because we moved into the MAC, and the MAC trounces us, and they're going to continue to trounce us," Bogartz said.
The team faces further challenges ahead. After next season, the MAC is kicking UMass out because the university won't put its other teams, especially its coveted basketball team, into the conference.
UMass is spending heavily on football. It just finished building a magnificent training facility for the team, as well as press boxes in Amherst's McGuirk Stadium that will allow for instant replay. The improvements cost $36 million.
Architecture and history professor Max Page, co-chairman of the faculty committee on FBS football and the university's most outspoken opponent of the move to the FBS, says it's not money well spent.
"That's a huge amount of money for building luxurious spaces for one team, and I think that's the kind of expenditure that doesn't make sense, especially as the natural next request is going to be for a brand-new huge stadium in order to make us competitive with other Division I football schools," Page said.
Indeed, Coach Whipple does believe UMass needs a bigger stadium.
"We only seat, really, about 17-18,000," Whipple said. "I think we can attract more with the style of football we'll play, and the athletes, the student-athletes that we'll bring in. We've got to get it up to 30,000 if we're going to be a major player, as a first step. Boston College won't come to Amherst. UConn won't come to Amherst."
For the last two years, UMass students have had to go 90 miles to Foxborough to watch home games. This year, UMass will play half its home games in Gillette Stadium in Foxborough, half at McGuirk Stadium in Amherst.
Besides a bigger McGuirk Stadium, Whipple foresees an indoor practice facility under a bubble so the team can practice in bad weather.
Whipple is pinning a lot of his hopes for this season on his new quarterback, Blake Frohnapfel, a junior transfer from Marshall. Speaking at a lunch Tuesday for team boosters, Whipple revealed just how much he's counting on Frohnapfel.
"We're not going to be as good a team if Blake Frohnapfel gets hurt," Whipple said. "Bottom line. We could lose a bunch of other guys. We lose him, we don't have a chance."
Among the boosters, Bill Thomson, who lives in Amherst, supported the move to Division 1A.
"I think it makes it more fun," Thomson said.
Roger Grette had a son in the university's marching band, but he disagreed with the decision to move to 1A.
"Just too expensive," Grette said. "It's a very risky proposition, I think, for a school. I'm glad they're back at McGuirk, because they've lost a couple of classes of students who've never had a local game here. So those years that we were totally at Gillette, [there was] not much connection to football among students."
For the last two years, UMass has played all its home games at Gillette while renovations were taking place at McGuirk. Attendance at Gillette last year averaged 16,000 people per game, the best the team has had in its 132 years. But that's still leaving more than three-fourths of the stadium seats empty.
Since leaving his position as head coach of UMass in 2003, Whipple has been assistant quarterback coach for the Pittsburgh Steelers, assistant offensive coach for the Philadelphia Eagles, offensive coordinator for the University of Miami and quarterback coach for the Cleveland Browns. UMass paid him $450,000 a year to come back.
Nelson Lacey, a professor at the UMass School of Management and co-chairman of the faculty committee on FBS football, believes Whipple's return could be pivotal.
"It's going to take a little bit of time to play out," he said. "I think two years is probably not long enough. I think there's reason to be optimistic now with Coach Whipple coming back. If there's somebody that can perhaps turn this program around, he could be the right guy."
Students have been returning to campus this week and they are divided on the move to FBS football.
Sophomore Danny Todd, from Franklin, is looking forward to seeing whether Whipple can turn the team's fortunes around.
"I think it's going to be pretty exciting to see how they do this season," Todd said. "I mean everybody's looking pretty forward to what's going to go down. I think it's going to be a make-or-break year for them."
But Joe Lyons, from Framingham, who just graduated, believes the move up was a mistake.
"I think that they were more competitive at their former level and that there aren't really enough people to make it worthwhile to come to games," Lyons said.
The year before UMass moved up to the FBS, it was spending $4.3 million on the football program. This year, it's spending $7 million. It does get $2.5 million back from tickets, fees and corporate sponsorships, so net spending is actually only $4.5 million. UMass Athletics Director John McCutcheon says the university never planned to make money on football.
"As we look down the road, I see us with a very competitive FBS-level program," McCutcheon said. "Ultimately, we do want to secure conference membership that would enable us to participate in bowl games."
This year and next, UMass will still be in the MAC. For the following two years, it will play without a conference. UMass hopes to use those two years to prove to a Division I Conference that it belongs.
This segment aired on August 29, 2014.