With Public And Private Sector Experience, Steve Grossman 'Knows Both Systems'
08:19
Play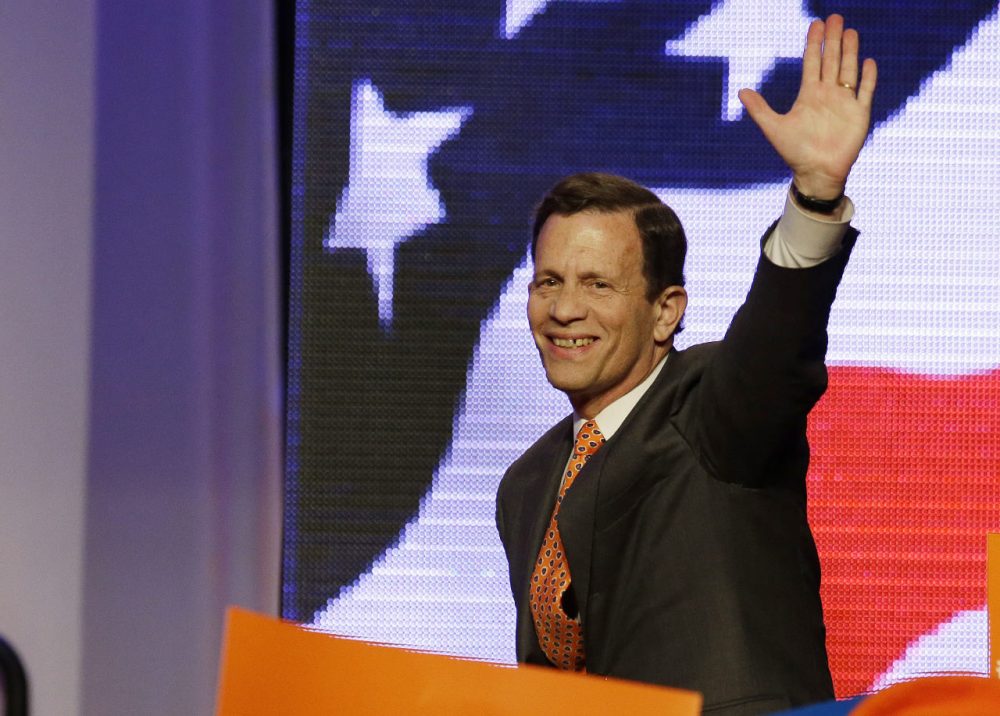 This article is more than 7 years old.
Third in a series of profiles of the gubernatorial candidates
BOSTON — At the annual Malden Democratic City Committee cookout, state Treasurer and Democratic candidate for governor Steve Grossman boosted his party bona fides by invoking the one name everyone under the tent holds in high esteem.
"Monday will be the fifth anniversary of Ted Kennedy's passing," Grossman, 68, reminded the party faithful. "And we all came together the night that Ted Kennedy was waked. And I remember coming over here and it was raining, it was just misting a little bit. It was as if God was weeping because he had lost one of our best, and I'll never forget that."
Grossman's ties to the Kennedy family go back three generations. He pointed out that in 1910, his grandfather Max Grossman — then only a boy — handed out literature for Ted Kennedy's grandfather, John Francis "Honey Fitz" Fitzgerald, who was running for mayor of Boston.
'He Knows Both Systems'
The walls of Grossman's second floor State House office are covered with photographs and mementos marking his career as a businessman, philanthropist, Democratic fundraiser and one-time chairman of both the state and national Democratic committees. Grossman is seen in the company of presidents, prime ministers and royalty, including the late Jordanian monarch, King Hussein.
Grossman was on the White House lawn in 1994 to attend a ceremony announcing a historic agreement between Israel and Jordan. Then president of the American Israel Public Affairs Committee, Grossman had been asked a few weeks before by King Hussein's nephew if he could help secure some loan forgiveness for Jordan as a goodwill gesture. Grossman said he made a few calls, and with the help of then-Israeli Prime Minister Yitzhak Rabin, obtained $700 million in loan forgiveness for the country. Grossman says after the agreement was announced, Rabin spotted him on the White House lawn.
"Rabin shakes my hand, whom I know well, and he turns me 90 degrees and he says, 'Your majesty, I'd like to introduce you to Steve Grossman,'" the treasurer recalled. "And the king looks at me and he says, 'Mr. Grossman, I know exactly who you are. My family and the people of Jordan will never forget your kindness, and your support.' That he knew about this, and knew to connect it to me, was a little mind-boggling."
Whether for a king or a constituent, Grossman is quick to pick up the phone to make things happen. At the Democratic cookout in Malden, Grossman pulled out his Blackberry and called the head of the state's unclaimed property division to expedite the return of some unclaimed money. The division oversees $2.4 billion in unclaimed property, and Grossman has used the program to win supporters in the Legislature, including Rep. Cory Atkins, of Concord.
"He gave a list of people in our district and we called them, said go in and get your money! So we look like heroes," crowed Atkins, who is one of 87 state legislators backing Grossman's bid for governor.
"What I really like about Steve is that he has experience both in the public and private sector," Atkins said. "Generally in government we only get one or the other. And neither are complete. He's very down to earth. He knows both systems."
Reinventing The Family Business
After graduating from Princeton and Harvard Business School, Grossman went to work in the family business — the Massachusetts Envelope Company, now known as Grossman Marketing Group. After two years in sales, Grossman left to work at Goldman Sachs. He stayed there for three years until he got a call from his father.
"He has experience both in the public and private sector. Generally in government we only get one or the other. And neither are complete ... He knows both systems."

Concord state Rep. Cory Atkins
"He said, 'Steve, Jerry' — my uncle — 'wants to sell his interest in the business. I can't run this by myself. Are you interested in buying Jerry's interest in the business?' I said, 'Dad, I'll be right over.' Because the thing I wanted to do all my life was to be in business with my father."
Grossman became president and CEO of the company, a title he held for more than 30 years until he was elected state treasurer in 2010. Grossman boasts his family business has been a union shop for 62 years and never had a matter go to arbitration.
"We've reinvented the business a number of times over the years," Grossman boasted. "I think any business almost needs to reinvent some portion of itself every year to stay current with the needs of the customer. It's always about superior customer service, it's treating your employees right."
Sheila Ryder has worked for Grossman Marketing for 30 years and calls Grossman fair and a great business leader. She says about 25 years ago she needed to take six months off after adopting a child. "And I spoke to Steve about that and said I understood leaving for six months just wasn't a reasonable request. And he said, 'It's more than reasonable. We support you, we value your work, we value you personally. And go home, take care of your baby, and come back to us in six months.'"
Grossman's success in business allowed him to pursue his other interest — raising money for Democratic candidates. He was a major fundraiser for Michael Dukakis' 1988 presidential campaign, catching the eye of Democratic operatives, including MarDee Xifaras.
"In terms of Steve being an incredibly intelligent guy, well informed on the issues, very articulate, but also totally committed to Democratic activism, to democracy, to participation in politics, to use an old fashioned phrase," said Xifaras, a long-time Democratic operative from southeastern Massachusetts. "And really to his core believes in the kinds of things that are at my core, and so we've been best buds ever since."
Xifaras helped Grossman become the chairman of the Massachusetts Democratic Party in 1991, and he went on to helm the Democratic National Committee in the late 1990s.
The 'Repairer Of The Breach'
By Grossman's side for the the last 46 years has been his wife, Barbara.
Grossman's mother, Shirley, met her future daughter-in-law at an alumni weekend at Smith College, where Barbara Wallace was an undergraduate, and decided to play matchmaker for her son. After an awkward phone conversation, Steve and Barbara met for a movie date and hit it off. The couple now have three sons. Barbara Grossman says her husband is a genuinely caring and compassionate person.
"It's not an act, it's not. I mean everyone talks about transparency, but Steve really is truly concerned about people's well being, almost to a fault," she said. "I mean, his father was known for, if you admired his tie, Edgar would whip his tie off and give you the tie. I mean Steve is that kind of person."
Grossman credits his wife, a professor of drama at Tufts University, with helping him improve his speaking abilities on the campaign trail. He also credits another family member, his late uncle Jerome Grossman, as being his political mentor.
"Jerry was a progressive, activist, liberal leader," Grossman recalled. "Jerry died last year. Jerry's autobiography says it all. His blog was called, and his autobiography are called, 'Relentless Liberal.'"
Steve Grossman is trying to follow in his uncle's footsteps in carrying the progressive label. This is the second time he has run for governor — his bid in 2002 came up short.
Quoting the prophet Isaiah, Grossman says he wants to be the "repairer of the breach."
"When you are given the imprimatur of leadership by the people of the commonwealth, and they say, 'We need you to play a leadership role to help lift us up, and build one commonwealth that levels the playing field and leave no one behind,' there is something about being elected to office in a democracy that gives you the credibility and gives you the foundation on which to build, unlike anything else."
Grossman favors universal pre-kindergarten. He's calling for an increased prominence of arts in education. He supports making earned sick time state law, just as he did at his family business, and has said he will not vote to repeal the state's casino law, but will accept whatever the voters decide in November.
While the question of casinos will definitely be on the ballot this fall, Grossman must win Tuesday's primary against Martha Coakley and Don Berwick for his name to be on the November ballot as well.
This segment aired on September 3, 2014.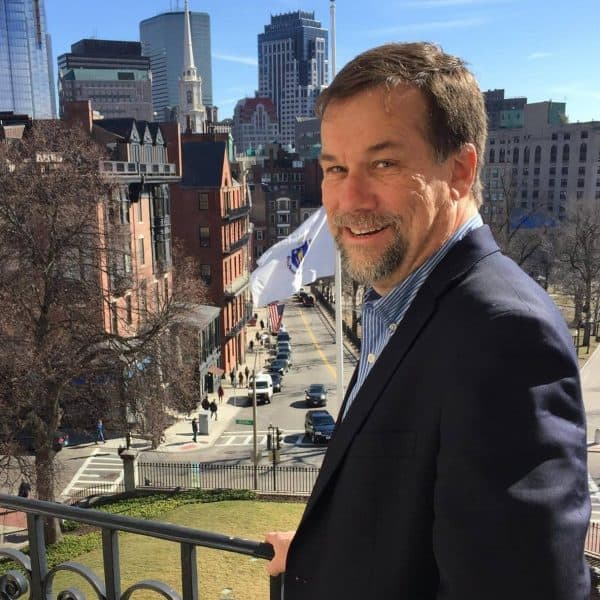 Steve Brown Senior Reporter/Anchor
Steve Brown is a veteran broadcast journalist who serves as WBUR's senior State House reporter.