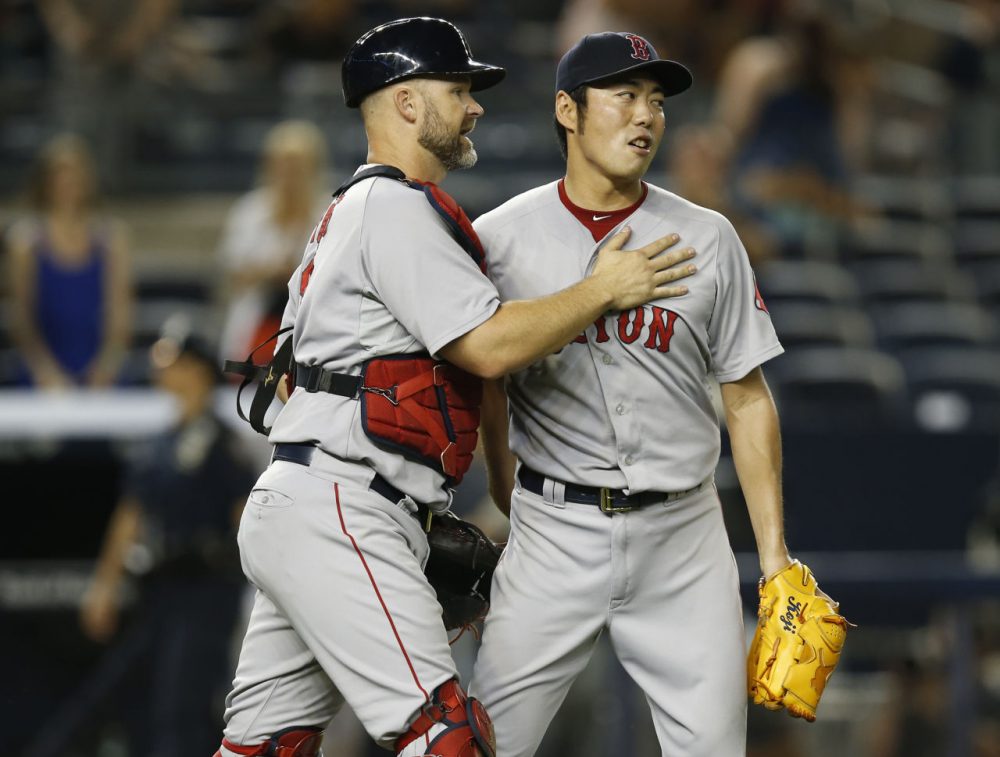 This article is more than 6 years old.
With every mounting defeat for the Yankees, it becomes more and more likely that Derek Jeter's career will end before October.
Xander Bogaerts homered among his four hits and fellow rookie Mookie Betts also went deep to power the last-place Boston Red Sox past New York 9-4 on Tuesday night.
Jeter's penultimate homestand began with a dud in the opener of his last series against the rival Red Sox at Yankee Stadium. A furious Brett Gardner got ejected on a frustrating - and sometimes embarrassing - night for the Yankees, who fell five games out of a playoff spot. They've lost five of seven following a five-game winning streak.
Rookie right-hander Shane Greene (4-2) was hit hard and chased in the third inning, the worst of his 10 major league starts. New York had won his previous five outings.
"It's my first and it probably won't be my last one like this, so I just have to keep grinding," Greene said.
The 21-year-old Bogaerts drove in two runs and finished a triple short of the cycle. He and Betts, born six days apart in October 1992, became the first pair of Red Sox rookies to homer at Yankee Stadium in the same game since Dick Gernert and Faye Throneberry on Aug. 9, 1952.
Daniel Nava hit a three-run shot and Yoenis Cespedes tripled, doubled and singled to back Joe Kelly (1-1) in his first win with Boston. Betts had three hits and slumping Mike Napoli added two sacrifice flies for the defending World Series champions, who built a 6-0 lead against Greene.
"I just didn't think he had his location. He got into some bad counts and they put some long at-bats on him as well," Yankees manager Joe Girardi said.
Martin Prado and Brian McCann each hit a solo homer for New York. But embarrassing baserunning cost the Yankees when they threatened to get back in the game after McCann beat the shift with a bunt single in the fifth.
Prado hit a drive over Cespedes' head in left field, and the ball short-hopped the wall. Carlos Beltran, however, got a bad read and thought the ball might be caught. So he headed back toward second before reversing course and jogging into third.
McCann had to hold up at second as Prado charged unaware toward the bag. He never even saw McCann standing on second until he was a few steps away. That left Prado trapped between bases, and he soon gave up in a rundown.
"Prado was looking at the ball. That's going to happen. That's normal. But you also have to look at the people in front of you," Girardi said. "It's tough because we gave them one out. It looked like we were getting to him, and that was a big out."
Kelly walked his next two batters, forcing in a run, and Jacoby Ellsbury lined out with the bases loaded. Jeter's infield single - he was initially called out before a replay review - made it 7-3.
Kelly then threw a called third strike past Gardner, who flipped his bat in disgust and fired down his helmet with two hands. He was immediately ejected by plate umpire Tim Timmons.
"I saw a replay of it and obviously it was outside - just where I thought it was," Gardner said. "Felt like I got the bat taken out of my hands there really in a pretty big situation. The pitcher was on the ropes and I just let my emotions get the best of me."