Mass. Doctor Working In Liberia Diagnosed With Ebola
02:56
Play
This article is more than 7 years old.
A family physician from Massachusetts has become the third American aid worker infected with Ebola.
Dr. Rick Sacra, of Holden, was volunteering at a hospital in Liberia run by a Christian missionary group when he became infected with the virus.
The 51-year-old was scheduled to return to Liberia last week, but moved his trip up to the beginning of August.
"When he said he was going back early I wasn't surprised," said Frances Anthes, who runs the Family Health Center of Worcester where Sacra is a family physician. "We all knew it was a difficult situation. He asked for prayers and I know I promised them."
Sacra, his wife and his three sons have spent years in the country as medical missionaries, and Sacra had been in close touch with colleagues in Liberia all summer about the unfolding health care catastrophe there.
"Dr. Sacra is probably the closest thing that a living human-being can be to being a saint," said Dr. Gregory Culley, Sacra's supervisor at the Worcester health center.
Culley says he received an email from Sacra last week. "It was bad news and good news. He said the epidemic is zero controlled, it's chaos and anarchy in Monrovia, and the entire medical system has broken down."
Sacra said he was handling complicated deliveries, with women coming in from all over the country, and was not treating known Ebola patients.
"In all the previous emails I had been asking him about protective clothing and he hadn't answered me," Culley said. "But in that email he said the protective clothing had arrived. So I assumed that up until that email last week he wasn't wearing protective clothing."
Doug Sacra says his brother had donned the gear, at least recently, but felt that it interfered with this work.
"When you're dealing with someone with a significant illness and you're a doctor and a you're Christian, you might hold someone's hand when you pray for them, you might put your hand on their shoulder," Doug Sacra said. "When you're totally covered in a gown and goggles and gloves and they can't even understand you through your mask, it's difficult being a compassionate doctor."
Doug Sacra was relieved to hear that his brother was in good spirits, but is still worried about the Ebola diagnosis.
"It's not like one of those 100 percent treatable things," he said. "He would be sorely missed and we want him to come back to us."
The Centers for Disease Control says there are nearly 1,400 confirmed and suspected cases of Ebola in Liberia alone, and more than half of those patients have died.
A family friend says Sacra would want his illness to inspire more aid to help restore Liberia's medical system.
Sacra plans to start a family residency program for Liberian doctors at the hospital where he is now a patient.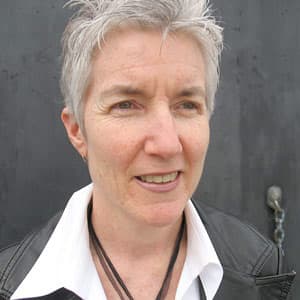 Martha Bebinger Reporter
Martha Bebinger covers health care and other general assignments for WBUR.