Red Sox Lose To Yankees 5-1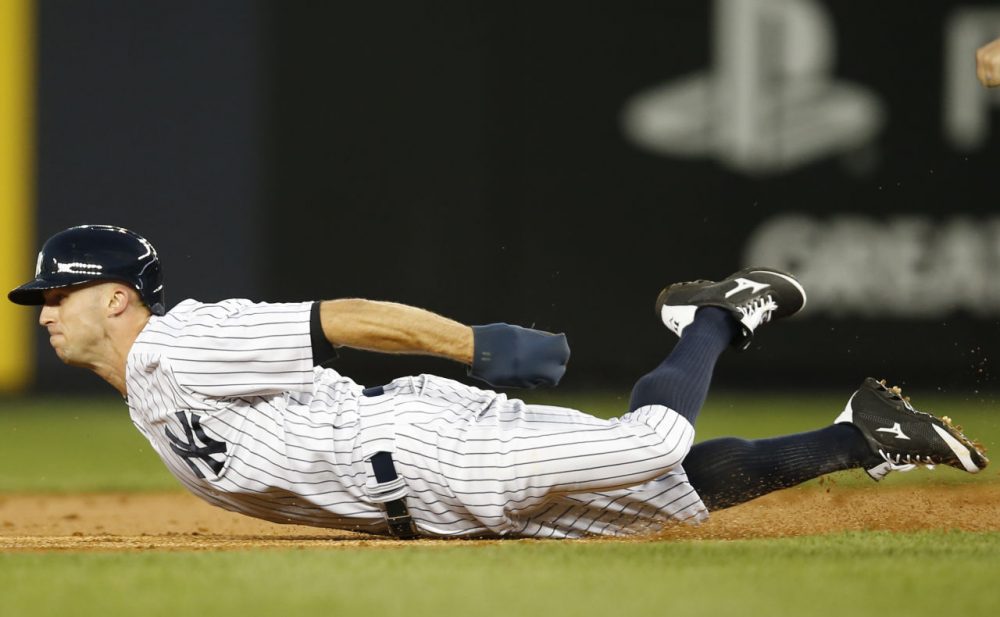 This article is more than 6 years old.
Brian McCann will have all winter to figure out what went wrong in his first year with the New York Yankees. In the meantime, he's trying to help them make a late push to reach the playoffs.
McCann homered among his career high-tying four hits and the Yankees bounced back to end a three-game losing streak, beating the Boston Red Sox 5-1 Wednesday night.
"It's just good to contribute," he said.
McCann homered a day earlier as the Yankees got battered by Boston, leaving them five games behind for the second AL wild-card spot. In the rematch with the last-place Red Sox, he drove in three runs and gave an early cushion to Hiroki Kuroda (10-8).
McCann has mostly been a disappointment with the Yankees, stuck in a season-long slump. A seven-time All-Star for Atlanta, he signed a rich free-agent deal with New York but hasn't hit much, prompting manager Joe Girardi to note before the game, "I think he expected more from himself."
"It took me longer to get going with the bat than normal," McCann agreed. "I haven't tried to dissect it."
McCann went 4 for 4 after opening the game hitting .237, 40 points below his career average.
Then again, nobody has really hit much among these longtime rivals. They began the day as the two lowest-scoring teams in the AL, and no one in either starting lineup was batting over .285.
Kuroda gave up one run and four hits in seven innings, striking out eight without a walk. He evened his mark at 78-78 in seven seasons for the Yankees and Dodgers.
Anthony Ranaudo (3-1) lost for the first time in his four starts since making his big league debut. Boston kept up its weeklong pattern of alternating wins and losses.
McCann connected for his 17th homer, a two-run shot in the second. The drive quieted Ranaudo's sizable cheering section - raised in central New Jersey, he beat the Yankees last month in his first game.
"I was a little disappointed that we lost the game in general, that the team lost the game," Ranaudo said. "I wasn't really worried about my family or friends. It's great that they were here, that they support me and everything like that, but the team is definitely way more important."
McCann got four hits for the 11th time in his career, capped by an RBI single in the seventh. He's homered 15 times at home this year, and launched his latest shot to right field over the overshifted Boston defense.
Lately, he's even tried to bunt to beat the stacked right side.
"It looks like there's 12 guys out there," he said.
A day after bad baserunning dearly cost the Yankees, they tried a double steal in the first. Instead, Derek Jeter and Brett Gardner ran right into a double play.
Jeter was on second and Gardner was on first when they took off. Catcher Christian Vazquez targeted the trailing runner, trapping Gardner in a rundown. Second baseman Jemile Weeks suddenly zipped a throw across the diamond that caught Jeter straying off third, and third baseman Brock Holt's toss nailed Gardner at second.
The Red Sox weren't so swift around the bags, either.
Daniel Nava got picked off first by Kuroda, seeming incredibly nonchalant returning to the base. Moments earlier, Kuroda had looked back Nava without making a throw.