Decision Time For Casino Panel: Mohegan Sun Or Wynn?
Resume
The Massachusetts Gaming Commission has a lot to consider when it begins hearings Monday on the two competing proposals for the sole Greater Boston casino license.
At first glance, the two look very similar. Both promise about 4,000 jobs, 500 hotel rooms and about $1 billion in casino revenue.
But as you dig into the plans, you start to see distinct selling points for each proposal, and how the developers, Mohegan Sun and Wynn Resorts, are making their case.
Mohegan Sun Seeks To Fit Into Community
The Mohegan Sun proposal in Revere would be next to Suffolk Downs, the 79-year-old thoroughbred racetrack that has all but promised this year will be its last in operation, unless Mohegan wins the casino license.
"I know what it's like to lose one track," Revere Mayor Dan Rizzo said. "We lost Wonderland back five or six years ago. [It] put a lot of people out of work, and continues to leave a 36-acre hole in the middle of our city undeveloped."
Rizzo says a casino at Suffolk Downs would be a catalyst for economic development around the region, one that could revive that vacant 36 acres where Wonderland used to be.
That's one of the big selling points backers of the Revere proposal are pushing: the concept of an outward-looking casino.
"The resort we're building could function as a standalone resort at any other place. But it's our activity of engaging the community, of connecting them, that's different," said Mohegan Sun CEO Mitchell Etess.
He says the company's goal is to fit into the community, not "redefine it."
To that end, Mohegan has pledged to buy at least $60 million worth of goods a year from local vendors. It's also partnering with local businesses, where repeat customers can spend comp points earned at the casino in the community. So far, 400 businesses have signed up, from Dunkin' Donuts to Citizens Bank to local dry cleaners.
"The vast majority of casinos do not do it," Etess said. "Your comps are your comps. They keep you in the building, and they keep your money being regenerated into your destination, not into the community."
Wynn Resorts Seeks To Create International Destination Spot
What seems to be biggest selling point for the Everett proposal is Wynn Resorts CEO Steve Wynn himself.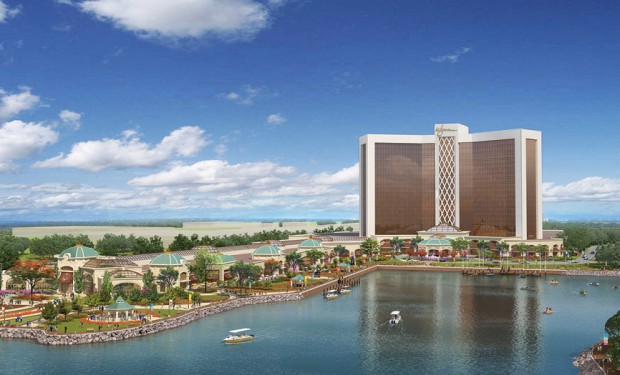 When he delivered the company's final presentation to the gaming commission earlier this year, Wynn touted the company's success in Las Vegas.
"It's a highly competitive market! Seventy hotels on the strip. No monopoly, no duopoly," he said in January. "Caesars Palace had the [state] record [for gaming revenue] at $400 million, and nobody had ever been near 400 except Caesars. We opened the Mirage, and in 1990, the first full year of operation, we broke the $500 million mark."
Wynn points to his company's success in Las Vegas and Macau, China, which is now one of the most lucrative gaming markets in the world.
"Unless [a sole casino is] something spectacular, people aren't just going to come there for a casino ... It's going to draw primarily from New England and the Northeast."

Clyde Barrow, a gaming expert
He adds that, thanks to its brand name, his company is best suited to bring in international high rollers.
In other words, he can make the Greater Boston casino more than just a regional destination.
To that end, he promises to build a five-star hotel in Everett, versus the single four-star and one three-star hotel proposed at the Mohegan facility in Revere.
But Clyde Barrow, a gaming expert formerly with the University of Massachusetts Dartmouth, now at the University of Texas, says it's hard to create a national, much less an international, destination casino, unless you have a cluster of gaming establishments in one area.
"Unless [a sole casino is] something spectacular, people aren't just going to come there for a casino," he said. "If they're there on a vacation, they may choose to stay an extra day or two to visit the facility, but other than that, it's going to draw primarily from New England and the Northeast."
Casino Opponents Banking On Ballot Measure
It is for that reason that casino opponents say they don't want gaming establishments in Massachusetts.
"More people come to Boston than go to Disney World every year," said Celeste Myers, the co-chair of the anti-casino group No Eastie Casino. "We're the fourth-largest tourist destination in the nation. They're just going to get siphoned off."
Myers and other casino opponents, who are now pushing a ballot question to ban casinos altogether, have a laundry list of concerns: crime, gambling addiction and more traffic.
Both Mohegan and Wynn have promised about $45 million to mitigate traffic problems. Both companies say their traffic plans would offset higher traffic volumes, and Mohegan argues that its changes to Route 1A would actually improve traffic.
Myers remains unconvinced.
"It's really not going to drill down on the existing issue," she said. "It won't solve anything new, that's for sure. Especially when they're talking about bringing in 25,000 to 35,000 additional vehicle trips per day."
Decision Will Likely Come Down To Secondary Factors
There is also the question of competition. Not from others, but from whomever gets the casino license.
Mohegan Sun in Connecticut is 104 miles from downtown Boston and pays no tax on table games there, versus 25 percent in Massachusetts.
"What do you think they're going to do when it comes time to move a big customer?" asked Steve Wynn in January. "Pay 25 percent to Massachusetts, or shuttle them off to Mohegan Sun in Connecticut where they pay nothing?"
Throughout the process, Mohegan Sun has promised not to do that. The company says that's part of a contract with financiers backing the project in Revere.
But the tribe could market its Connecticut location in Massachusetts, provided offers like comp points or discounts are no better than what those customers get here.
It's ancillary issues like these that will likely decide who gets the license. Because the two proposals are so similar in terms of jobs and gaming revenue, the decision will likely come down to secondary factors, like relationships with communities, branding and even the design of the buildings themselves.
The commission's deliberations are expected to last all week, and possibly into next week.
This segment aired on September 8, 2014.