Commentary: It's 'Weld' Vs. 'Warren' In 2014 General Election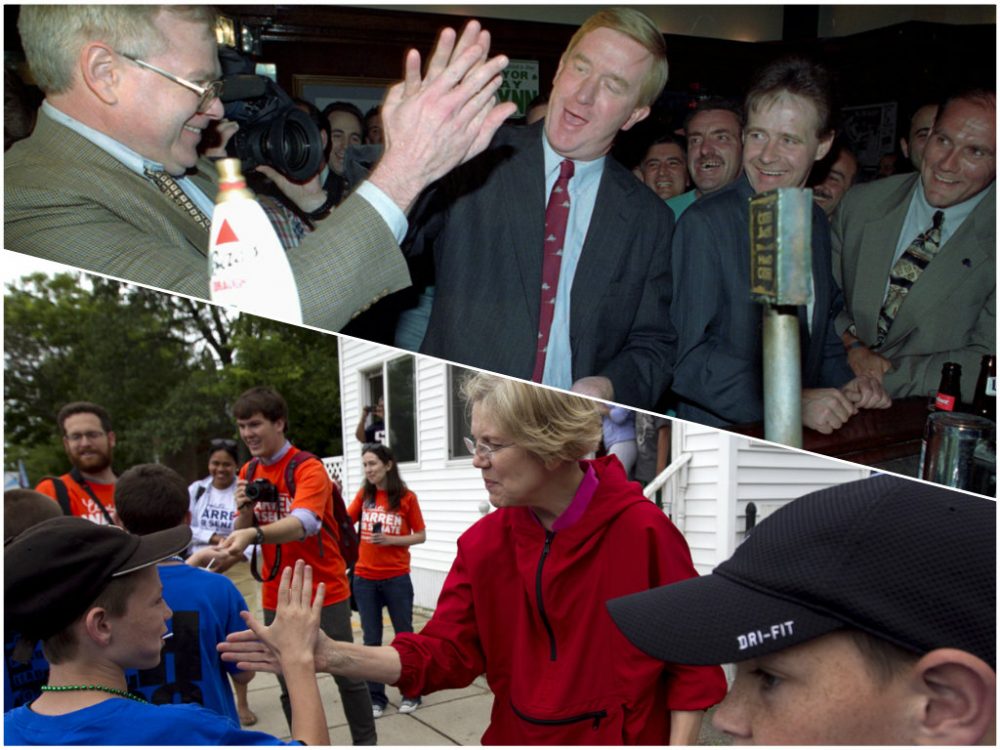 This article is more than 7 years old.
Candidates and consultants frequently rely on models -- candidates and races that help them understand their current predicament.
For Republican Charlie Baker, his model is former Gov. Bill Weld, who is remembered as a socially moderate governor who mocked himself, quoted the classics with Senate President William Bulger, and genuinely liked reporters and drank with them on Fridays. Long on style, short on content.
When Weld was out of town on vacation after being accused of having too light a hand on the reins of state government, he sent a Boston Globe reporter a photo of himself with the game he had brought down. When he ran against John Kerry for U.S. Senate -- and to show what a friend he was of the environment — he jumped into the Charles River fully clothed. (A Democratic official spontaneously jumped in after him.)
In a Baker campaign video filmed at McGann's Irish Pub in Boston, Weld extols Baker's virtues as Weld's secretary of Health and Human Services. Weld didn't sweat the small stuff; Baker worries so much about the details he offers no overarching vision, although he tried wanly during his primary victory speech on Tuesday night: "We want to bring a new and independent brand of bipartisan leadership that will bring balance to state government and opportunity to all of our citizens." (yawn)
Meanwhile, Democrat Martha Coakley would be wise to look for guidance from Elizabeth Warren's campaign that sent Scott Brown packing to New Hampshire. Coakley does have consultants who worked in Warren's campaign. The new U.S. senator played national, partisan politics, arguing that Brown (R-Wherever) would strengthen the hands of right-wing Republicans in the Senate. Coakley doesn't have the opportunity to nationalize this gubernatorial race, but she can press Baker on issues where he is in sync with the national GOP.
Coakley has to follow Warren's skillful use of her gender, something the AG failed to do in the primary. In the few debates I saw, Coakley didn't stress the uneven pay and promotions that women endure. Her election night tableau featured women and African-Americans. (Baker's stage players looked like country club women. His on-stage shout-out went to a black person off stage -- weird.)
Warren, in her first try for public office, emphasized her humble roots to give balance to her Harvard Law School pedigree. Coakley tries, but her heart doesn't appear to be in it, when she talks about her western Massachusetts upbringing in North Adams, a poor community in the Berkshires. She could use anecdotes, as Warren did, to make connections to the middle class. Warren must have said "The middle class is getting hammered in this economy" just about every third sentence.
Coakley did try a little populism on Tuesday, bashing banks for shafting homeowners. She has a record that would look populist, a la Warren, but her campaign seemed happy in the primary to run a content-free campaign against "special interests." (Did she mean Steve Grossman or Don Berwick?) She was attacked on TV by a Baker-friendly superPAC, showing that she didn't know how much the gasoline tax is. She hemmed and guessed 10 cents, which would've been my guess. Alas, it's 24-cents per gallon. Poor advance work; the show where she got stumped likes gotchas.
This brings us to the so-called "People's Pledge" that limits the amount of outside spending that can be done on behalf of a candidate. Warren got Brown to agree to it. Baker will never go along, until or unless it begins to hurt him, which may never happen.
But candidates in other states faced a superPAC deluge and survived. For Coakley, it's worth pushing to keep the anticipated tsunami of outside money from pouring into the state from Baker allies. It's tricky footing; Hillary Clinton, for one, is taking big money from various superPACs. Voters don't care much about money in campaigns, but they don't want to feel like attack ads have taken over their TV sets or their election choices.
Dan Payne is WBUR's Democratic political analyst.