Huntington's 'Guess Who's Coming To Dinner' Needs More Stirring
This article is more than 8 years old.
At first I was really afraid that the theatrical version of "Guess Who's Coming to Dinner" would be a dated re-creation of the 1967 classic movie. But it was apparent well within a half-hour of the Huntington Theatre Company production that this was not the case.
For all the progress we've made as a nation, for all the greater intelligence we think we have about things almost 50 years later, young people are still surprising their parents by bringing home lovers and fiancés who turn out to be dullards.
Men and women, black and white, they still fall in love, and even marry, people who would bore the pants off the Dalai Lama. Does it help if both people in the relationship are self-righteous, smug, and highly accomplished? Nope, not if the interracial couple of "Guess Who's Coming to Dinner" is any indication.
And I don't mean to make light of the feel-good sentiments that make this production such an obvious crowd-pleaser. This country has come a remarkable way in our lifetimes and that is worthy of celebration, particularly with an audience as integrated as Wednesday night's Huntington Theatre Company opening was. At its best, "Guess Who's Coming to Dinner" (through Oct. 5) is an articulate reminder of that journey. But so would any number of '50s and '60s artifacts that wouldn't necessarily translate into good drama.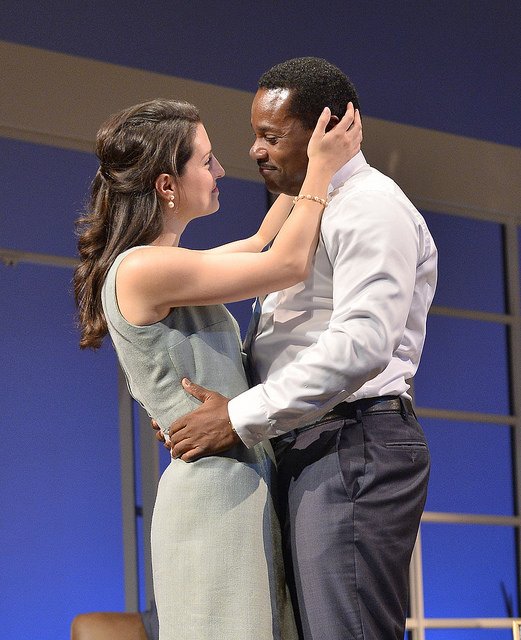 Unlike "A Raisin in the Sun," for example, this is not a play that cares much about drama. Even without seeing the movie, you know exactly where this play is going and pretty much how it's going to get there from the time Joanna Drayton (Meredith Forlenza) walks in the door of her liberal parents' house with her intended, Dr. John Prentice (Malcolm-Jamal Warner).
Even after seeing "Raisin" a dozen times and knowing how it's going to get to its satisfying conclusion, it's still an amazing journey every time we see it. There's nothing amazing about this journey, just feel-good theater filled with platitudes.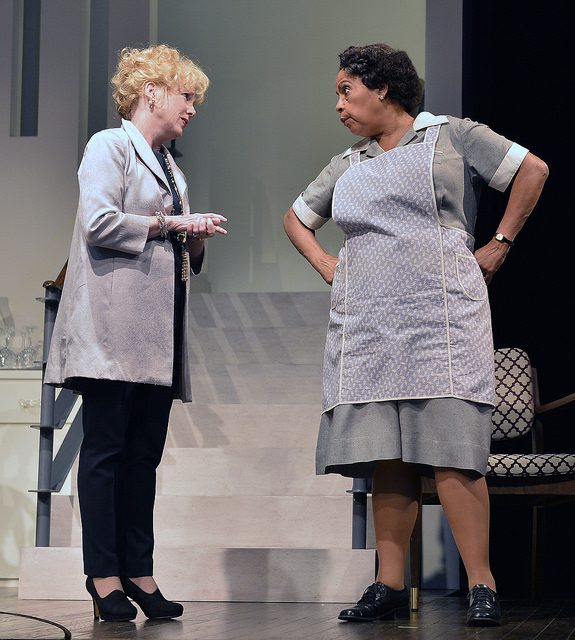 Again, I'm not necessarily disparaging the platitudes. It's fun, though hardly edifying, to see Christina Drayton (Julia Duffy) fire her racist assistant and the play ends on a kumbaya coming together. Thanks to solid acting by the older generation and a smart set by Dane Laffrey, the production presents an effective freeze-frame when, to paraphrase "Avenue Q," everybody was more than a little bit racist, even white liberals — though by 1968 or 1969, black radicals and black conservatives both saw white liberals as untrustworthy hypocrites.
That's not, though, where Stanley Kramer and screenplay writer William Rose were coming from in the 1967 film or Todd Kreidler in this adaptation. Kramer, despite his lack of subtlety, was a solid liberal filmmaker who was pushing the envelope with this film. Even this production's biggest fans couldn't claim that the envelope is even being nudged forward here.
Taken on its own terms, "Guess" has its moments, certainly. Duffy (a favorite from "Newhart") does a wonderfully understated job in the Katharine Hepburn role, complete with quiver, and Will Lyman makes you forget all about Spencer Tracy. Duffy and Lyman show off considerable comic chops, along with believable serious moments. Ditto Lonnie Farmer and Adriane Lenox as the African-American parents. Lynda Grávatt as the maid and Patrick Shea almost walk away with the show.
Oh, but the younger generation. Warner and Forlenza can't be entirely blamed for the stiff, shrill self-righteousness. Kreidler and David Esbjornson have to take some of the blame for all the splinters in the wooden representation of young victims in love. The writer and director give these characters nothing to work with.
"Does everyone think I'm stupid?" cries Joanna for not giving the four parents any warning in surprising them with each other. "Nobody thinks you're stupid," says her mother.
Do I get a vote?
You don't give your parents any indication that you're in love with a black man because you think that they're color-blind. Was anybody color-blind in 1967? Is anybody color-blind today? And then you invite your George Jefferson of a prospective father-in-law (and mother-in-law) over to dinner without even telling your man, who hasn't told them about you yet? Forget race, Lucy Ricardo wouldn't have been such a ditz. Are you stupid? Have you heard the news that the Earth revolves around the sun?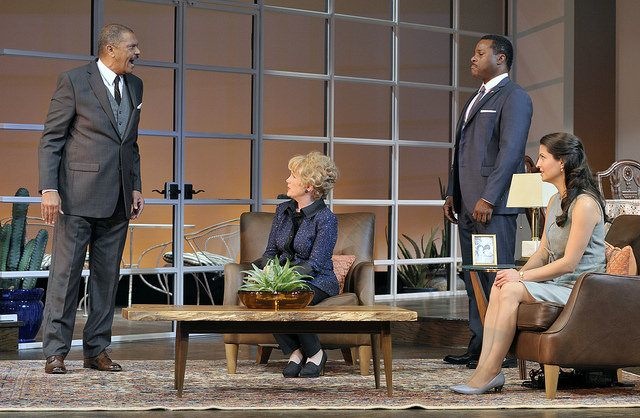 But then we wouldn't have much of a play if Joanna hadn't been so smug. "King Lear" wouldn't be much of a play if Cordelia hadn't been so smug. But here it's all the kind of contrivance that makes "Meet the Parents" look like Moliere.
Worse, it's contrivance that instead of shedding light on our times, really deflects us from the contemporary conversation, which has to do more with class than skin color. There is nothing in this play, not even the attitudes of the black maid, that touches on that far more difficult topic.
So if it's feel-good moments you want, by all means see "Guess Who's Coming to Dinner." There are so many feel-bad moments in 21st-Century politics that we all deserve a reminder that progress is real and substantial.
But if you're looking for that to be mixed with good drama or sharp political discussion, the steak at this dinner doesn't sizzle.
Here's how the Huntington looks at it: