Another Giant Public Mural Takes Shape In Dewey Square
Play
This article is more than 8 years old.
First we had the giant, controversial kid in brightly-patterned pajama-like clothes created by the Brazilian street art duo known as Os Gemeos. Then Matthew Ritchie's more subtle, gray-toned cosmic tendrils grew across the expanse of wall in Dewey Square.
Over the last two years, two different public murals have transformed one side of a huge, brick building on the Rose Kennedy Greenway into a highly-visible canvas for public art. The first two were collaborations with the Institute of Contemporary Art. Now the Museum of Fine Arts is getting into the game.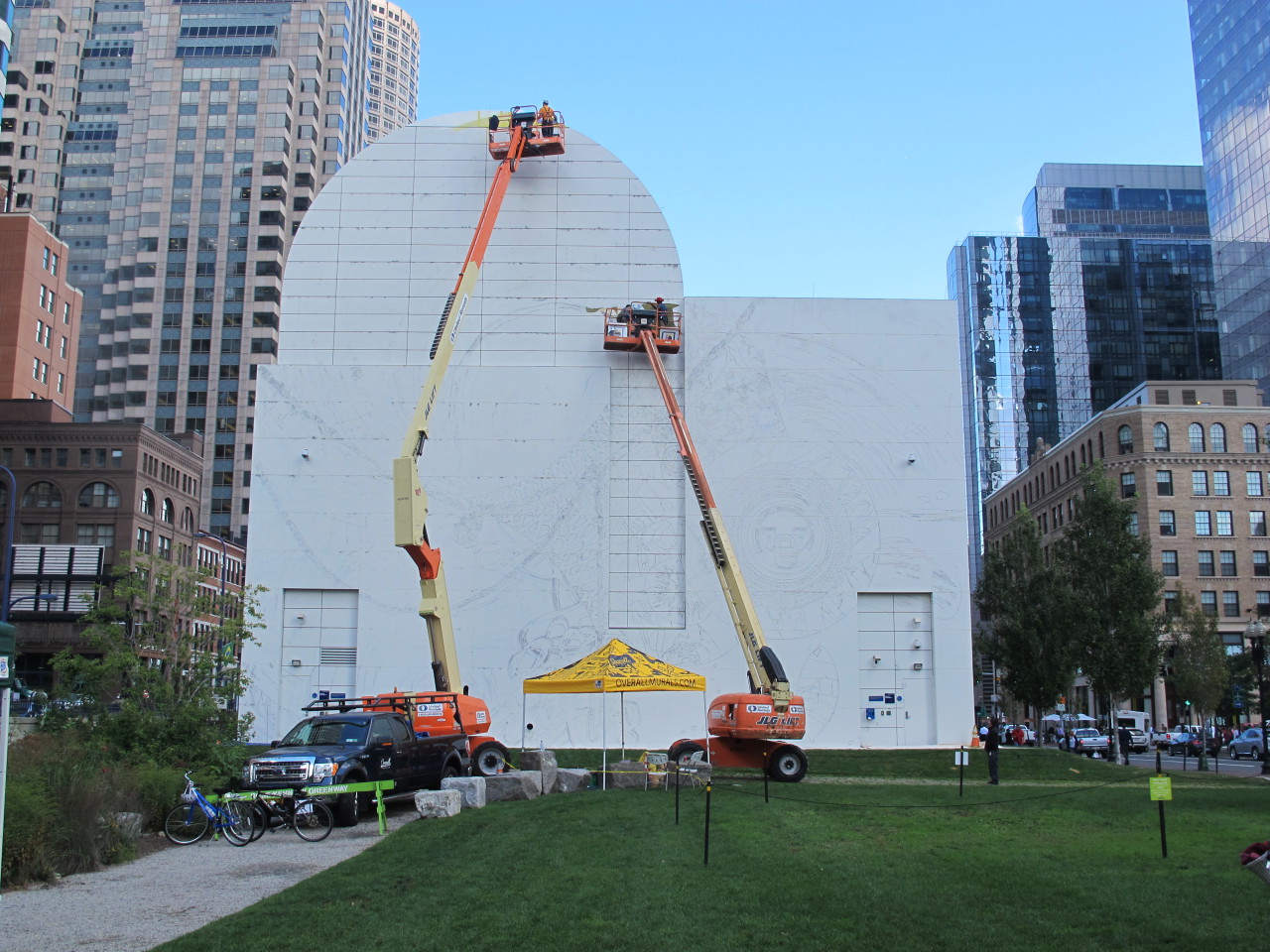 This week, two powerful mechanical lifts started engaging in a dance, rising and falling along the windowless facade of a 76-foot tall Department of Transportation building in Dewey Square, just across from South Station. The painters riding them were clipped in with safety harnesses. They maneuvered the loud machines to add bright color to areas outlined in gray, kind of like how you fill the empty spaces inside a coloring book — except this canvas is vast and incredibly solid. Soon the wall will burst with vibrant yellows and magenta.
People grabbing lunch at the formation of food trucks on the park's periphery looked on, scratching their heads and doing double-takes. Others, like Cambridge resident Seth Brooks, saunter across the grass to take a closer look.
"It's hard to tell what this is going to be," he admitted. "I was actually just trying to figure it out."
Brooks works across the street from Dewey Square.
"I think it looks like it's going to be kind of cool," he mused, pointing high into the air. "It's got some flowery things that are happening up top there."
Brooks' companion points to a circle on the mural-to-be's right side. She thinks it looks like something from "Star Wars," but it's actually a rendering of a giant disposable coffee cup lid.
Brooks says it's been interesting to watch new murals be installed over the past three Septembers.
"I've seen the others," he recalled. "I remember the first one. It was that little kid with the blanket over his head — or something like that."
Some people thought that blanket made the youthful figure look like a "terrorist."
Shinique Smith, the creator of the latest work, recalls seeing pictures on the internet of that earlier mural by the Brazilian twins Os Gemeos. Standing in the grass below her piece, she told me she thought the wall was amazing, "and I wanted to do something like them." Smith calls her commission "kismet."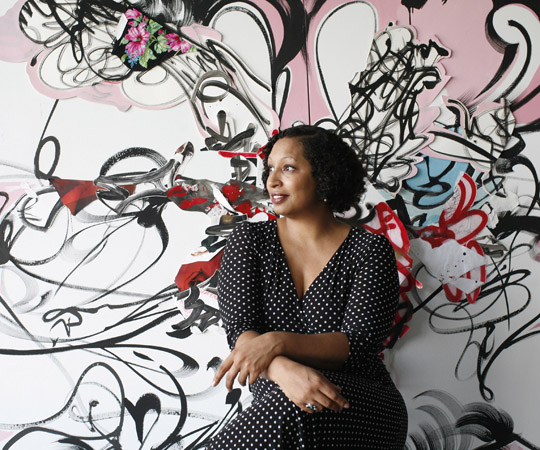 But the selection process for this mural cannot be chalked up to fate. Smith was chosen in a very deliberate way. The MFA, which is collaborating with the Rose Kennedy Greenway Conservancy on the mural, is hosting Shinique Smith's new solo show.
"This is a huge leap forward in the 21st century to partner with the Greenway and to have a piece of this scale on view in relation to an exhibition," MFA curator Jen Mergel said, adding that this is the 144-year-old museum's largest public art project to date. She and her peers at the MFA hope it broadcasts the institution's commitment to contemporary art.
Mergel explained that the MFA thought Smith was a good candidate because she's executed major architectural commissions in New York City and San Francisco. And Mergel says her work is rich, nuanced, energetic and cathartic.
Smith attended the School of the Museum of Fine Arts here in 1999 and 2000. Now she lives north of Manhattan. Her new mural is based on a painting now hanging in her MFA show titled "Seven Moons." It's an explosion of fireworks, flowers and fabric-like textures. An actual coffee cup lid sticks out of the canvas. It's a symbol of Smith's fascination with the stuff we interact with in our daily lives, but Mergel says it also evokes the visage you see on an African mask. The curator believes the artist chose the right work to serve as inspiration for the mural.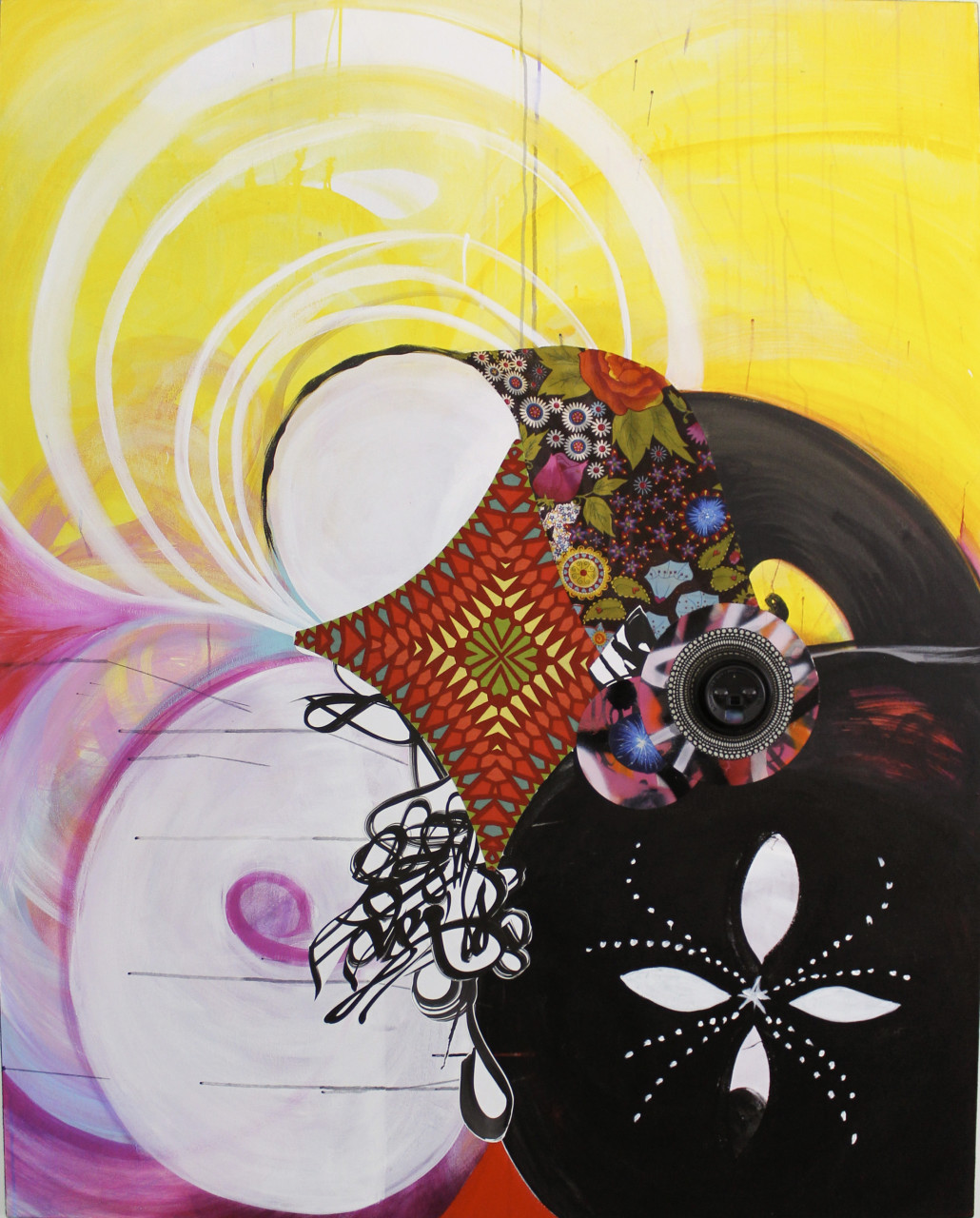 "We knew right away that it could translate to an architectural space," Mergel said. "It's a beautiful, formal composition that reads from a distance. If you're a thousand feet away you see bold strokes and color. Up close you begin to notice patterns and details that keep delivering more and more."
It's this kind of work that Jesse Brackenbury wants to bring to the public. He's executive director of the Rose Kennedy Greenway Conservancy, the nonprofit that manages and programs the park in Dewey Square. The Greenway budgeted $60,000 in private funds to remove the old mural, prep the surface, rent the equipment and purchase the paints. And the MFA is underwriting the artist's costs.
Brackenbury said the selection committee for the mural is made up of local curators, artists and community members, and the vetting of proposals is a rigorous process. Contemporary art curator Edward Saywell of the MFA proposed Smith to the group.
"There are so many great institutions in town — and we look forward to collaborating with many of them," Brackenbury explained. "I'm sure we will be working again with the ICA, and again with the MFA, but it's nice to bring the creativity of all these institutions to bear."
The fact that Smith's solo show, "Bright Matter," was already scheduled to be on display in the MFA's relatively new contemporary art gallery played a big part in the decision-making, according to Brackenbury.
"It worked so well for the first two murals to have an artist who had a show in town," he recalled, clearly excited about the next one up.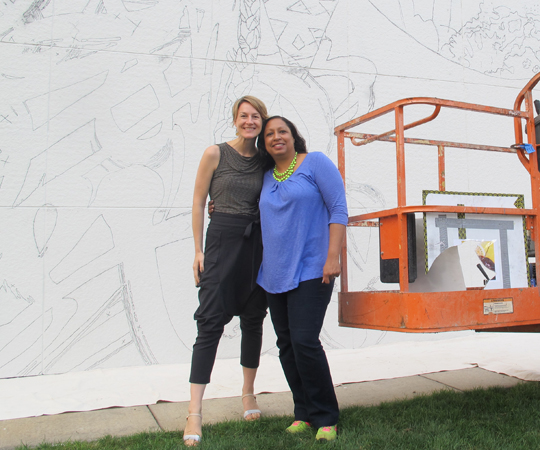 Artist Shinique Smith admits she doesn't expect everyone to fall in love her mural. Mixed reactions come with the territory when you're producing public art. But Smith does hope it sparks conversation. She also wants the tens of thousands of people who emerge from nearby South Station to get a "lift" from the work, along with the folks who live and work in the neighborhood.
"I want it to be thought provoking in some way — or that it will conjure some memory," she said. "I want there to be moments of discovery where people say, 'Oh, that's a coffee cup lid,' or get in engaged with what the other elements might be."
The artist's mural is on track to be finished next week and it will be up for one year. There are plans to install more artworks in other spots along the Greenway, according to Brackenbury, including an aerial sculpture by local Janet Echelman that will be suspended between buildings.
And Brackenbury said his organization's mission to expose the city to more contemporary art is gaining momentum. This week the Greenway's newly hired curator arrived in Boston. His name is Lucas Cowen, and he worked at Millennium Park in Chicago. That city is often praised for its dedication to and successful execution of art in public spaces -- like Anish Kapoor's "Cloud Gate," often referred to as "the bean." This news could bode well for Boston, which has been criticized for its lack of contemporary public art.
The MFA will dedicate Shinique Smith's finished mural on Tuesday, September 23. For a list of community activities involving the artist, visit www.mfa.org.