Massachusetts Army National Guard Is Fighting A War Against Suicide
09:34
Play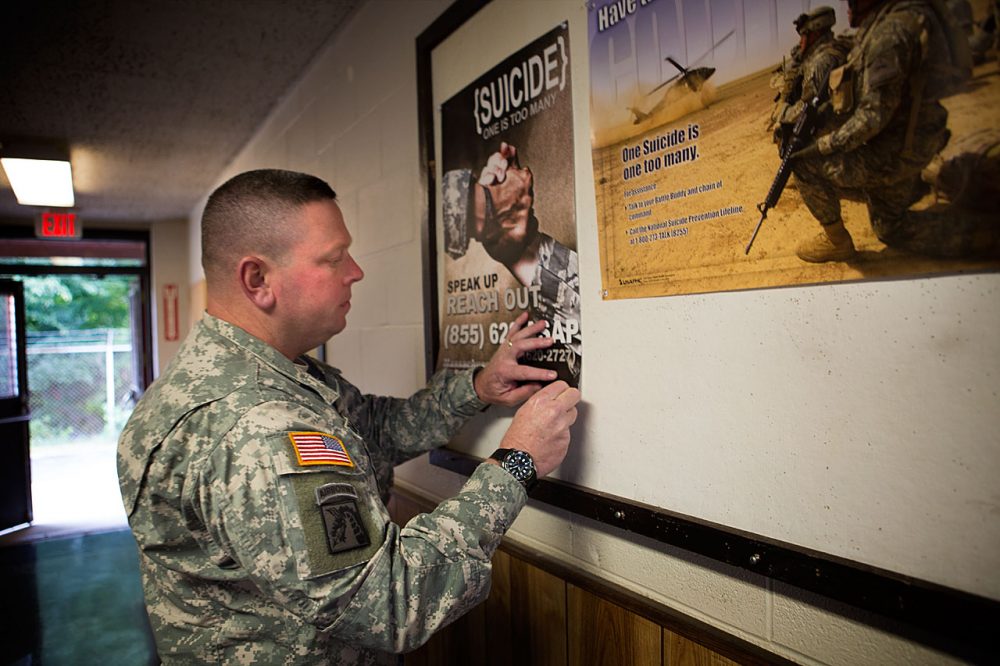 This article is more than 7 years old.
First of two parts. Here's part two.
The clanging and hissing noises of cars being repaired are a welcome change from the sounds of war for 31-year-old Nate Radke.
Radke's business, Gardner Auto Sales, though a little grimy inside the garage, is a shining example of how this Massachusetts National Guard sergeant has turned his life around in a short time.
Two years ago, Radke was living with his wife and two young children in the moldy basement of his parents' house. He had recently returned from 2 1/2 years of training, deployment to Afghanistan and post-deployment treatment. He was suffering from post traumatic stress disorder and traumatic brain injury — with mood swings, massive headaches, dizziness and sleep problems. He had missed the birth of his first son, who was now a toddler and barely recognized him. His wife was upset he had been gone so long. He says he had been denied Social Security disability benefits and had long waiting periods for medical appointments at the VA hospital.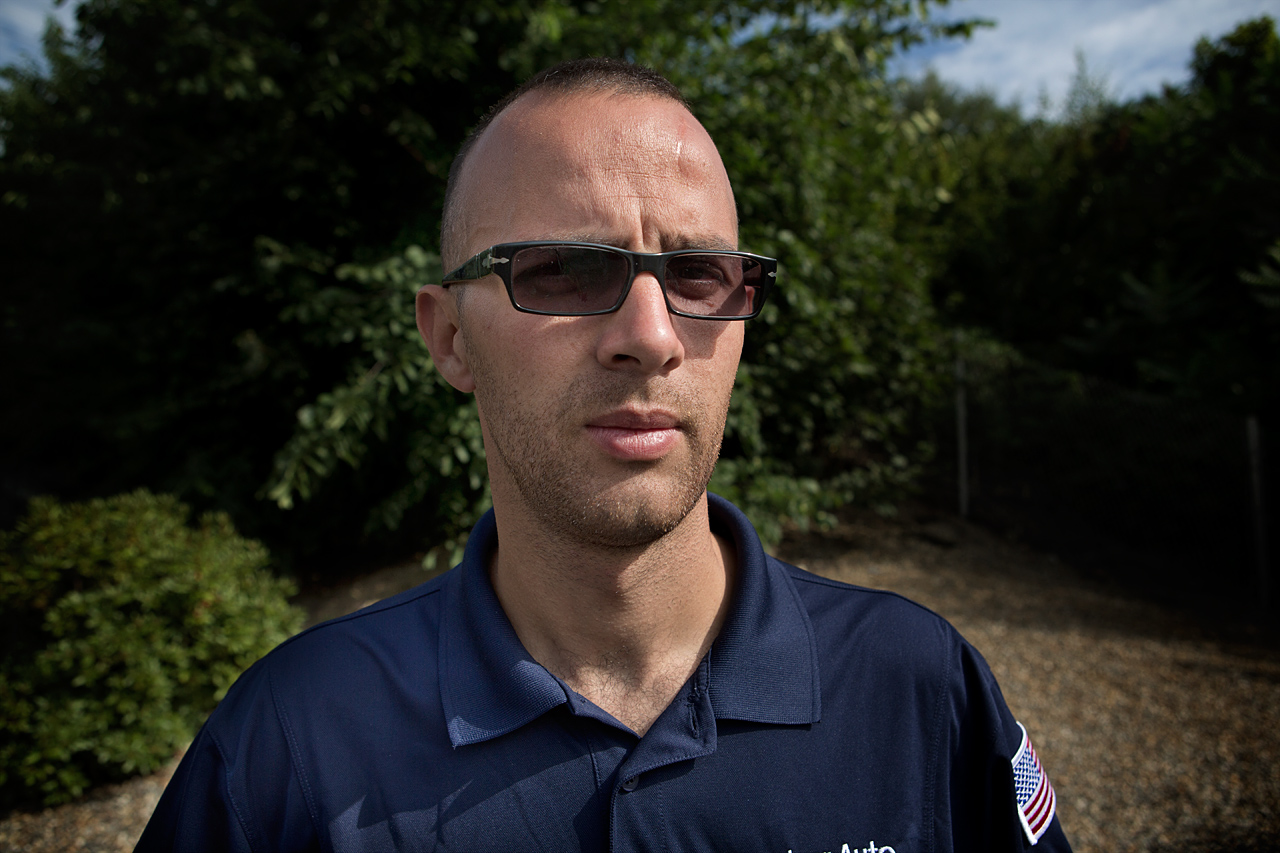 "I felt left behind. I felt betrayed," Radke reflected. "I felt that nothing was working no matter what I did."
Radke had lost his savings on a towing company he tried to start. A native of Brazil who had come to Boston with his family at 12 years old, he couldn't find solid work and was broke.
Then one night in October 2012 he went to the grocery store with the few dollars he had to his name.
"And my son went by an aisle and he saw those little muffins, and he said, 'Daddy, I want one,' " Radke recalled. "And that just hit me, you know? I said, 'I can't believe it. I can't even buy my kid a muffin.' And that was it. It was like, 'I'm not good for anything.' "
Radke found a friend to lend him $20, then he bought some alcohol, swallowed a bunch of pills and headed out driving.
"I was like, you know, 'I'm just gonna hit my car in a tree and make it look like an accident. At least I'm not going to show that I'm a coward,' " he recounted.
Radke says he had picked out the bank of trees he was going to crash into in Shrewsbury. But as he was speeding along, about to make that fateful turn of the steering wheel, a police officer pulled him over. Radke says he stopped because he didn't want to engage in a chase. When the officer approached, he spilled his guts.
"I say, 'Well, it's not worth living anymore, you know?' I told him. I opened up to him. Because I was literally two minutes away from killing myself."
The officer checked Radke into UMass Memorial Medical Center. And that was the beginning of a new life for him.
But in the last two years, eight of Radke's fellow Massachusetts National Guardsmen — including one of his friends — completed the act of suicide. That's a significant increase from five suicides over the previous nine years.
And the increase comes in spite of new programs in the Guard meant to cut the suicide rate.
Suicide Rates Increase In National Guard, Reserves
Fighting suicide is Sgt. Maj. Bill Davidson's full-time job.
"We just had a soldier a couple weeks ago that was suicidal," Davidson said. "He was on Facebook. I got on with him on Facebook — not only me, but there was a team effort — you know, talked to him through Facebook and explained to him that it's not worth sacrificing your life for something that time will heal."
The Department of Defense recently reported the Army National Guard now has the highest suicide rate of any part of the military.
The program Davidson heads, called Resilience, Risk Reduction and Suicide Prevention, was started in 2010 in response to a dramatic national increase in suicides among active duty soldiers.
Since then, the number of active duty soldiers killing themselves has dropped while suicides have increased in the Reserves and National Guard. The Department of Defense recently reported the Army National Guard now has the highest suicide rate of any part of the military. There have been almost 700 suicides in the last six years.
In Massachusetts, every Army National Guard member receives training about suicide warning signs and intervention. The Massachusetts Guard has trained about 400 of its 6,300 soldiers to be "suicide intervention officers" and plans to train hundreds more.
In a recent class at the Methuen armory, full-time Guard members including Capt. Matthew Compton and Maj. Kevin Callahan did role playing to practice what they had learned in class.
"I really have to ask you, are you considering hurting yourself, killing yourself or suicide?" Compton asked his colleague during one of the role playing exercises.
"I think it might be the only way," Callahan responded.
Compton then replied with an offer of help: "Do you feel like if I can provide to you some resources to help you through these dark times, that you can find a reason to live?"
Callahan, in his role as actor, said, "I guess I could go talk to some people, yes."
All Guard soldiers also undergo training to cope with stressors like relationship conflicts and financial problems — leading causes of catastrophic thinking among troops. The Guard connects them with resources including housing and education vouchers, and counseling.
Those are especially important to the citizen soldiers of the Guard, many of whom have been deployed in the last decade — some multiple times — as the role of the Guard has increased due to war. But deployment and combat are not always factors in suicide. In fact, about half of Guard soldiers who killed themselves in the last decade had not been sent overseas.
Research released earlier this year found a majority of military personnel who take their lives or show suicidal tendencies had mood disorders, including impulsive anger, before enlisting.
Still, Sgt. Maj. Davidson says, military culture is a factor — deployment or not.
"The toughness — that you can't show weakness — and particularly some of our combat arms soldiers, it's a sign of weakness to get help," Davidson explained. "So that's what we're battling all the time, is that stigma that it's OK to get help."
Talking About Suicide Before It Happens
That help often starts in the Guard's behavioral health offices, next to its Massachusetts headquarters at Hanscom Air Base.
To bolster its suicide prevention efforts, in late 2012 the Guard kicked off a joint program with the state Department of Veterans' Services and UMass Medical School in Worcester.
The joint program never received any extra funding, but UMass psychologist and suicidologist Barry Feldman has assisted the Guard in developing suicide programming. And he's brought Guard soldiers in to train UMass medical students and emergency physicians on military culture and suicide. The goal: to better screen military patients for the risk they might take their lives.
"Research shows that many people who present to emergency departments for physical complaints may actually have what's called occult suicidality — sort of hidden, underlying suicidal ideation," Feldman said.
With more money, Feldman would like to help the Guard expand its suicide prevention training to soldiers' family members all over the state, with tools like webinars. He says it's all an effort to get people talking about suicide before it happens.
"It's a myth that you shouldn't talk about suicide, shouldn't mention suicide, because you'll give somebody the idea," Feldman said. "Research shows that that's absolutely not the case, that in fact by having an individual discuss, maybe, their thoughts of suicide, it gets it out into the open and becomes an issue or problem that can potentially be solved."
Meanwhile, Guard leaders say when a soldier does take his or her life, it hits them hard. It's especially difficult when it's someone who was on their radar.
Sgt. Maj. Davidson actually reached out to Feldman for help coping because he felt "guilt."
"Here I am trying to prevent suicides and then we've had a series of suicides all in such a short time frame. And I'm like, you know, 'What are we doing wrong?' " Davidson reflected.
As for Nate Radke, he worked with the Guard to make a video telling his story. The Guard now uses it in training.
"If you're thinking about suicide, ask for help. It's not making you weak. It's making you strong," Radke tells his fellow soldiers in the video.
He says by admitting he had planned to end his life, he opened the door to all kinds of people who wanted to help — including Sgt. Maj. Davidson, who talked with him man-to-man. And advocates helped connect him with services including new housing and couples counseling for him and his wife.
"Sometimes when you're in a box, you can't even think because you're so fed up, you're so mad about the situation, you don't think there's a solution," Radke said. "You know what I found out? People love to help others. Now I'm in a situation to give. I've been helping other veterans that had no jobs, no car. And I have helped them."
And Radke says though he tried, he wishes he somehow could have helped his soldier friend who died by suicide about a year after his own close call.
---
Resources: Here's a document of suicide prevention resources from the Massachusetts National Guard. You can reach the Massachusetts National Guard suicide hotline at 1-855-620-ASAP (2727), and the National Suicide Prevention Lifeline at 1-800-273-TALK (8255).
This segment aired on September 18, 2014.