East Coast Fans Take The Temperature Of West Coast Rock — Is It Always Sunny?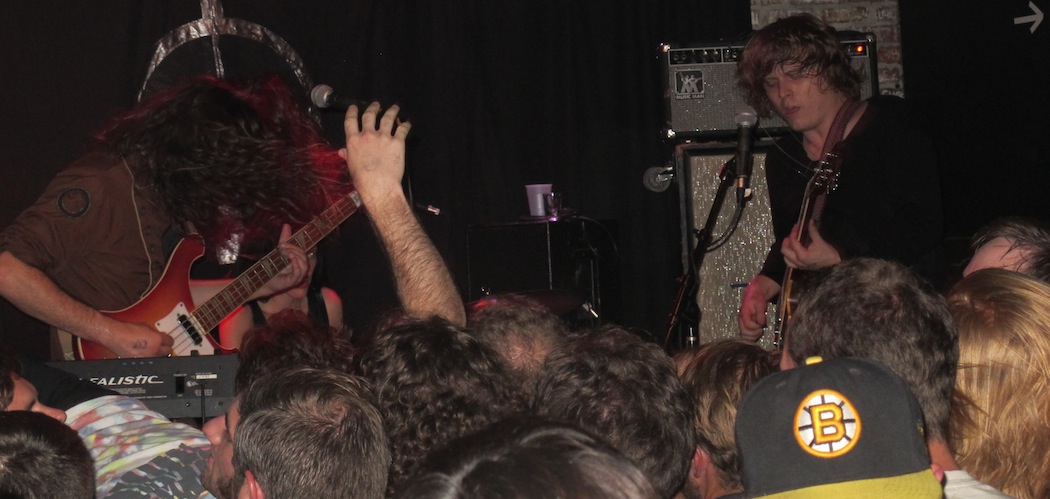 This article is more than 7 years old.
On Friday, one of the first truly chilly nights of the season, a pack of hopeful fans hovered around the door outside Great Scott in Allston. Gina Panarello hugged Ty Segall's new album, "Manipulator," to her chest. She had just bought the vinyl at the merch table inside, but with a sad smile and shoulder shrug said she and her companion Kealan Shilling didn't have tickets. The show sold out fast. Even so, they were optimistic.
Both are photographers in the Boston area and said they see a lot of live music. I told them I'd been knocking about this idea of "East Coast fans of West Coast bands," and asked if they think there's something that distinguishes, say, Cali rockers from those from Boston. Shilling took a moment to think, then he mused that the West Coasters "have the sound of the sun."
Panarello picked up his thought, "Well there's a surf-rock drive for West Coast bands obviously, and it's a lighter note — or a harder note. It's either lighter or it's heavy."
She and Shilling got the chance to see Fuzz a few months ago. That's one of Ty Segall's other bands and he plays the drums. Panarello said, "He ripped. He's focused — just super focused. I get really emotional when I see live music because I connect with it so much, and his music was almost like a whirlwind of madness."
Segall is best known for playing the guitar, though, and his brand of garage rock has been described as noise, punk, psychedelic, Orange County. It's hard to describe and I encourage you to take a listen. There's a lot to take in. Segall's list of influences include the Stooges, Hawkwind, David Bowie and T. Rex.
He came up in the San Francisco Bay Area underground scene and has been incredibly prolific since he released his first solo album in 2008. In 2013 he released three albums. That's three in one year. No joke.
OK, so if the West Coast sound is sunny, then what about the East Coast?
"I think the music comes out of a different element here," Shilling said, "with the grim winter weather and being trapped in a basement for months." He's a fan of the local three-piece garage band, The Monsieurs.
As for Segall, these two fans find a singular positivity in his sound, and they were having a hard time listening to the opening notes of the first band on the bill, Boytoy from Brooklyn. They admitted it was unnerving not knowing if they'd get into the show before Segall, the headliner, started playing.
He's been getting a lot of play lately. Last month "Manipulator" was streamed for free on NPR Music's First Listen series, and his band got TV time on Conan O'Brien.
Segall was definitely the draw on Friday, but Nate Trachimowicz drove down from Groton to see La Luz, an all-female four-piece from Seattle. He discovered them listening to West Coast Internet streams, including from Oregon Public Radio out of Portland. "That's how I catch wind of a lot of this," he said.
I asked if Trachimowicz finds West Coast bands to be more "sunny," and he replied, "Yeah, well it's surf. I think they have big environments to play in out there, and I think it's a big inspiration. That's a part of it." As for us here in Boston he said, "We spend half the year here kind of holed up waiting inside, waiting for the sun — they get to play in it all the time."
Then Trachimowicz added, "I think locally the scenes out there are very supportive of local music. And they're all cross-pollinating — the bands are playing with each other — and I think that is naturally building what we hear. I don't know how to describe it."
But he did say Segall's new album (which he streamed via NPR) seems, "more mature."
Trachimowicz had a ticket, but his two cohorts didn't. Erik Garrison came along ticketless, "for the adventure," he said. The Kentucky native shared his opinion about the East Coast rock vibe.
"It's the sound of noise, in a way — the vibration and warmth and noise of the place. You get the sun in the west — but everything here is so mixed in denser cities. Maybe it's more scrappy, more dirty," he said, "but also in a way a little more conformist. That's just my perception."
Sean Hunziker of Boston was hesitant to say anything that smacked of comparison between East and West Coast, recalling the 1990s rivalry between rap competing hip hop artists that ended in the deaths of The Notorious B.I.G. and 2Pac. But Hunziker did say he was psyched to see Ty Segall and called him "singular."
When the four-piece La Luz took the stage a shimmery warmth oozed out of their instruments, despite being from perhaps the rainiest city in the country. Their sound coy and decidedly surf, with a sweet, dreamy, but melancholy undercurrent. Perhaps the four female rockers have the "lightness" Gina Panarella mentioned before the show.
At one point lead singer and guitarist Shana Cleveland parted the crowd like Moses and encouraged the audience to shake it, one-by-one, up the aisle. She thanked Boston and kept reminding us that Ty Segall was coming on next.
The place got rowdy once he did. A carnival barker type of guy in a cowboy hat introduced Segall and his band as a bunch of aliens, and the crowd surged forward as the musicians started their sonic assault.
After nailing a string of songs from "Manipulator," Segall actually apologized to Boston for not being here for so long. Looking around the room as he and the other musicians blistered the crowd with older songs like "Thank God for the Sinners," I think it's safe to say we forgave him.
I'm happy to report everyone I spoke to who didn't have a ticket at the beginning of the night managed to get inside. And for a few hours Great Scott in Allston was awash in a summery, radiant heat, just when we all needed it most, knowing all too well that another frigid New England winter is nipping at our heels.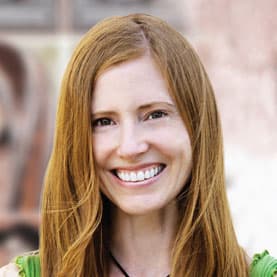 Andrea Shea Senior Arts Reporter
Andrea Shea is WBUR's arts reporter.