Brandeis Case Reveals Complexity Of Disciplining Students For Sexual Assault
Play
This article is more than 8 years old.
This week, Brandeis University posted its new policy on sexual misconduct. The change comes amid a federal investigation of how Brandeis handled a contentious sexual assault case. The investigation reveals how hard it is for universities to handle claims of sexual violence.
Seventy-nine U.S. colleges and universities are currently being investigated under Title IX for violations of students' civil rights in sexual assault cases.
The Brandeis case has complexities not normally found in such cases: For one, the complaint was filed by the student accused of sexual misconduct.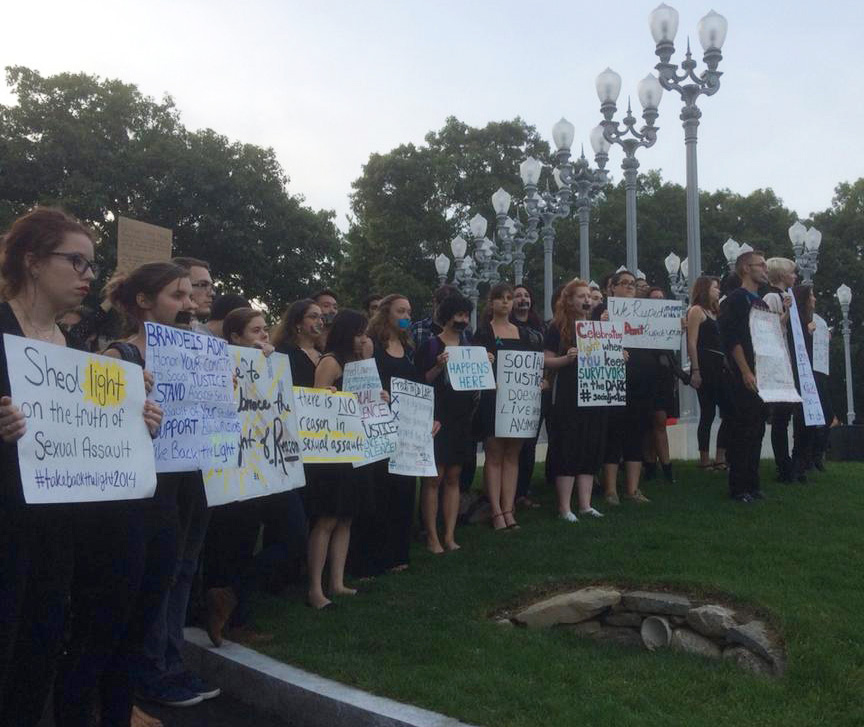 The student was accused in January. Dean Gendron, Brandeis' director of student rights and community standards, received a complaint from a junior that he had been sexually assaulted by his ex-boyfriend. It was an unusual case for the university, in that it involved two men in a relationship.
At Brandeis, an outside attorney conducts investigations of sexual assault.
"The special examiners ... are generally individuals with pretty deep experience in conducting these investigations and examinations, and they come in and actually conduct the process of investigating the reported sexual assault and then make a recommendation," said Andrew Flagel, senior vice president for students and enrollment.
Flagel and other officials at Brandeis could not comment on this or any individual case.
Brandeis chose attorney Elizabeth Sanghavi, formerly with the Office of Civil Rights at the U.S. Department of Education, to investigate this case.
WBUR does not reveal the names of victims of sexual assault without their consent. In this case, the student who says he was the victim did agree to be identified. But because the student he accused has not been charged with a crime, we decided to withhold the names of both men. So we'll call the student who first filed a complaint with Brandeis the "junior," and we'll call the man he accused the "ex-boyfriend."
The junior said Sanghavi conducted many interviews with him, each lasting anywhere from 40 minutes to two hours. He said Sanghavi did not record any of the interviews, but took extensive notes. According to a dean's summary of Sanghavi's findings, she interviewed eight witnesses besides the junior and his former boyfriend. The junior was impressed with her.
"I thought she was very professional, very sensitive and also very thorough," the junior said. "The thoroughness at times was excruciatingly painful, because excruciatingly painful detail we had to go into."
Following federal guidelines, the examiner used the same standard used in civil lawsuits to find whether any wrongdoing had occurred. That standard is "preponderance of evidence," meaning it's more likely than not that the wrongdoing occurred. And she found that the ex-boyfriend caused physical harm, committed sexual misconduct and acted without consent.
Brandeis allows students to appeal, and in his written appeal, the ex-boyfriend argued that Sanghavi had viewed events "in isolation rather than over the course of a relationship." For example, he said she did not consider that the junior "had invited sexual advances."
Normally, the dean of students decides what sanctions to impose after a finding. But because that dean had many contacts with the ex-boyfriend, a dean who did not know either man was appointed to the case. She was new to Brandeis. She had come from Harvard, where, as a resident dean, she had served on the board that handles sexual misconduct.
Based on the findings of the special examiner, the ex-boyfriend was issued a disciplinary warning. (Such a warning does not go on his transcript, though most law schools and medical schools do ask Brandeis for information about students' conduct.) He was also ordered to complete a program on sexual assault prevention.
Universities are charged by federal law with protecting students from sexual assault. Flagel, the Brandeis senior vice president, told the junior in an email that "at no point was there a finding that [his ex-boyfriend] was a danger" to other Brandeis students.
"One of the reasons they may not see him as a danger is because he's a gay man, and they might not think a gay guy is a danger to anybody," the junior said. "None of them have said that to me, but it's kind of the feeling I get."
One study shows gay students are actually more likely to be victims of sexual assault than heterosexual students.
"We found that the prevalence of sexual assault among students who were gay or bisexual or lesbian was roughly twice that of those who reported that they were heterosexual," said Emily Rothman, who teaches courses on preventing sexual violence and preventing violence between intimate partners at Boston University, and who studied first-year students at a Boston-area college in 2001.
In the fall of 2013, the American College Health Association National College Health Assessment (which Brandeis shared with WBUR) found 1.2 percent of men at Brandeis reported being raped, slightly more than the national average of 0.7 percent.
And 2.8 percent of all Brandeis students reported being in a sexually abusive relationship — again, slightly more than the national average of 1.7 percent.
Now, the federal government is investigating the ex-boyfriend's claim that he was the victim of sexual violence by the junior, and the university did not investigate his claims.
The ex-boyfriend said Brandeis also discriminated against him in several ways as he responded to claims he had sexually assaulted the junior, including not giving him an opportunity to meet with university officials before the school brought formal charges against him.
The ex-boyfriend said Brandeis allowed the junior to have an attorney present at one meeting, but he was never allowed to have his own attorney present.
Among other things, Brandeis' new policy on sexual misconduct now specifically states that the accuser and the accused must have the opportunity to have others present for any and all proceedings.
Sexual assault is taking up increasing attention of university administrators across the country.
"The wider issue of sexual assault prevention and services is probably occupying somewhere between 25 and 30 percent of my time," Brandeis' Flagel said.
In response to the federal investigation, Brandeis issued a statement. It begins by saying: "We have an utmost commitment to ensuring the safety of our students."
Brandeis President Fred Lawrence recently reiterated that commitment when confronted with student protesters at an event in front of the university's Rose Art Museum. Hundreds of people were waiting in front of the museum for the lighting of a sculpture called "Light Of Reason." The students filed out to one side of the ceremony, many with mouths taped, some carrying signs such as "There is no reason in sexual assault." Lawrence approached them and told them he did not want them to feel that sexual assault is not a concern at Brandeis. He told them Brandeis has put a lot of effort into addressing the problem, and promised to put more effort into it. Lawrence thanked the students for being there.
Over the past two years, nine Brandeis students have been accused of violating the university's rules on what it calls "sexual responsibility." In the six concluded cases, two students were expelled, two were suspended, one was placed on probation and, in one case — the case of the junior and his ex-boyfriend — the student was given a warning.
Brandeis is already implementing what are seen by experts, researchers and administrators as some of the best practices in the prevention of sexual assault. It has a sexual assault prevention director and this fall it plans to open a rape crisis center. It trains its faculty and students to intervene to prevent sexual assault.
But, as the case of the junior and his ex-boyfriend illustrates, it's very hard for universities to get this issue right and satisfy both the accuser and accused that justice is being served.
This segment aired on September 26, 2014.