Immigrants Detained In New Mexico Seek Asylum And Boston Home
Play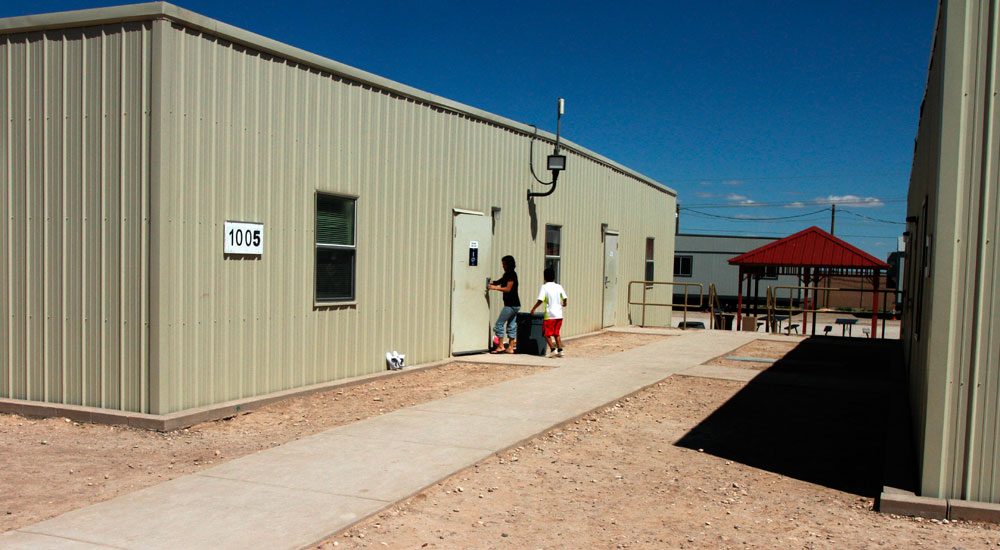 This article is more than 8 years old.
Immigration judges in Denver begin hearing a backlog of asylum cases Monday for some of the Central American immigrants being held in Artesia, N.M.
Framingham lawyer Kira Gagarin is volunteering to represent two of the detainees, each with relatives in Boston. Gagarin's clients, who are being held in a federal detention facility in Artesia, are seeking asylum and hoping to reunite with family in Boston.
Gagarin spent a week at the federal detention facility in Artesia with other volunteers from the American Immigration Lawyers Association. More than 600 women and children have been housed in the immigration facility since late June.
WBUR's Bob Oakes asked Gagarin about her experience at the New Mexico site, what's ahead for the clients hoping to make it to Boston and what the immigrants are running away from.
---
Kira Gagarin: These women are mostly from Honduras, Guatemala and El Salvador. Basically, the children have to decide between joining a gang — the cities, the towns are run by gangs, and you have to join one or the other. If you don't join one or the other, then you're basically killed.
The girls have to be girlfriends of these gang members, and if they don't want to be girlfriends, then they get hurt. I have several clients who have come in at 13, 14, 15 years old that have been raped, that are pregnant, that have babies, and the women have all been victims of domestic violence.
Bob Oakes: What are their prospects of getting out, and not in the process of getting out being deported back to their home countries?
What we're trying to do is get these women out on bond, because what the asylum process looks like is, once they have an interview with an asylum officer and it's determined that they do have a credible fear of return, they should be released, if not on their own recognizance, but on a bond. The national bond is $5,200, and the problem we're having in Artesia, and what shocked me the most, is that bonds are being set for these women and children at $30,000.
So why is it so high? How is the government explaining that to you?
Well, the government has taken a position of not evaluating these cases on a case-by-case basis, but taking a position of no bond for every case. But these are real people--
So it's a preventative measure. They're trying to send a message that you come, you're in jail, you're not going to get out because we're going to hold you on bond.
Well, they're going to hold them on no bond, and they're also saying that these women have no case for asylum — that we should deport these all because they don't have a valid case for asylum. That's not so.
After having gone to New Mexico to work with these folks, you're now working with two cases, two families telephonically. Explain how that works.
That's correct. So two of the women I met with have family members in Boston. And since I'm from Boston, I offered to continue their cases pro bono from here should they be released from detention. So if we do get them released on bond — and hopefully a reasonable bond that is not $30,000 — they would come to Boston, and we could work together to develop their asylum case.
So what do you think your chances are of winning a lower bond so that these two clients or these two families might be released on bond?
While I think I have a good case for a lower bond, I don't think the situation allows, unfortunately, for those bonds to be granted, but I'll be appealing that bond, and I'm confident that it will be lowered on appeal.
Give us a thumbnail sketch of what these two families face back home.
Both of the women have been abused by their husbands and are fleeing that abuse. One of them, she's escaping domestic violence with her daughter. The biggest problem that she's facing in Artesia is that, because of a tumor she had when she was little, she can't control her urine, which means that she needs a catheter at all times, and she's been detained for two months.
It's just not a good candidate to be in jail. This woman has medical issues, and she has a good asylum case. So we're trying to get her to Boston with her family where she can be well taken care of.
This segment aired on September 29, 2014.