Coakley Works Base, As Baker Encroaches On Blue Territory
03:20
Play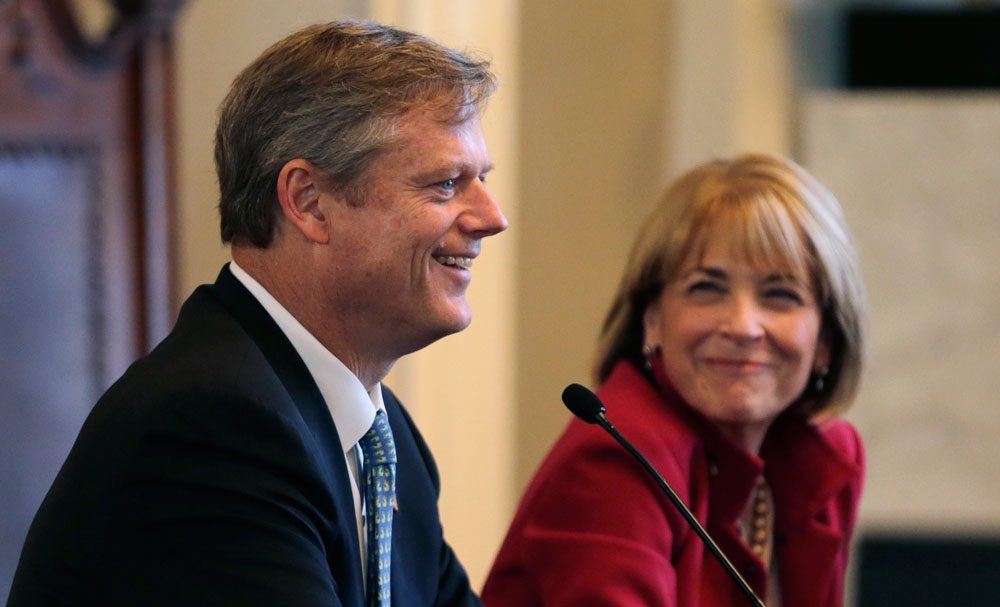 This article is more than 6 years old.
It was an emotional scene at a women's shelter Martha Coakley visited in Brighton Wednesday.
Cassie Duran broke into tears explaining her struggle to find a job or decent housing.
"I'm a recovering addict, and I have a record because the two go hand in hand," Duran said. "Having a record holds me back from a lot of things."
Some folks passed Duran tissues. But, across the room, Coakley, the Democratic gubernatorial candidate, turned the conversation from empathy to policy.
"But we've made, just so you know, we've made some changes in the law around that," Coakley said.
Coakley insists she would be a strong advocate for women in the corner office.
"I've worked every day since I graduated from law school and then went to work in public service as a champion for people who don't have a voice," she said. "Women need that voice to level the playing field."
Women are a key component of Coakley's support base — especially low-income women of color.
But a WBUR poll this week shows Coakley's support among women overall is sliding. It dropped 9 points in just one week.
On the same day Coakley was courting women, trying to shore up her base, her rival Charlie Baker was encroaching on traditional Democratic territory.
The Republican candidate made his 26th campaign visit to Dorchester Wednesday.
On this trip, he got the endorsement of Larry Ellison, the president of the Massachusetts Association of Minority Law Enforcement Officers.
"He came across as someone that was genuine, that if he made a promise to you he's gonna keep it," Ellison said.
Ellison is supporting Baker as an individual and not on behalf of MAMLEO, but still it's a telling fact.
Ellison voted for the current governor, Deval Patrick, over Baker four years ago. This time around, he says it's a different dynamic.
"Martha Coakley has a record [as attorney general]," he said. "And I don't see anything in her record that reflects that's she's really been involved, in particularly, communities of color."
Baker walked around the neighborhood with Ellison and visited a barbershop.
He received a mostly friendly reception, cracking jokes and shaking hands.
But there are those unanswered questions about Baker's role in minority communities. Outside a Dunkin' Donuts, a man grabbing a cup of coffee asked Baker whether he regretted a campaign handout from four years ago.
"Do you regret putting Deval Patrick on an EBT card?"
Baker dodged the question. But later a reporter asked him again about the mock "Deval Patrick welfare cards" distributed in the 2010 campaign.
"'Deval Patrick's Mass. EBT Welfare Card: Swipe me for booze, cash, cigarettes and/or lottery tickets at taxpayer expense,'" the reporter said, listing what the fake cards said. "Do you regret handing those out?"
"I regret a lot things I did the last time," Baker said.
"Is that one of them?"
"Sure," Baker replied.
Another lesson Baker's learned is the importance of trying to win over some of those women voters Martha Coakley is counting on.
This segment aired on October 2, 2014.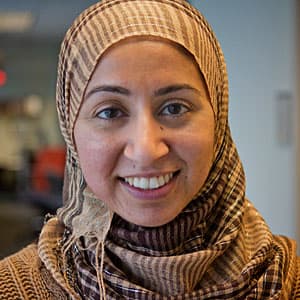 Asma Khalid Reporter
Asma Khalid formerly led WBUR's BostonomiX, a biz/tech team covering the innovation economy.