3 Owners Of Everett Casino Land Are Indicted
This article is more than 8 years old.
Three of the four owners of a land parcel in Everett slated for a lucrative casino have been indicted on charges the trio hid a convicted felon's financial stake in the tract.
Charles Lightbody, 54, of Revere, Dustin DeNunzio, 37, of Cambridge, and Anthony Gattineri, 56, of Winchester, who held a financial interest in FBT Everett Realty LLC, all face state and federal charges related to the accusations — that they created fraudulent documents making it appear that Lightbody, the ex-con, had sold his stake in the 30-acre parcel of land, where a Wynn Resorts casino is expected to be built.
Members of the Massachusetts Gaming Commission have said they would not award a license if a convicted felon stood to gain from the deal. Lightbody has a criminal history that includes prison time for assault, and a guilty plea in an identity theft case in New York.
The indictments, however, are not expected to impact the commission's decision, reached last month, to award the Greater Boston casino license to Wynn instead of competitor Mohegan Sun at Suffolk Downs in Revere, according to a commission spokeswoman.
"As with every gaming applicant, the [commission's Investigations and Enforcement Bureau] conducted a thorough and comprehensive investigation into the suitability of Wynn MA LLC. ... [The bureau's] report reaffirmed that Wynn MA LLC is suitable in all respects and that the sellers of the land would have no involvement with operations," Elaine Driscoll, the panel's communications director, said in a statement.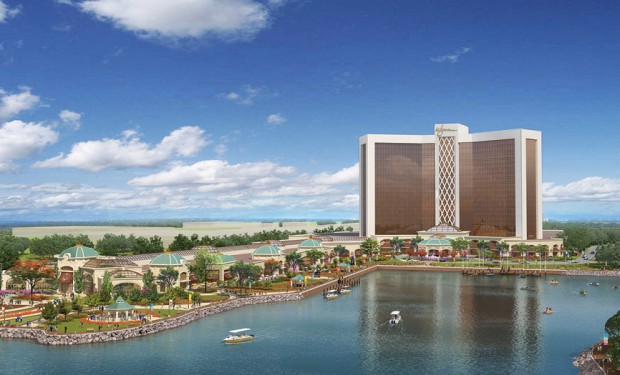 "The indictments are an example of the rigor and diligence exercised by law enforcement and regulators in the Commonwealth," Wynn spokesman Michael Weaver said in a statement.
Lightbody did not enter a plea at his initial court appearance Thursday afternoon, but his lawyer, Robert Goldstein, proclaimed his client's innocence after the hearing.
"What he's charged with and alleged to have done is a real estate investment some years ago," Goldstein said. "He purchased this land before there was any interest in casinos or anything like that."
Boston Mayor Marty Walsh, who failed to reach a surrounding community agreement with Wynn, but negotiated a lucrative agreement with competitor Mohegan Sun, released a statement that said: "From the start of this process, I have been up front about my serious concerns related to the Everett parcel. The Massachusetts Gaming Commission and their investigatory body clearly failed the people of Boston and of the Commonwealth by allowing — even remotely — the taint of corruption to be associated with this land transaction."
A question on November's ballot could repeal the statewide gambling law.
If the question is rejected, Wynn officials plan to begin clearing the site right after. They hope to have a casino up and running by the end of 2017.
With additional reporting by WBUR's Benjamin Swasey
This article was originally published on October 02, 2014.