It Looks Like Boston Is Finally Getting A Public Food Market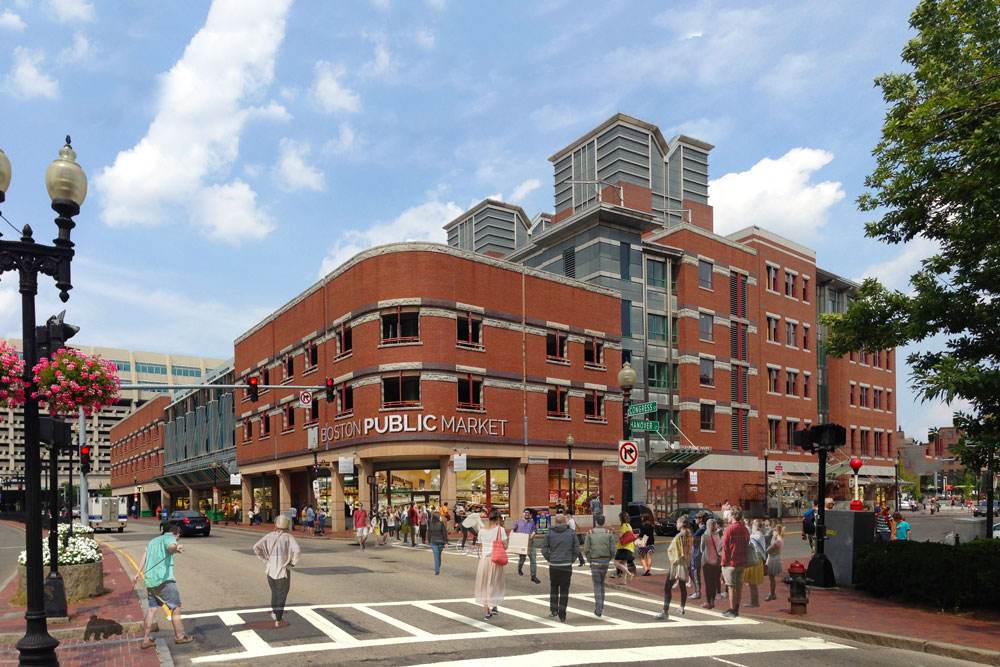 A groundbreaking ceremony was held Thursday on a long-awaited public food market in Boston, which will give the city a permanent indoor space with fresh, locally sourced goods.
The Boston Public Market is expected to open next summer, and will be located in a state-owned building along the Rose Kennedy Greenway, at the corner of Hanover and Blackstone streets. More than 40 vendors from Massachusetts and other New England states (which haven't been publicly announced) will service the market year-round, providing produce, meat and poultry, baked goods, seafood, and an assortment of specialty and prepared foods.
The 28,000-square-foot market will also have a teaching kitchen that will feature cooking demonstrations. Health and wellness programs are also planned, as is an initiative to help SNAP and EBT customers access the market's food.
"Today is a day two-plus decades in the making," Mayor Marty Walsh said at the groundbreaking. "This market is going to be a showcase for the city of Boston."
The market has been in the works for several years, but was delayed as the state and various organizations collaborated on the initiative.
"I hope it doesn't take this long to do other projects in the city of Boston," Walsh joked.
Gov. Deval Patrick, who also attended the event, said the location of the market would make local food more accessible to people across the city. He said the market will be "a place everyone should feel comfortable" going to for fresh food.
Thursday's groundbreaking kicked off the project, but the actual construction of the facility will begin later this month, according to Boston Public Market spokesman Andrew Farnitano.
Boston is one of the few major U.S. cities that do not have a permanent public food market. Other cities such as Seattle, San Francisco and Philadelphia already have thriving markets.
"Boston actually has one of the strongest farm-to-table markets where people are supporting community supported agriculture, where you get a CSA box delivered once or twice a week ... [and] restaurants ordering directly from farmers," said Farnitano. "So, the food market is really here in New England, but Boston has just been lacking its own public market."
Beth Quinn, who owns Somerville-based Q's Nuts with her husband and has applied for a spot in the market, said it will likely become a hub in the city.
"Everywhere we've traveled we've gone to local markets, in Europe and in this country, and it tends to be a place where the community gathers and people from out of town go to," Quinn said.
The Boston food market won't be modeled after any particular city's, but organizers did look to cities in the U.S. and abroad for inspiration, Farnitano said.
"It's the first market of this type that's going to source solely from local farmers and local food producers," said Massachusetts Agriculture Commissioner Greg Watson. "We feel that it's going to help build this local food system in ways that other parts of the country haven't even begun to imagine yet."
The market is estimated to cost $13 million, which will be covered by funds from private donors, philanthropic groups and the state, according to Farnitano.
The market is set to become a major feature in an area that already has seasonal food vendors. The Boston Public Market Association, which will run the new market, operates two outdoor markets along the Greenway, including one in Dewey Square. There are also push-cart vendors that operate in the Haymarket area. Farnitano said those vendors, who are part of a separate organization, will continue to sell goods on Blackstone Street.
Tom Corbett, a co-owner of Lilac Hedge Farm, which sells meat out of the Dewey Square market, said the new public market will allow his farm to expand their product line.
"We're essentially opening a storefront in Boston right now with the market," Corbett said. "It's a huge opportunity."
Corbett said his farm signed a lease this week to operate in the Boston Public Market.
Jared Auerbach, who owns seafood vendor Red's Best and spoke at Thursday's event, said the market will allow people to be more connected to the source of their food.
"For us, we found there's value in the story of our food," said Auerbach, who has also applied for a spot in the public market. "The people who I sell fish to care about who caught their fish and the people who catch the fish care about who consumed it too."
Here are some additional renderings of what the market will look like: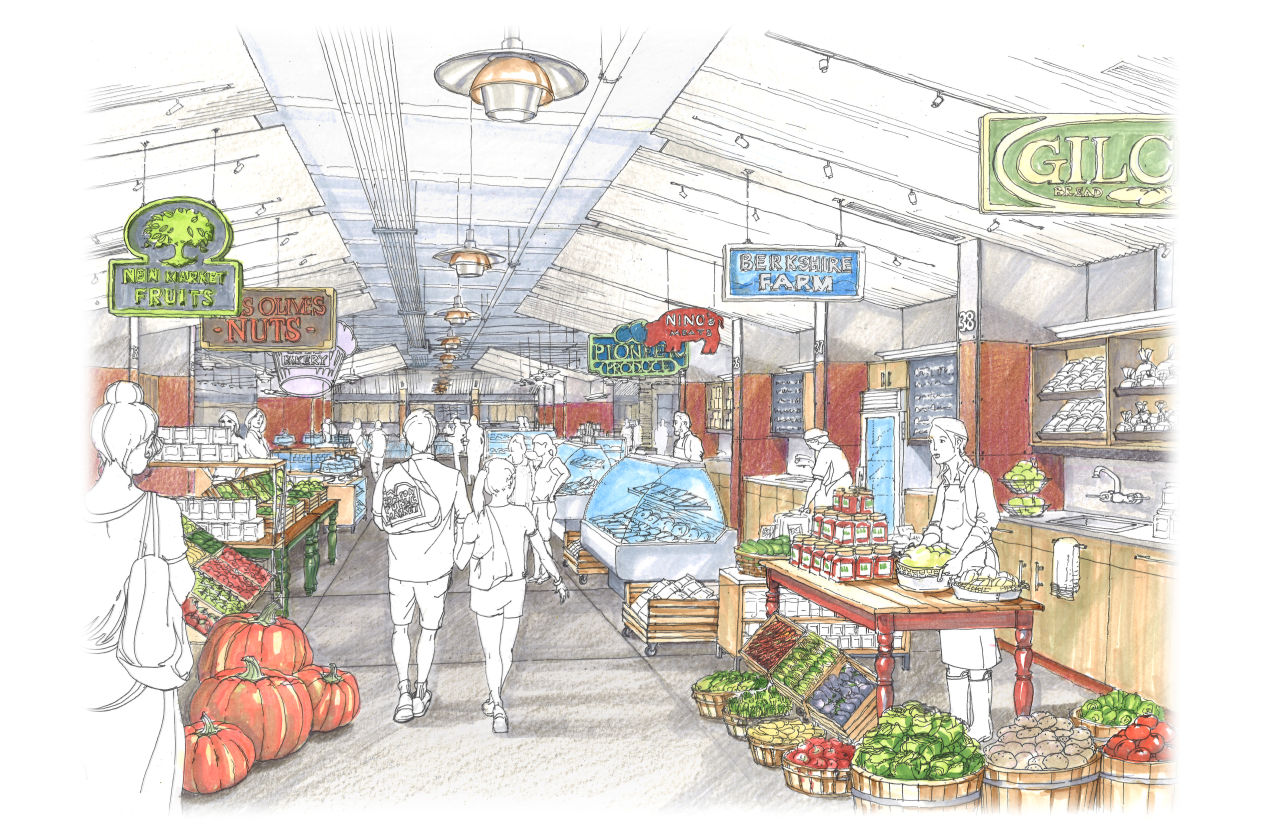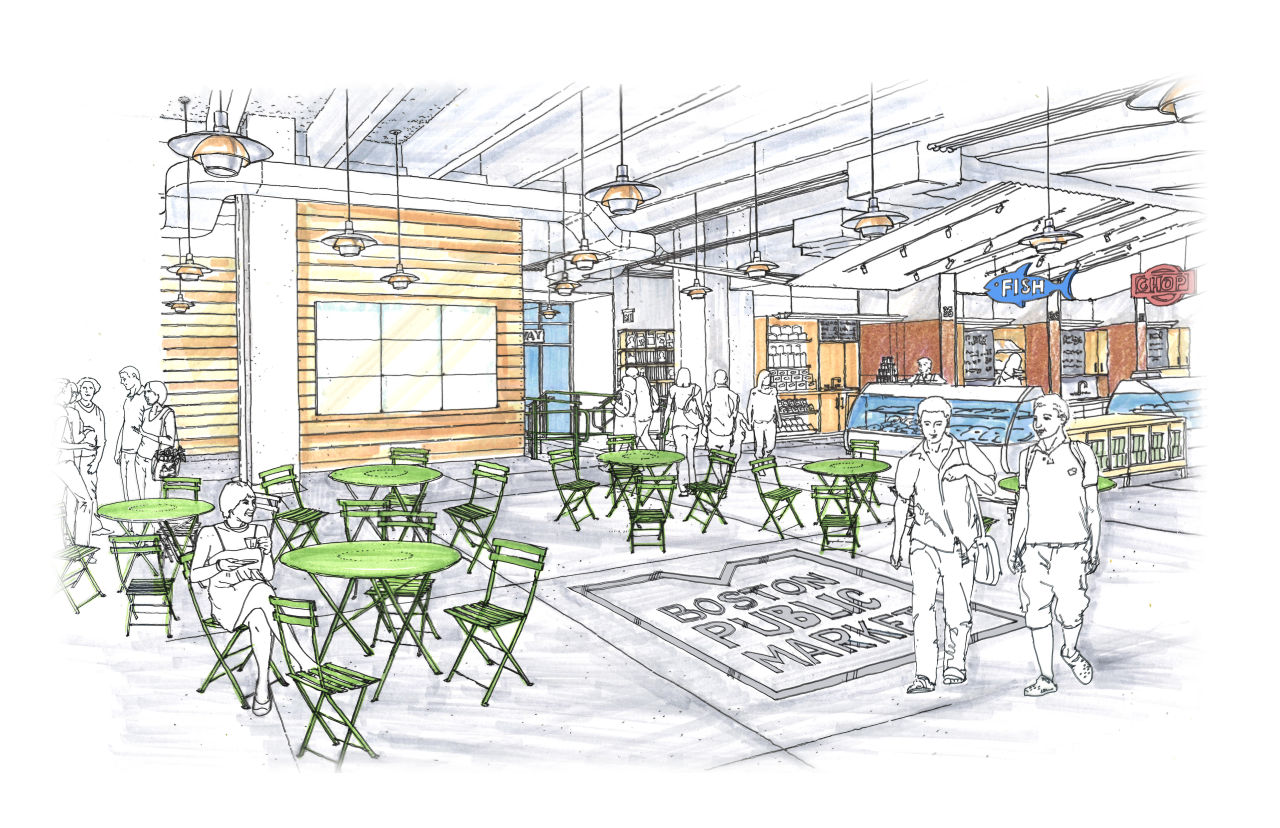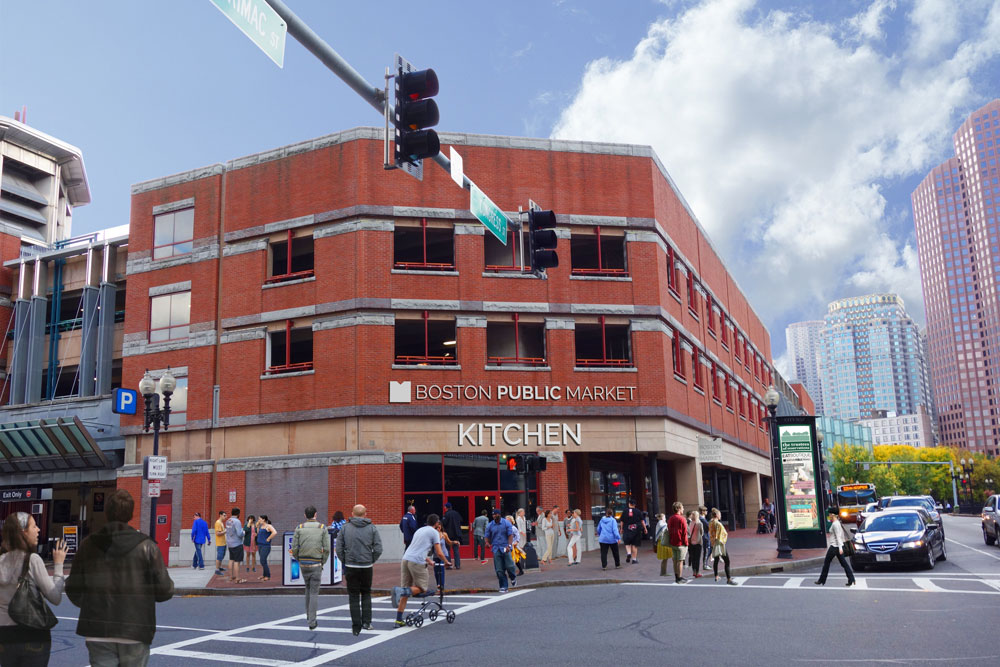 This article was originally published on October 09, 2014.