Century-Old Time Capsule From Old State House Lion Opened
This article is more than 8 years old.
Onlookers were rapt this morning, as a century-old time capsule that sat inside the lion statue on top of the Old State House was opened during a ceremony in Woburn.
The Bostonian Society, the nonprofit that maintains the Old State House in Boston, said in tweets that their archivist was surprised by the great condition of the items inside, and, in a slightly anticlimactic end to the ceremony, that they would go through the contents later in a "controlled environment." (We'll update when we know more about the contents.)
We do, however, know what to expect. A Boston Globe report from 1901 provided details as to what was placed inside — photographs and autographs from top government officials, a population map, a letter from local reporters assigned to cover City Hall, old newspapers, and William McKinley and Teddy Roosevelt campaign buttons.
But the Bostonian Society said on Twitter that a red book was also found, which was not expected. They did not explain further.
The lion and another statue, of a unicorn, both dating back to 1901, were removed from their perches on top of the Old State House at the corner of Washington and State streets for repairs last month.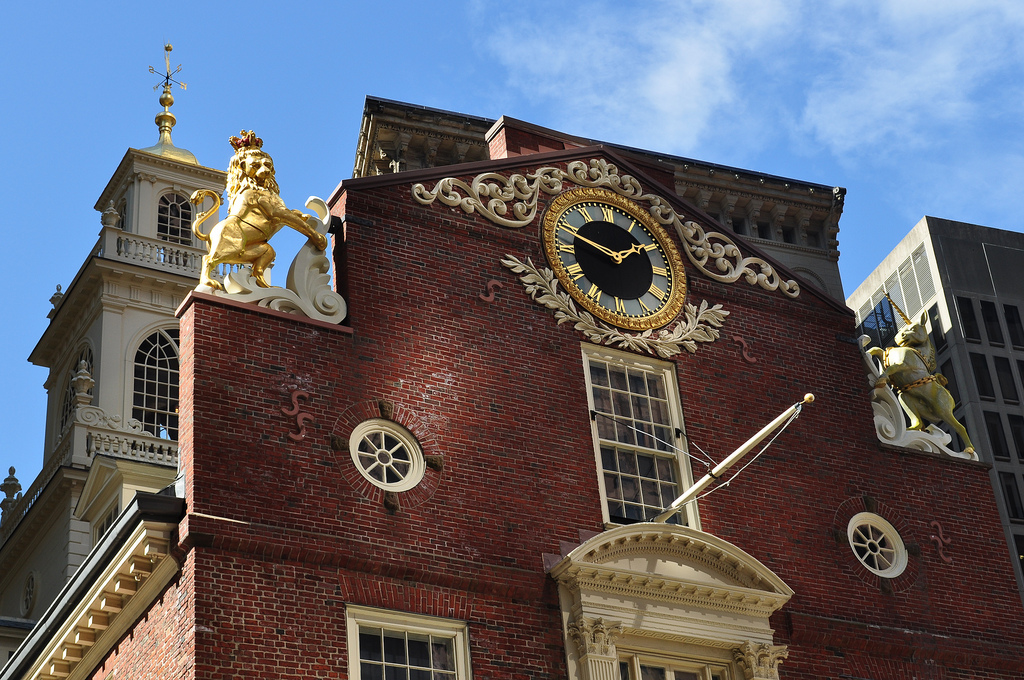 To gain access to the time capsule, artist Bob Shure of Skylight Studios, who is tasked with refurbishing the statues, removed the lion's crown and cut the copper bands that were holding the capsule in place inside the lion's head.
The Bostonian Society is asking the public to suggest what should be left inside a new time capsule using the hashtag #lionandunicorn on social media.
Suggestions so far range from Fenway Park dirt, the new iPhone and a miniature version of the "Make Way for Ducklings" sculpture, to unpaid city parking tickets and Big Dig architectural renderings.
Brian LeMay, the president of the Bostonian Society, told WBUR the organization is already planning to include a Boston Marathon medal, as well as images and documents from the present day.
LaMay says no matter what else ends up going into the new time capsule, his organization has one requirement: "I think one thing we are going to do is make it a little bit easier to get the time capsule out than the one that is in there now."
This article was originally published on October 09, 2014.