New Repertory Theatre Finds A New Path To The Heart Of Sondheim's 'Assassins'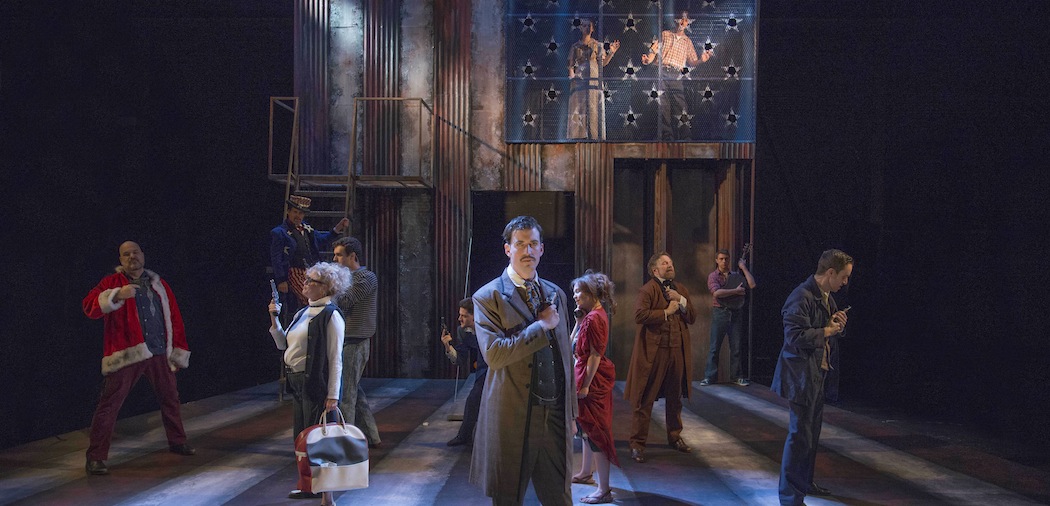 This article is more than 7 years old.
Dualities are big in Boston this year. The Museum of Fine Arts is calling the Goya exhibit, "Order and Disorder." The New Repertory Theatre is billing its season as "Paradox: Heroes & Antiheroes; Virtues and Vices."
Not that this is anything new. Artists have been exploring civilization and its discontents long before Sigmund Freud brilliantly unleashed the concept. It's that willingness, if not primal urge, to think outside the civilized box that makes artists artists and not merely entertainers. They tell us things about ourselves we don't always want to hear.
Musical theater fans have not been so keen to hear Stephen Sondheim's 1990 musical, "Assassins," over the years. A musical revue about presidential assassins and wannabes? What's next, "Ted Bundy: The Musical?"
But it has been finding its audience. The Lyric Stage Company of Boston's great production in 1998 was an important step not only in the evolution of that theater, but for Boston small and midsize theaters in general. The 2004 Broadway production with Michael Cerveris and Denis O'Hare was enthusiastically received.
And now comes another riveting production, at the New Repertory Theatre (through Oct. 26) under the sharp direction of its head, Jim Petosa.
Talk about paradox. It's no coincidence that this is one of Sondheim's most accessible scores in terms of the music. If you didn't know that the singers of the love duet were Lynette "Squeaky" Fromme and John Hinkley, simultaneously pouring their hearts out to Charlie Manson and Jodie Foster, you'd think you were at an Andrew Lloyd Webber musical. Particularly when it's performed as well as it is here by McCaela Donovan and Patrick Varner. Elsewhere, Sondheim plugged into Americana for toe-tapping numbers like "Everybody's Got the Right (to Their Dreams)" and "The Ballad of Booth." And I'm not sure the music has ever been played in jauntier fashion than it is by Matthew Stern's band.
The paradox is that the lyrics and John Weidman's book tell a different story — of an American dream that over-promises, celebrity culture run amok, easy access to firearms, derangement of all possible varieties.
If the music has rarely been jauntier, the production values have rarely been darker. The American flag looks particularly tattered and forlorn, as does Uncle Sam, or an unreasonable facsimile of same.
Uncle Sam here (far left in the above photo) is actually the proprietor of the shooting gallery where all the assassins congregate at the beginning of the one-act performance to get their guns. And it's Benjamin Evett's proprietor/uncle, and Petosa's direction of him, that makes this such a distinctive "Assassins."
Like the Emcee in "Cabaret" he's the driving force behind the action, the witness who speaks to all our baser impulses, the dark side of the American Dream. Evett's nimble, creepily confident presence, along with a fine design team led by Kamilla Kurmenbekova (set) and Jedidiah Roe (lighting), give this "Assassins" a suitably nightmarish quality.
These assassins are neither heroes nor antiheroes, they're kind of shmoes really, though shmoes who have a humanity and pathos to them that share the same skin with their villainy. Still, the dark humor shines through in all the performances. Mark Linehan's Booth could use added stature and Paula Langton's Sarah Jane Moore is a little too kooky, but I'm picking nits. "Assassins" is another example of the strength of Boston's musical-theater scene.
It would be fun to go back in time and see Spiro Veloudos's 1998 version at the Lyric again, though that's part of the theatrical experience. That excellent production lives on only in the mind and I think this one will, too, neither one begging for, or needing, comparison.