Red Wings Open With A Win, Edge Bruins 2-1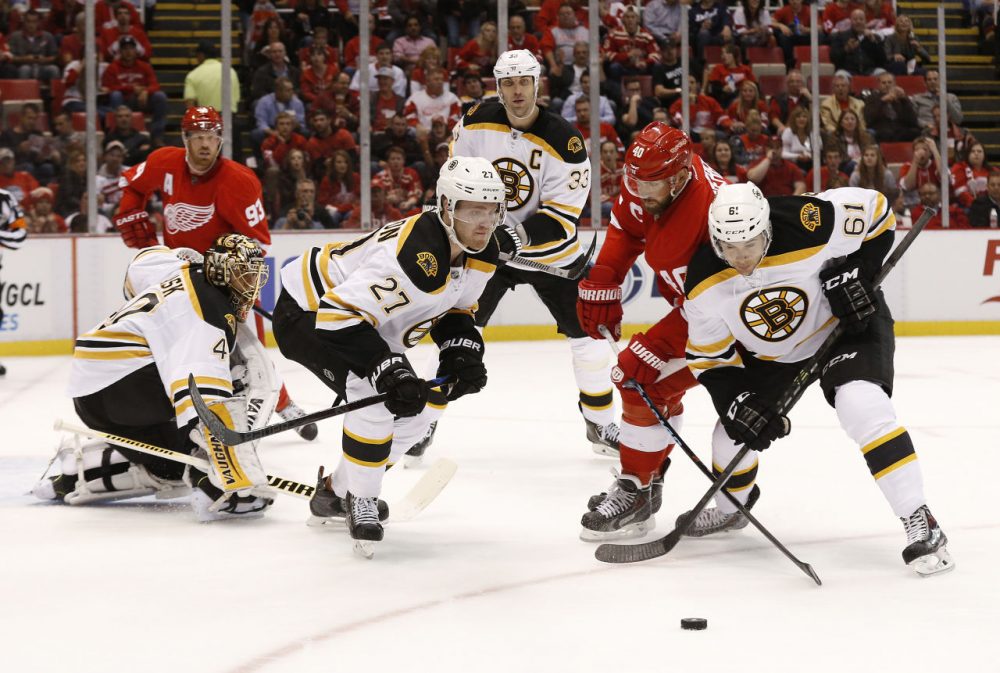 This article is more than 6 years old.
Gustav Nyquist's power-play goal in the second period lifted Detroit to a 2-1 victory over the Boston Bruins on Thursday night in the Red Wings' season opener.
Justin Abdelkader also scored for Detroit, which lost to the Bruins in the first round of last season's playoffs. Patrice Bergeron scored Boston's only goal Thursday.
Jimmy Howard had 16 saves for the Red Wings. Detroit was without star forward Pavel Datsyuk, who is recovering from a separated shoulder.
The Red Wings outshot Boston 24-17. The Bruins managed only nine shots on goal through the first two periods.
Boston nearly tied it late in the third after Detroit's Johan Franzen was called for elbowing Bergeron, but Brad Marchand's shot pinged off the post, and Zdeno Chara was called for goaltender interference seconds later, ending the power play with 1:46 remaining in the game.
Nyquist led the Red Wings with 28 goals last season, and Detroit overcame injuries to players like Datsyuk and Henrik Zetterberg to extend its postseason streak. The Red Wings made the playoffs for the 23rd straight time, but they were eliminated by Boston in five games.
The Bruins won their opener this season over Philadelphia on Wednesday, but they struggled to match Detroit's energy a night later. Boston didn't manage a shot on goal until 12:01 into the game, although Bergeron scored on that one, beating Howard with a wrist shot from the top of the left circle for an unassisted goal.
The Red Wings tied it in the second when Danny DeKeyser's shot from the blue line was deflected by Abdelkader past Tuukka Rask, the Bruins' Vezina Trophy-winning goaltender.
That goal came moments after a shot by Chara slipped past Howard, only to bounce off the right post.
Rusk had almost no chance on Nyquist's goal, which came while Bergeron was in the penalty box for slashing. Darren Helm found Nyquist in front, and the 25-year-old Swede scored from point-blank range with 5:14 remaining in the period.