Project Louise: What To Do About Cholesterol?
This article is more than 8 years old.
One of my original goals for this project was: "Lower my cholesterol and triglycerides." I've been doing some serious thinking about that lately, along with a bit of research, and I'd like to share the results with you.
The serious thinking started last spring, when I ran across the current controversy about the risks of statins in postmenopausal women.
A growing number of physicians and researchers are arguing that, for some women like me, the risks of taking statins to lower cholesterol may outweigh the potential benefits. And the risks are scary: muscle pain (and, more rarely, permanent muscle damage), kidney and liver issues and – yikes! – increased risk of diabetes. Aside from being my own biggest fear, diabetes also, ironically, increases the risk of heart disease, the very thing statins are meant to prevent.
All this gave me pause, because my doctor had prescribed a statin a while ago, and my argument to the nurse practitioner (whom I actually see more often than the doctor) that I didn't really want to take it had been met with a firm insistence that I should. Based on my numbers, she said – total cholesterol around 350, with an HDL ("good" cholesterol) of around 60 – there was no question.
So I took it for about a month, but I felt tired and achy – maybe just because of life in general, but the achiness felt worse than usual. So when I saw the new studies, I thought, "You know what? I'm just going to stop."
And I did, and I felt better. But I've been avoiding going back to the nurse practitioner to tell her. All of which strikes me as the behavior of a naughty child, rather than a mature adult.
So, as a mature adult, this week I sought another opinion. My editor, Carey Goldberg, suggested I talk with Dr. Vikas Saini, a cardiovascular specialist and the president of the Lown Institute. He's known for promoting the cause of "right care," or "avoiding avoidable care" – that is, for arguing that modern medical practice too often overtreats patients, with frequently expensive and sometimes disastrous results. This seems self-evident to me, though it has been enough to create huge controversy in some circles.
In any case, I called Dr. Saini and talked with him about statins, in both general and personal terms. After noting that statins have become a fairly polarizing issue in the medical community, he asked a few questions about my personal and family history.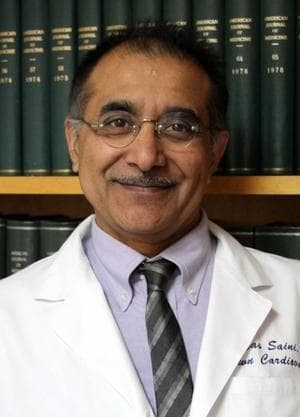 I gave him my numbers, which he agreed create a slightly increased risk – on paper, anyway. But when I told him that both my grandmothers had high cholesterol but lived into their 90s (and neither died of heart disease), and that neither of my parents, who also had high cholesterol, died of heart disease, either, he said that this history "makes me very, very suspicious of any attempt to paint your high cholesterol as a risk factor. It doesn't add up."
Well, hurrah. So I'm not being stupid to stop taking the statin?
"I don't think that's stupid at all," Saini said. "I personally wouldn't do much of anything except check your numbers."
And, of course, keep increasing my commitment to exercise – "at least get it up to three times a week" – and eat your basic Mediterranean diet with plenty of olive oil, and work on stress reduction. All these factors, he noted, clearly help prevent heart disease.
But the problem is, Dr. Saini said, that no one has done a huge clinical trial comparing major lifestyle changes with statin use. The comparison is always with "usual" lifestyle changes, like going for a walk once in a while. So, he said, no one really knows how statins stack up against serious, major lifestyle changes.
I came away from this conversation with added motivation to keep moving, and to keep eating right. It's pretty clear to me that the more rigorously I embrace real change, the more likely I am to avoid all the problems that statins are designed to prevent – and avoid the problems that I might invite by taking one.
I also came away with an important caveat. This recommendation is based on me: my numbers, my family history, my lack of any personal history of heart disease. For a woman my age with a different history, Saini said, his answer might well be different.
"Anybody with a [personal] history of coronary disease, it's almost like a different disease," he said. In such cases, "statins are definitely very helpful, but it's still not a slam-dunk."
Other factors that would argue more in favor of statins: high blood pressure (mine is thankfully low), high blood sugar, a more severe family history … all the things that make you you, as opposed to me. So I can't say this strongly enough: Talk with your doctor before making a decision.
And I guess that goes for me, too. At least to check my numbers, and maybe even to 'fess up.