Why It Could Pay Off For Charlie Baker To Focus In On Boston
02:52
Play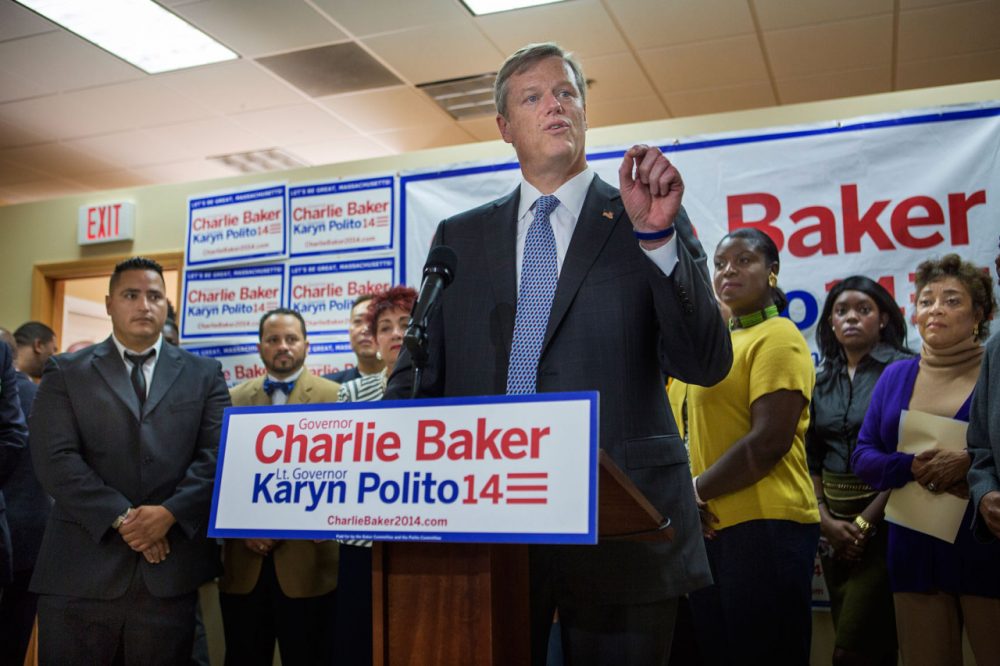 This article is more than 7 years old.
Republican Charlie Baker and Democrat Martha Coakley are trying to win the endorsement of a group of Boston pastors.
On Monday, the two candidates addressed the Black Ministerial Alliance. The Roxbury meeting was part of a larger effort by both gubernatorial candidates to win votes in Boston.
As she came out of the meeting, Coakley emphasized her support for early childhood education for children whose parents can't afford to send them to private preschools.
"I announced today that we've got almost 1,000 children right now on a waiting list to get that early education," Coakley said. "Nothing is more important for those kids. And I support it. I've always supported it."
Baker emphasized an agenda that includes safer streets and more jobs.
"Many of our proposals with respect to economic development and educational excellence and community-building are quite consistent with what the folks in this community would like to see happen," Baker said.
Baker has spent a lot of time wooing Boston voters in this election. And you might wonder why, since Boston consistently votes Democratic. But despite being in Democratic column, the city still can help swing elections.
Let's look at two elections in 2010. One is Coakley's loss to Republican Scott Brown for the U.S. Senate. Brown took 30 percent of the Boston vote, losing by a landslide but taking enough votes in the city to help him win statewide.
By contrast, the same year Baker lost the governor's race to Gov. Deval Patrick, and Boston helped make that happen. Baker only won 23 percent of Boston voters. If Baker can take the same 30 percent of Bostonians that Brown took in 2010, it could help him win the governor's office.
Tufts University political science professor Jeff Berry offers another explanation of why it could pay off politically for Baker to be in Boston rather than in the Republican- and independent-voter-rich suburbs.
"He's trying to appear to be moderate, and by appealing in Boston to Democrats, he actually might really be appealing to suburbanites who look at him and say, 'Well, he's campaigning in downtown Boston in ethnic neighborhoods and he really must be a moderate,' " Berry explained. "And that might be really appealing to them."
So Baker's campaign in Boston could be to try to peel just enough Bostonians away to deprive Coakley of victory. It could also be about reassuring middle-of-the-road independent voters that he's the kind of Republican they could be comfortable with in the governor's office.
This segment aired on October 21, 2014.